Chasing the Bohol that I knew
They say that our memories of the past are often colored by our misunderstanding of ourselves,both then and now; that past demons could either become a mere wisp of a ghost, or turn into that utterly terrifying bald clown from Stephen King's "It".
If you're not scared of that clown or have never heard of It, count yourself very lucky. Seriously, after reading that book even Ronald McDonald scares the hell out of me.
But I digress.
Memories often have this funny way of being either exaggerated or diminished depending on how well you understand yourself. So when my officemates mentioned Panglao Island in Bohol as our next travel destination, I had some initial reservations.
The Two Bohols I knew
My father's family came from Bohol, and though I never had any reason to distance myself from that side of the family, I have never been too comfortable around them either. Part of the reason is that most of them are into local politics. My father's older sister is married to someone who came from a well-entrenched political family in one of the municipalities. She herself even ran for and won political positions in previous elections.
The other Bohol I knew ran smack into that situation.
I used to be a political activist, and most of my trips to Bohol were mostly to help in political campaigns as well as immerse myself in fishing and farming communities. Most people in those days equate political activists with rebels, which did not sit well with my family.
Thus, my memories of Bohol were either those that have always haunted me or those that have made me smile, remembering a time when I was happy in what I was doing.
It was time to find out if those memories were still true. It was time to chase the Bohol that I knew.

Booze, Juice, and Lack of Snooze
The day of our trip finally arrived, and there I was all geared up and ready to revisit my Bohol memories. There was just one teeny tiny problem –we would be taking the first ferry trip out of Cebu, which is at 6am. But we don't get out of the office until 10pm the night before.
The day of our trip finally arrived, and there I was all geared up and ready to revisit my Bohol memories. There was just one teeny tiny problem –we would be taking the first ferry trip out of Cebu, which is at 6am. But we don't get out of the office until 10pm the night before.
For normal people, whose body clocks are not shot, 7 hours is more than enough. However, for night owls like me,who can't seem to fall asleep until the sun rises, it was either take a sleeping aid (like a hammer blow to the head perhaps) or entirely forget about sleeping and hope to catch a few Zs during the trip.
In my past travels that required early morning trips I almost always did not make it. In fact, island trotter Issa, along with other friends, had to go to my place and wake me up as I was already 3 hours late for our trip to Tabuelan. It looks like she has forgiven me though, as she has allowed me to write this piece….
I was thus determined not to fall asleep this time to make the early meeting time. What's the best way to achieve that? Heck, on a Friday night, what else but kill time at the favorite watering hole!
Fortunately for me, a couple of friends who will be going with me to Bohol also had the same idea. More or less. So after getting out of work, we went to a nearby bar and waited for 5am to come.
And oh yeah, there may have been a few bottles of beer, some rum shots with pineapple juice, and maybe even pizza. I really can't recall much, must have been all that excitement. :)
Morning comes. Or why I almost backed out and went home.
At around 5am we finally decided to go to the port and wait for the others. With one last longing look at the cold bottle of Red Horse beer, I picked up my heavy bag and looked forward to an entire day of shooting and adventure.
Well, not really.
By then I was so sleepy and maybe, just maybe, a bit tipsy that all I wanted to do was go home and curl up in bed with my dog.
Luckily, the two who were with me were so wound up for the trip that their infectious excitement rubbed off on me. I was blessed that day by your presence, Ching and Magz. Were it not for your youthful enthusiasm, this old yet dignified gentleman would have staggered home in a blissfully drunken stupor.

Finally, Bohol
Upon arriving at the port of Tagbilaran, we immediately searched for the van that would not only take us on a tour around the usual notable spots but would also take us to our final destination –Panglao.
Leading the way is our indomitable, well-traveled, and beautiful officemate Jewel. She was also the one who made all the necessary arrangements, making sure that we will get the most out of this trip. Check her blog for all the details of our stay in Panglao.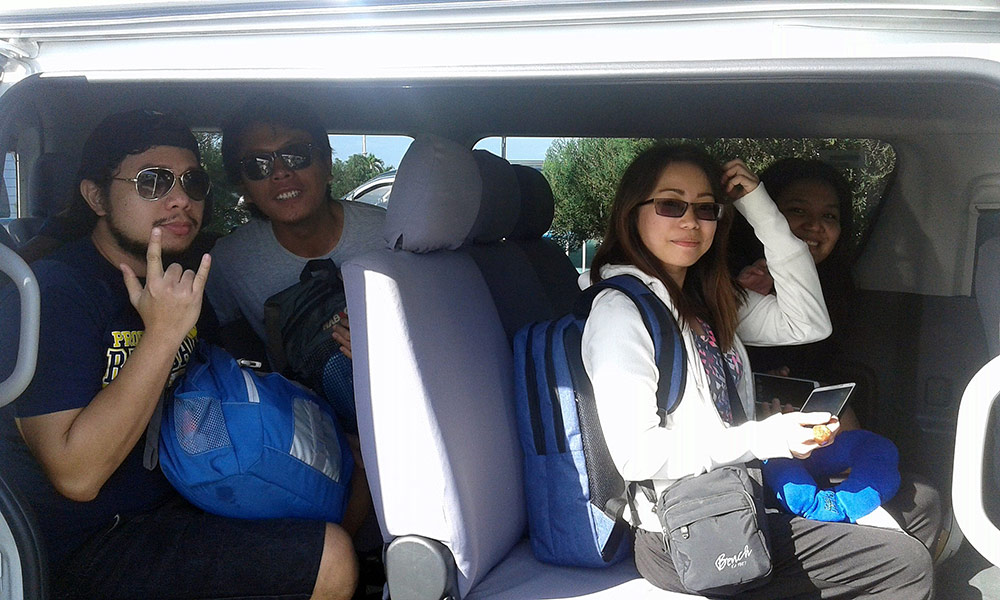 First stop, the Sandugo monument in Tagbilaran. This monument depicts the blood compact ritual between the Spanish explorer Miguel López de Legazpi and Datu Sikatuna, the chieftain of Bohol, on March 16, 1565. Entrance to the monument is free, and at early hours it is usually not that crowded. Expect several vendors of souvenir items around the monument though, but don't buy any just yet. There are many more along the way, some even cheaper with more varieties to choose from.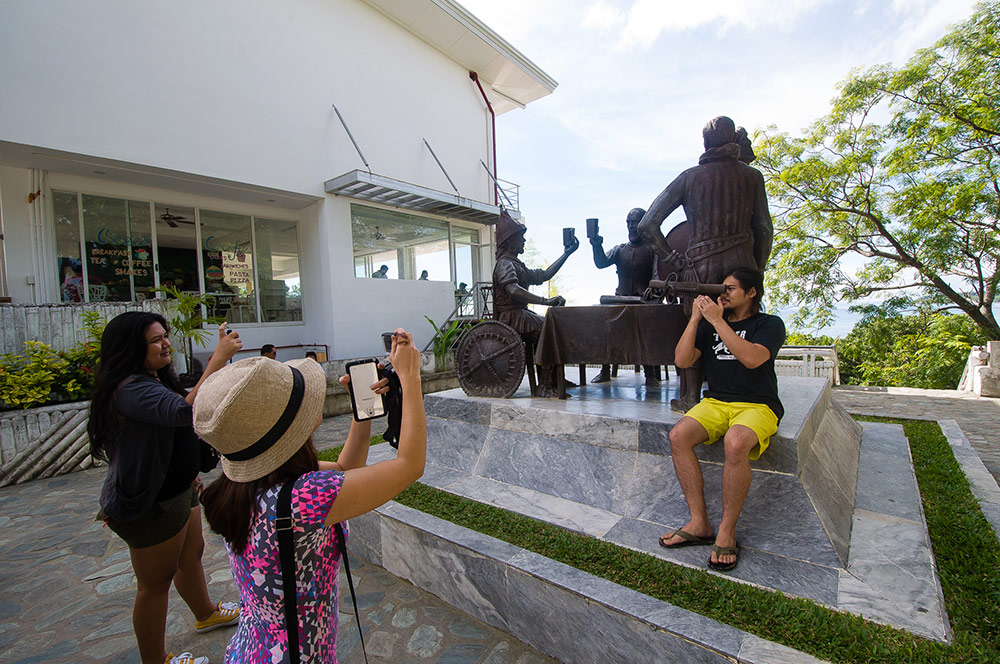 Next stop was Baclayon Church. Heavily damaged during the 7.2 quake, the church is now undergoing restoration and is expected to be done within the next year or so.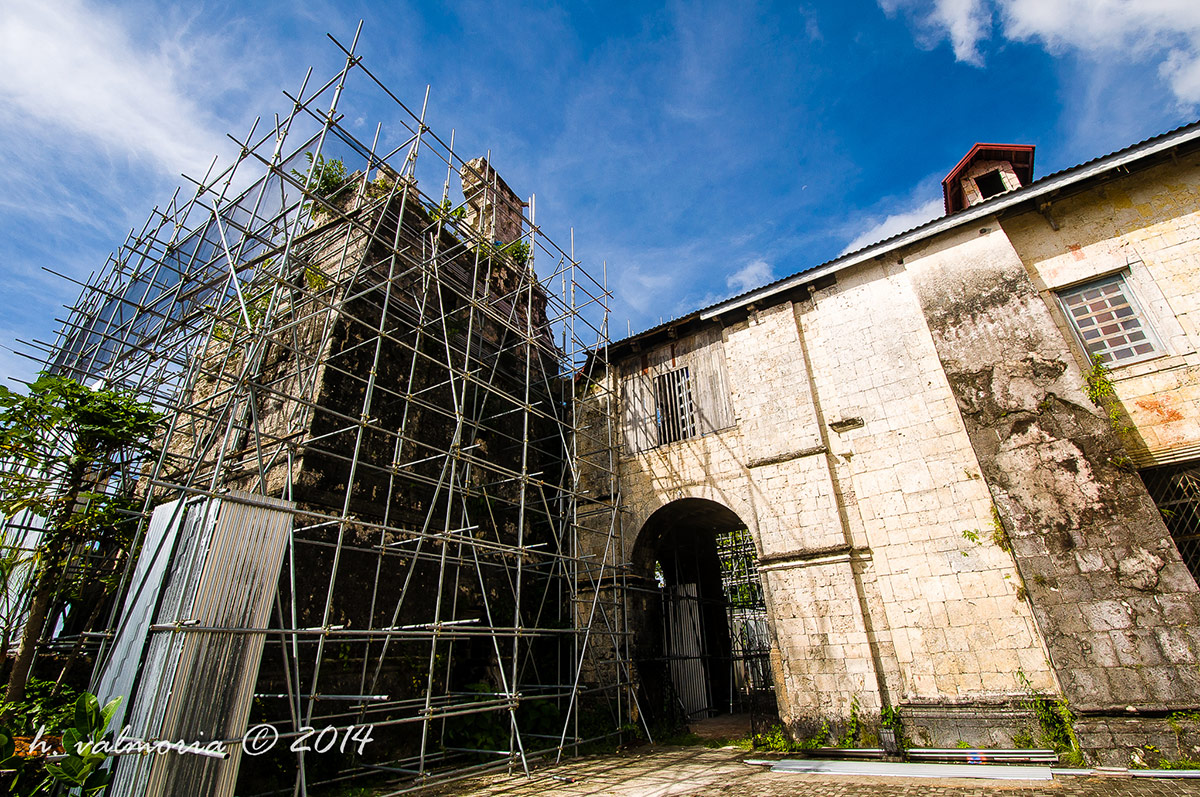 Stones that have fallen from the original structure will be used to reconstruct the tower to keep its authenticity.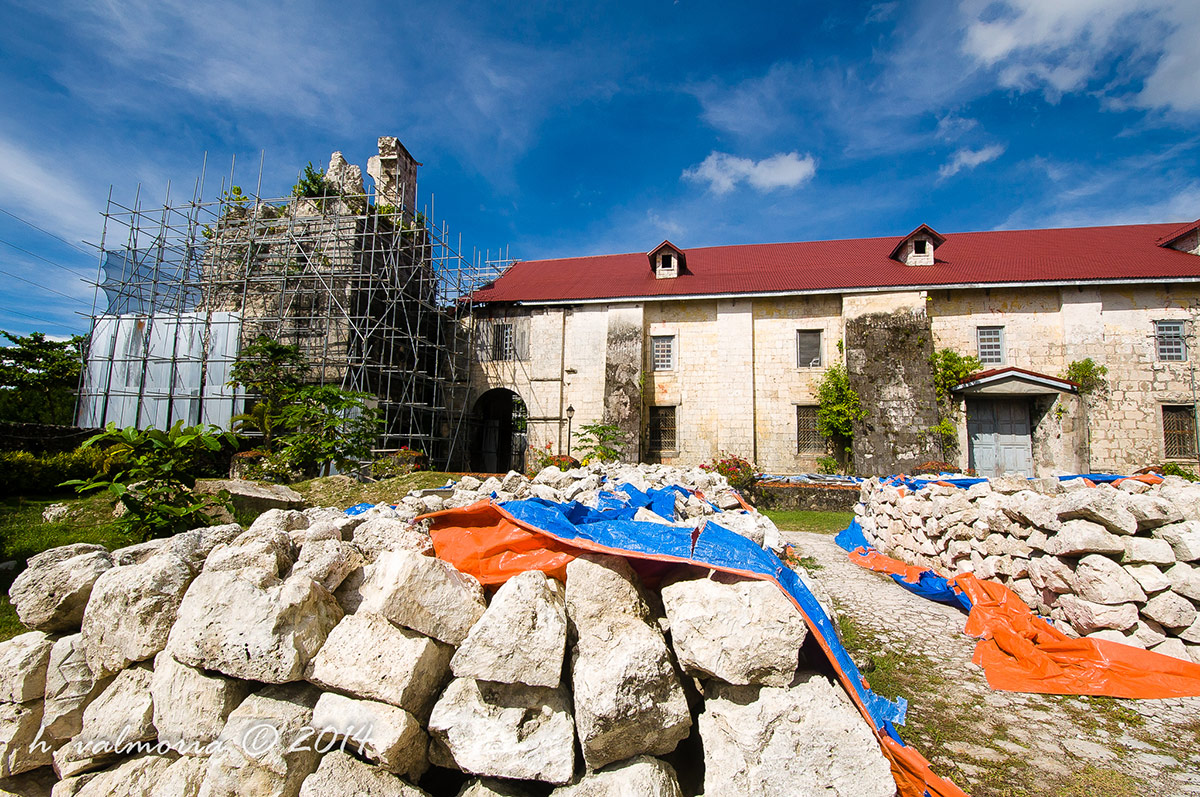 Our driver, who was also doubling as our tour guide, told a fascinating story about how one cracked façade of the church formed to show a likeness of a saint's image. When he pointed it out, I did see how the crack could be interpreted as such, but my photo of it just doesn't seem to clearly show it.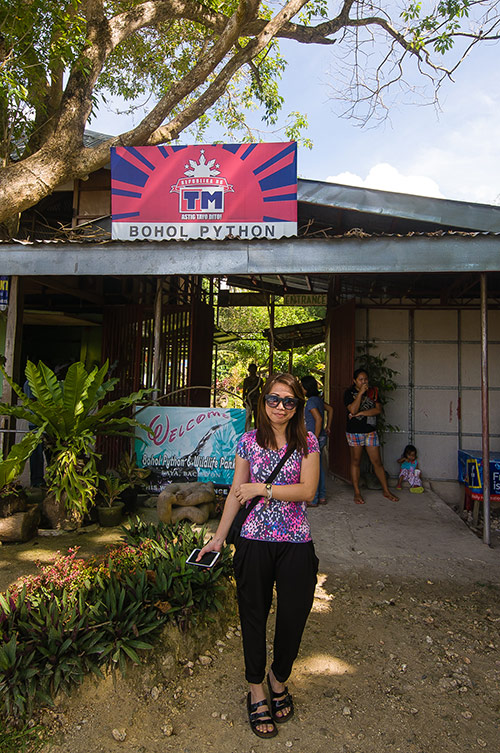 Next, we went to the see Prony, the famous python of Bohol. Or at least what remains of that magnificent reptile that died more than a year before. When we arrived, I wanted to go in with the others, not because of the attraction but because Prony's caretakers are distant relatives of mine from my mother's side. But by then the lack of sleep was getting to me, so I just took a picture of the others going in, then bought myself 25.8 gallons of Red Bull in a desperate effort to keep my energy up.
Entrance fee costs P30. At the entrance there is a vendor selling one of the most delicious and fluffy Binangkal I have ever tasted. It is a must-try if you go there.
Once they had their fill of python remains, attention-depraved animals, and a gender-challenged tour guide named Marimar, we all finally started for our next destination –the river cruise.
En route, there was a debate whether we should go for the Loboc river cruise, which is the more popular one, or the cruise in Loay River. What finally decided it for us was our growling tummies. By unanimous decision, we opted for the nearer one, wanting to devour tons of seafood as soon as possible.
The river cruise in Loay costs P350 per person, plus an additional P50 tax fee that caught all of us by surprise.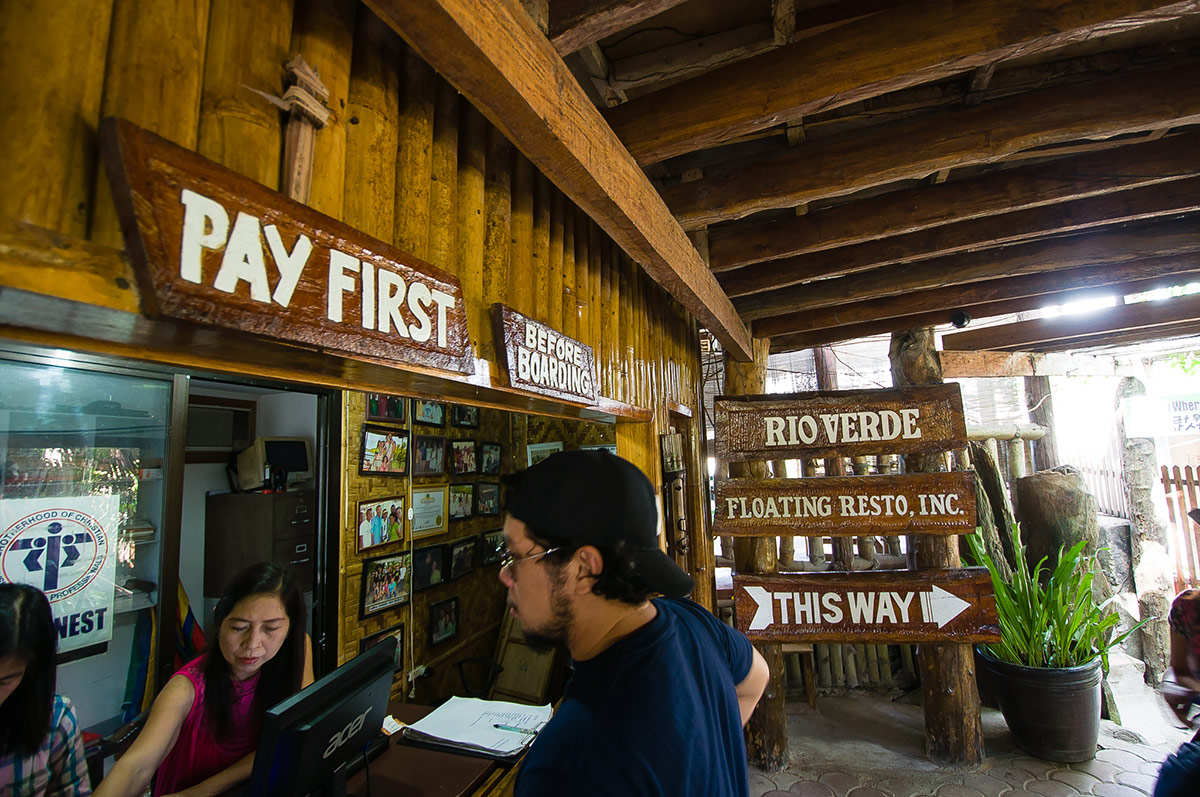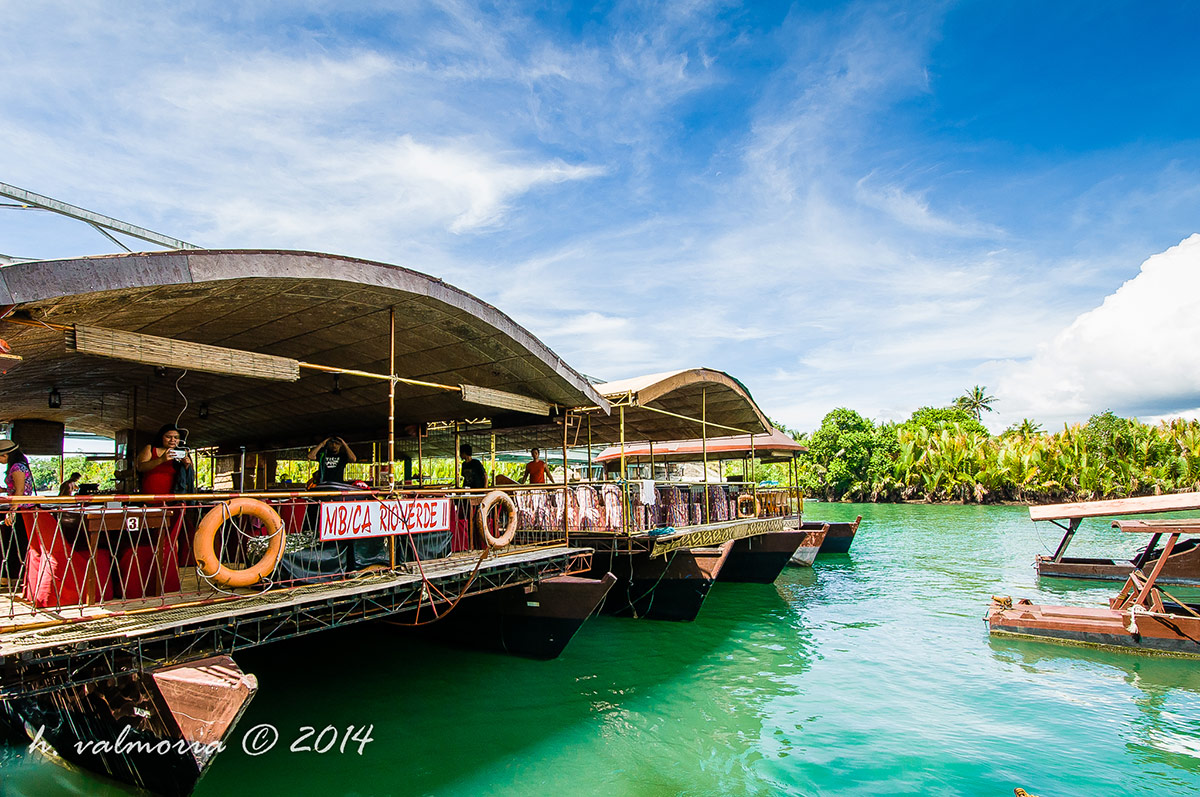 The cruise was quite an eye opener. Back when I spent some time in Bohol there were no river cruises like this, and at first it struck me as a really good way to promote local tourism.
It took quite a while before we were allowed to eat as we had to wait for other tourists to arrive and for the cruise to start. When they finally let us eat though, I can say it was worth the wait. The food was excellent and there were several dishes to choose from. Hungry as I was though, I only had seconds. Some of us had thirds and fourths and even fifths, but I'm not naming names. Just ask my buddy Rod of www.spotaleopard.com.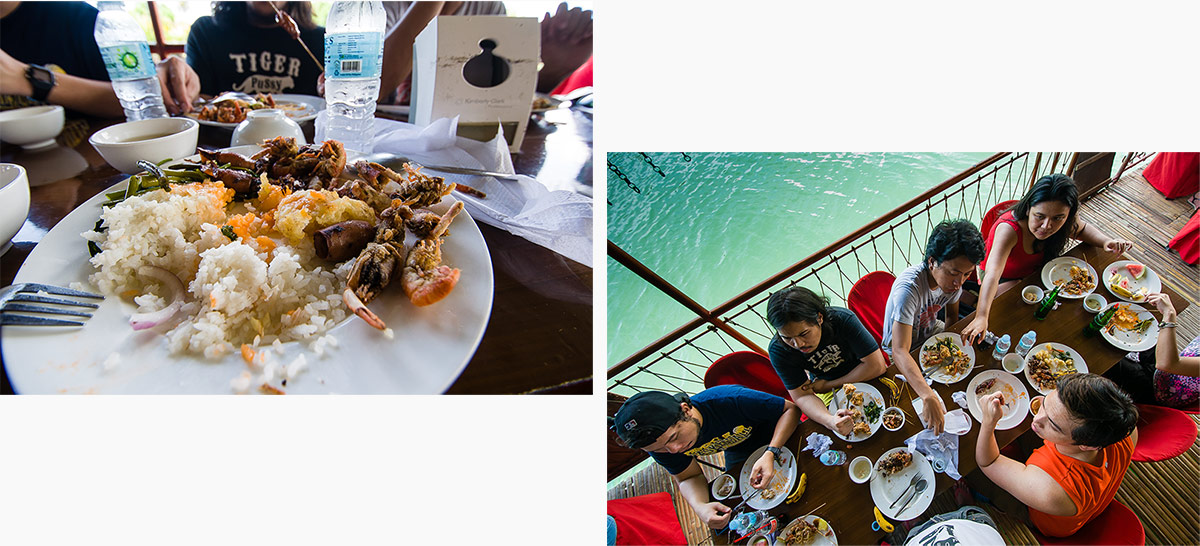 What really got to me though were the "sights" along the cruise. First stop was at a floating stage where talented Boholanos performed the Philippine national dance Tinikling. Being Filipino, I found nothing extraordinary at first, but then towards the end they picked up the tempo and were dancing and banging those bamboo poles so hard that I thought the stage would sink.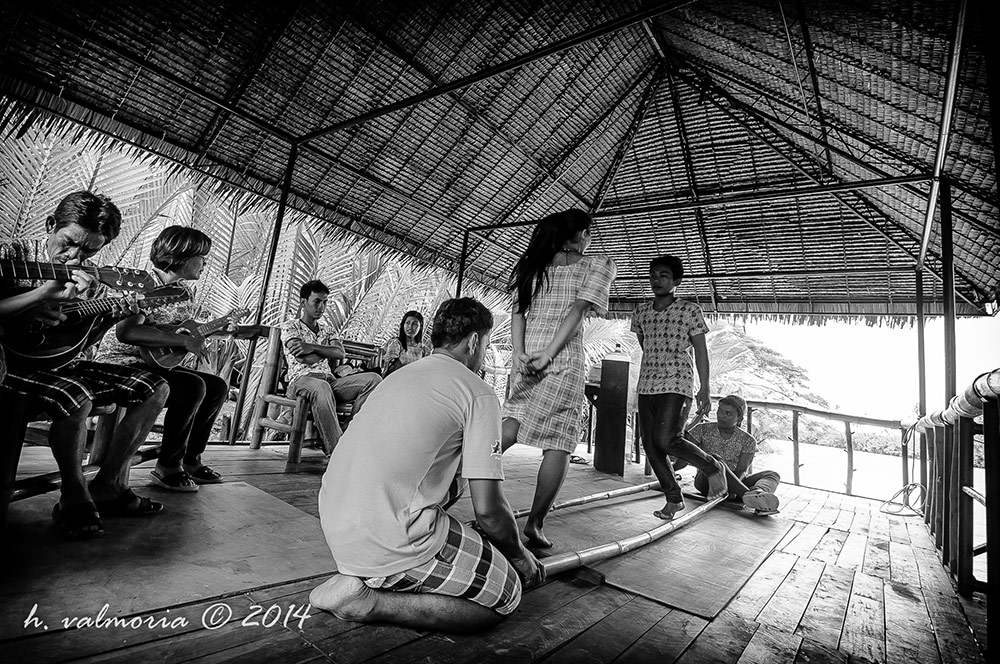 Next stop was at a "village" where lumads, or indigenous people, performed spectacular dances, exhibited exotic animals, sold souvenirs, and posed with the tourists. What really got to me was that years before I have experienced living with lumads, I saw firsthand their way of living and their culture, but this show, for lack of better term, seemed to me no more than exploitation for the sake of tourism. Label me what you want, but I did not enjoy that part of the cruise.
After the cruise, our next stop was the Chocolate Hills in Carmen. I was particularly looking forward to it as I knew that some of the hills, and even the main viewing deck, were affected by the earthquake and I wanted to document them.
It was quite a long way from Loay to Carmen, so we all had the chance to catch a few minutes of sleep and recharge our bodies.
When we arrived at the Chocolate Hills viewing area, it was already raining hard. Not allowing the rain to dampen our adventure, we decided to go inside the building that served as the office to wait out the rain. And when the rain finally stopped, we were treated by a spectacular view of the rolling hills, made even more spectacular as the rain cleared the early morning fog.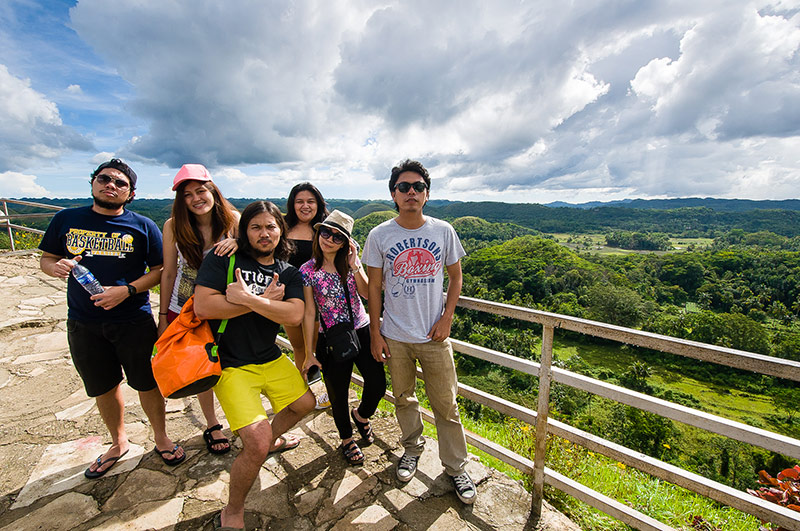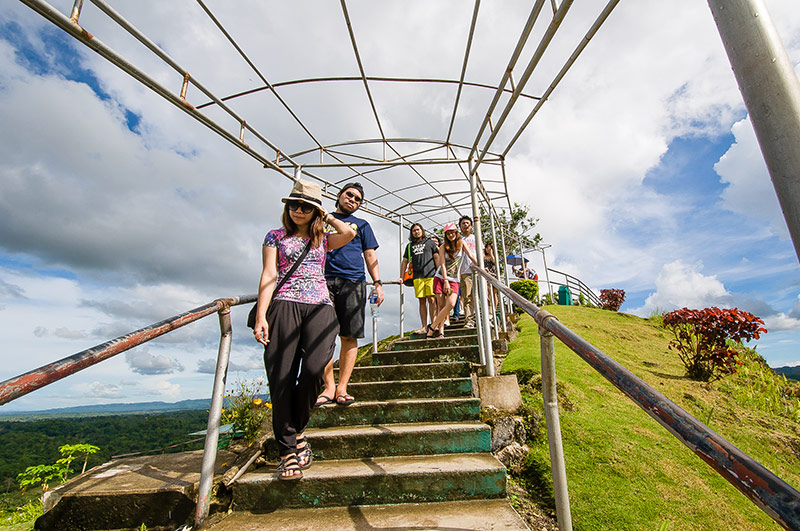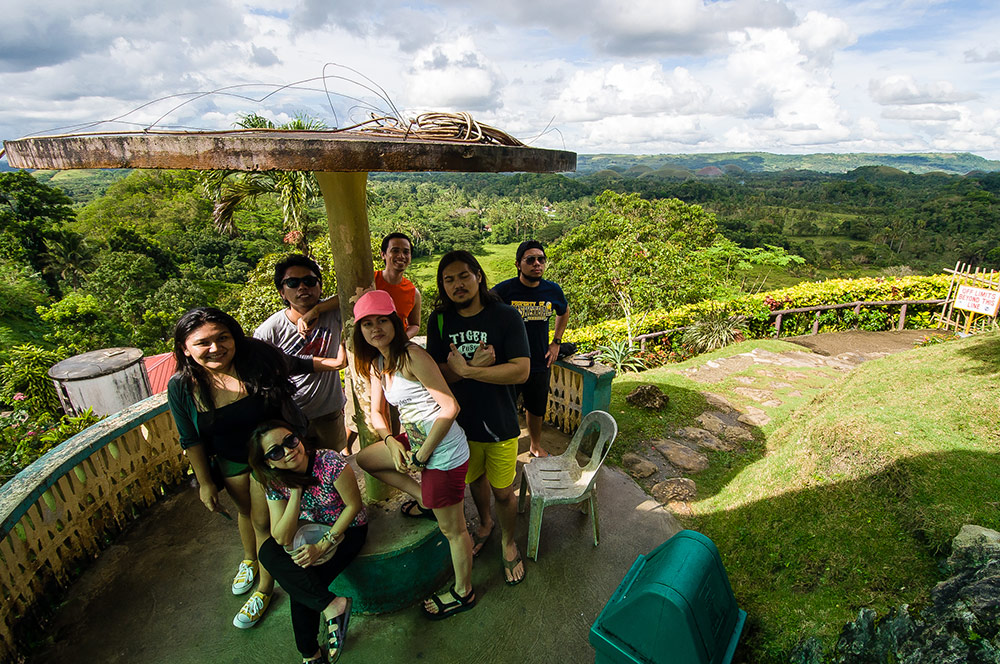 There is a P50 entrance fee at the viewing deck. There are other activities also being offered, such as an ATV ride, but I was too focused on getting my landscape shots that I did not bother much with them.
By the time we arrived on top of the viewing deck the sun was already raging, as if angry at the rain for trying to ruin our adventure. As much as we appreciated it when the rain stopped, the sun's heat was just too much. So after a few landscape and group shots we made our way down.
After the Chocolate Hills, some of us wanted to just go directly to Panglao and enjoy the remaining daylight communing with nature by the beach. But Bohol still had a few notable spots that we just had to go to.
Like for instance this man-made forest in Bilar.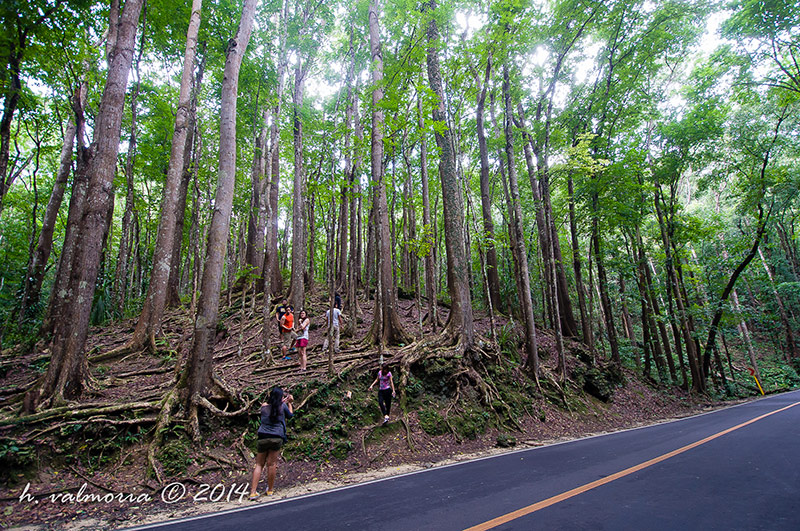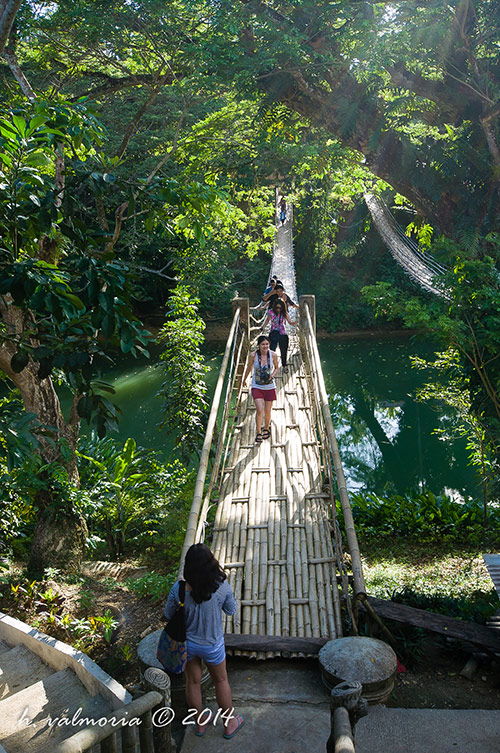 And this bamboo hanging bridge in Tigbao, listed by CNN as one of the world's most spectacular foot bridges.
Eventually the lack of sleep and all the day's adventure got to us. So after braving the hanging bridge, we finally headed back to Tagbiliran city where we stopped over to buy major necessities like booze, and minor ones like food, before heading on to Panglao Island.
By the time we arrived I was too tired and sleepy to fully appreciate the island's beauty, so I just took a few pictures before stowing away my camera for the night and enjoyed the company of booze, I mean, awesome friends.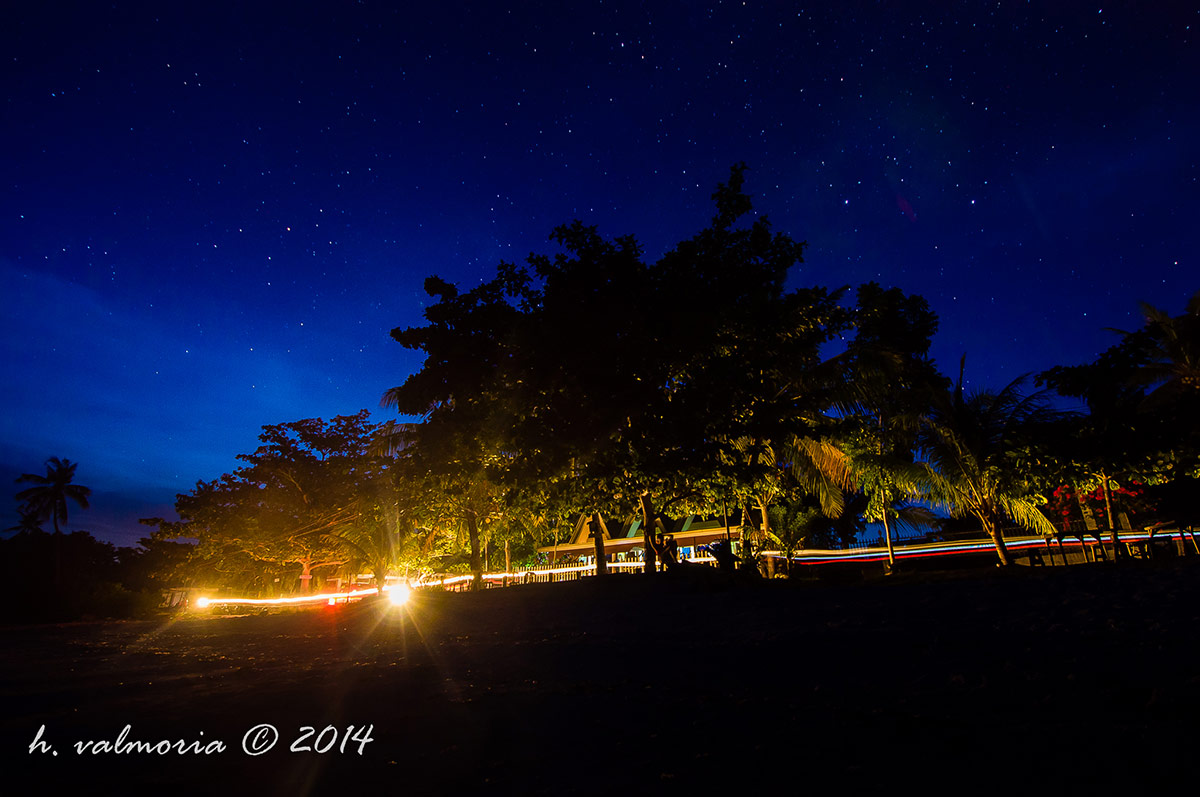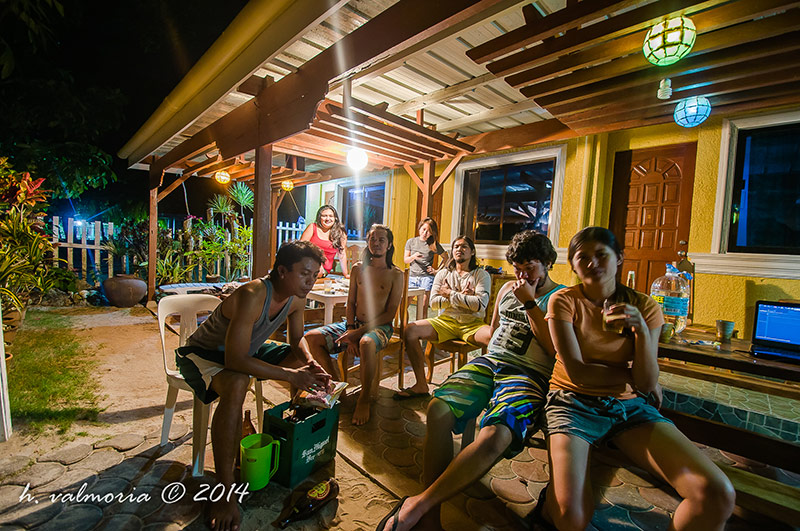 Needless to say, the next hours were the highlight of the day for me. As much as I like traveling and taking pictures, nothing beats spending the night with people as insane as you are. Thanks guys and gals!That was an awesome night. :)
So after all that long-winded narrative, did I succeed in chasing the Bohol that I knew?
Mostly, yes. I did not find the Bohol I knew before, but it was because I have romanticized the years I spent there. Perhaps if I went alone and traveled the back roads that I knew so well, I might just have exorcised my demons, or relived my fond memories of Bohol.
All in all, Bohol is one of those islands in the Visayas that remains largely unchanged despite the threat of urbanization. Its waters remain pristine, the valleys and hills as awe-inspiring as they were before the earthquake, and the Boholanos as cheerful and accommodating as they always have been.
So if you have plans of going to Bohol, trust me, you would not regret it. Book that flight now!
And oh, by the way, if you have not guessed by now, I am also a hobbyist photographer. You can view the rest of my Bohol photos at my blog.