Getting Bruised Up and Sunburnt in Siargao
No, this article does not document hazing of any sort. As barbaric as the title may seem, trust me, it's all worth it.
For someone who lives and breathes adventures, surfing has always been an item that I've wanted to check off my bucket list for the longest time. Seriously, how cool is trying to balance yourself on a board amidst rough waves and looking kick-ass while doing it?
So when my family decided to have some R & R at "The Surfing Capital of the Philippines", bags were packed immediately (while squealing in delight) and we were set to explore uncharted waters.
Touchdown in Siargao Island
A plane trip from Cebu to Siargao approximately lasts an hour. Growing up in the city, I couldn't help but marvel at the mere sight of green fields, thousands of trees lined up like students during a flag ceremony, lush hills, and turquoise waters from above.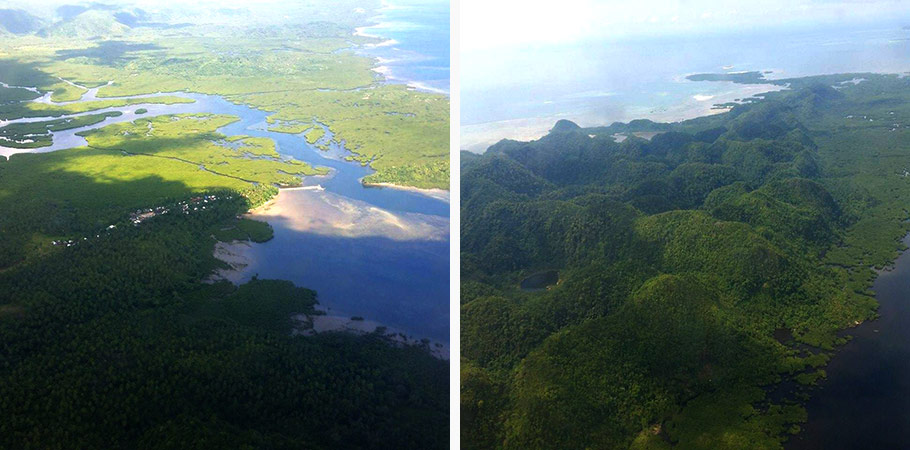 Since Siargao's tourism has peaked over the past years, it's no wonder tons of foreigners flock to the island. I jokingly remarked to my cousins that it felt as if we were boarding an international flight. So after a serious case of "Are-we-there-yet-ism", we finally got to inhale fresh, unpolluted air.
A family friend was kind enough to meet us at the airport and drive us all the way to the resort we were staying at.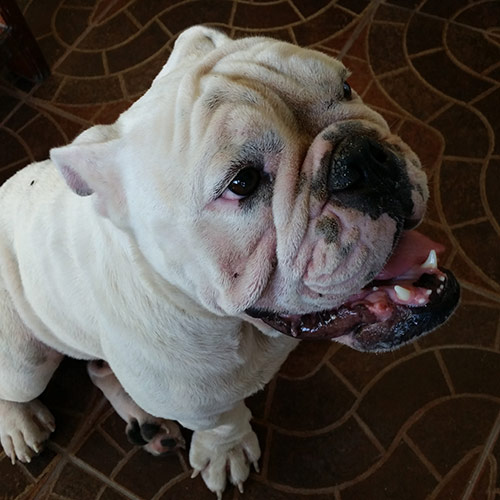 For our accommodation, we picked Island Dream Palm Paradise Resort in General Luna.
The place is so lovely and welcoming, one could run around barefoot thanks to their well-maintained Bermuda grass. I'd highly recommend this place to anyone who wants their money's worth.
Oh, and they've got a friendly bulldog who drops by the resort whenever it's fully booked. Isn't that cute?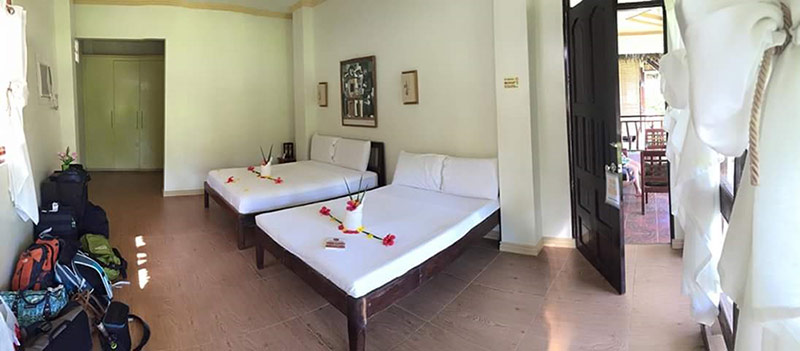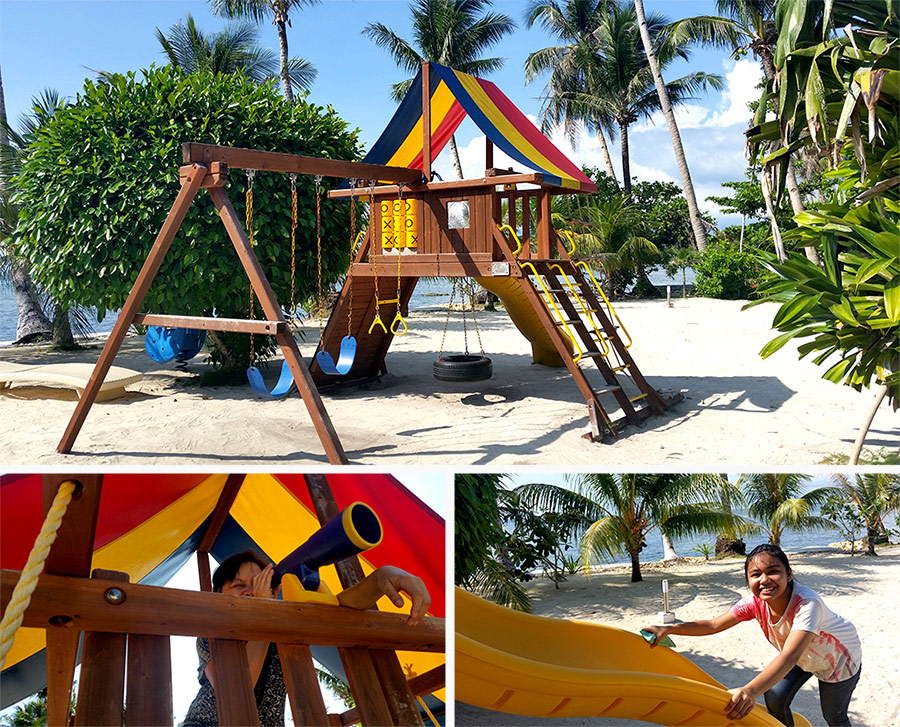 The Wonderful View at The Boardwalk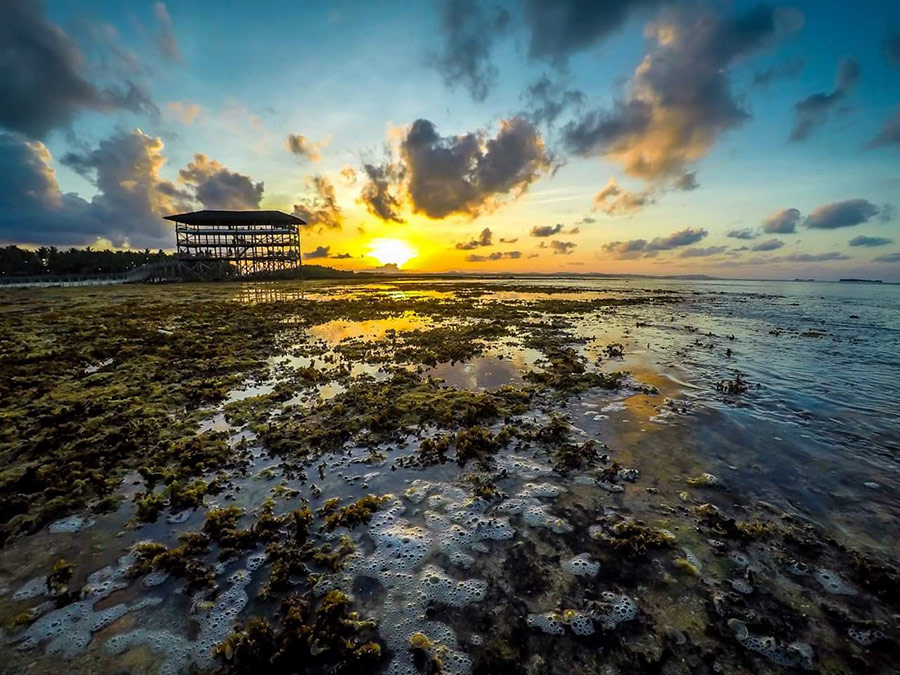 By the time we got there, it was already low tide so we were advised to try surfing the next day.
To prep ourselves for the activity, we took a tour of The Boardwalk and were keen to observe professional surfers riding the waves. The Boardwalk is an area at Cloud 9 where locals and tourists alike relax and watch surfers or where surfers walk toward the beach while carrying their surfboards— I guess that's where the name came from.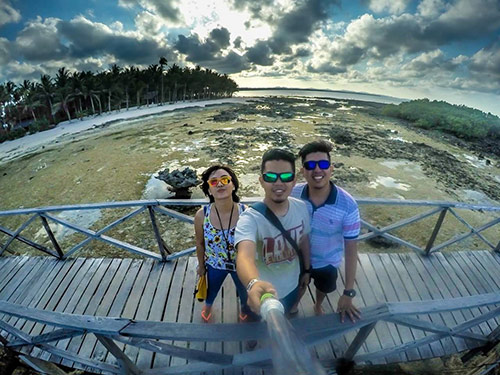 Lucky for us, we got to watch a pro and immediately called his attention after to ask if he was interested in teaching us how to surf. Haha. Numbers were exchanged and we were all set. We were also very blessed and fortunate enough to witness the sunset in all its magnificence and glory.
It was just the first day and we were pumped!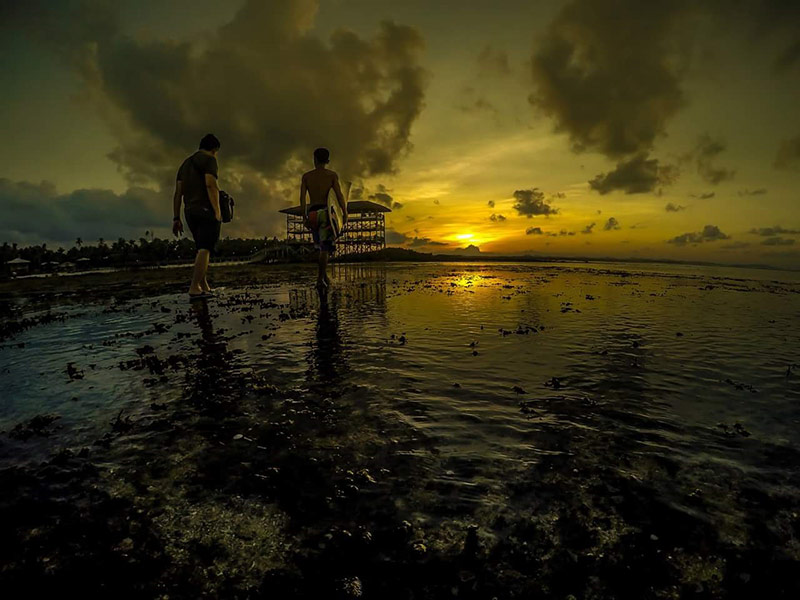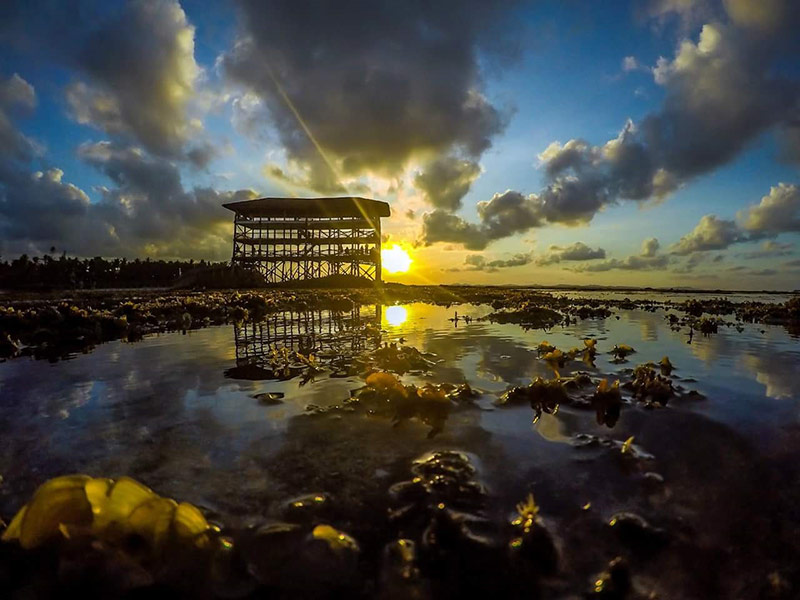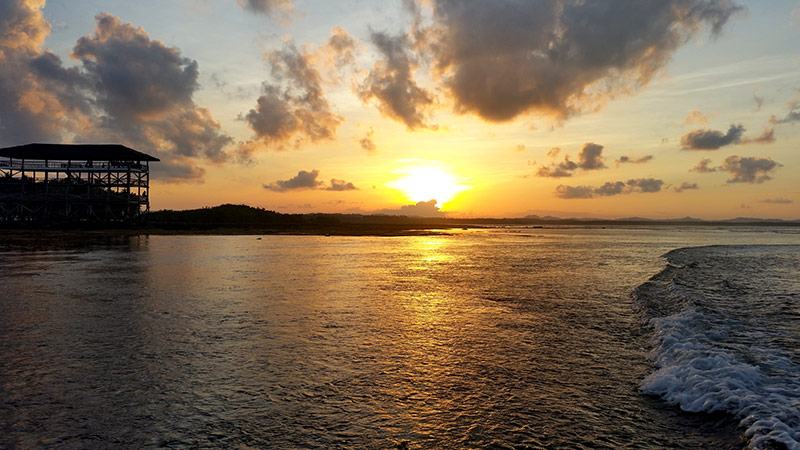 Surf's Up at Cloud 9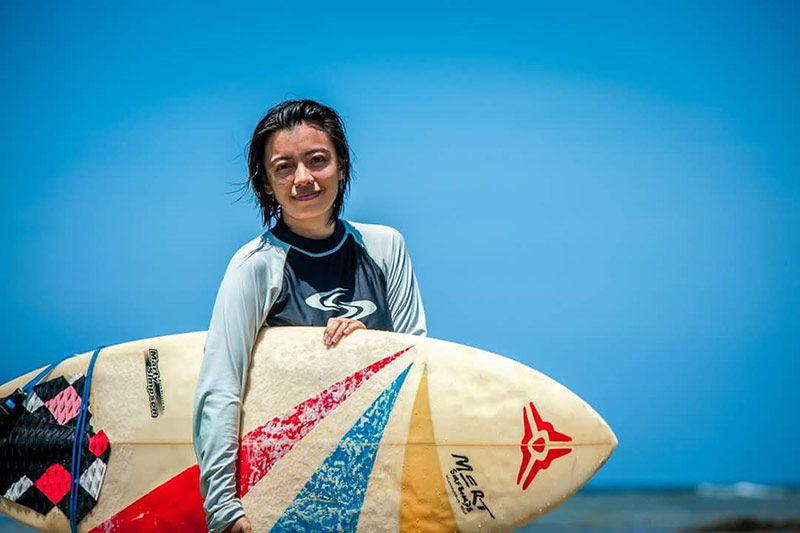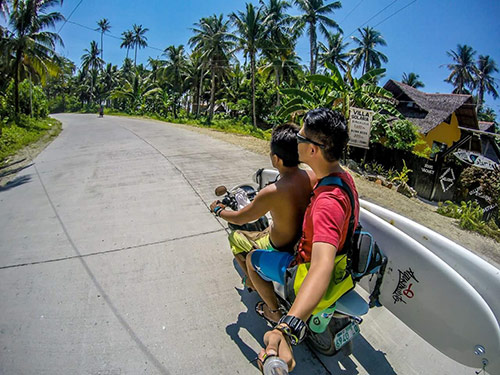 I won't lie. I was a bit nervous the night before we went surfing.
People closest to me know that my imagination is comparable to wild horses running amok (that's why I love to write). I had images of getting knocked out cold by a surfboard, spinning like laundry in a washing machine underwater, colliding into another surfer, and etc running through my mind. Thankfully, the fear went away the moment I set foot in the area.
Believe it or not, as funny as it may sound, Cloud 9 was named after the favorite Filipino chocolate bar of the same name. Known to have mighty waves that take the form of thick and hollow tubes, it has propelled itself to be one of the prime surfing spots around the world.
And now (drum roll please), SURFING 101.
At 500 Pesos/hour, you've got yourself an instructor and a board. They also have surfing shoes for rent if you're the type who is not comfortable surfing barefoot. We surfed twice on separate days and on the first try, I wore shoes to compare the difference. The verdict? I prefer doing it barefoot.
The pressure was ON since my instructor turned out to be the surfer we observed the other day—he also just so happened to be a 5-time surfing champion and a judge at the Siargao International Surfing Cup. Nice.
So what are the basics?
Before you get started, your instructor will help you identify your dominant foot for surfing whether you're a REGULAR FOOT (left foot forward) or a GOOFY FOOT (right foot forward) like me.
Step 1: Lie on your stomach on the board
Step 2: Paddle (Surfing requires a LOT of paddling. Exercising regularly helps condition your body.)
Step 3: Pop up. Think of this like a push-up.
Step 4: Catch the wave
It may look and sound simple, but goodness gracious it's not. Balancing requires absolute patience so if you fall a lot on your first few attempts, that's okay! Just make sure to slather sunscreen all over yourself or wear protective swimming gear—the sun is unforgiving. I ended up looking like burnt toast.

Also, choose an instructor that puts your safety above everything else. My instructor, Jessie, was such a caring one that he wouldn't let me ride the big waves immediately (yes, I can be stubborn like that sometimes) and would scan the area before letting me catch a wave to avoid colliding into another surfer.
And lo and behold, after a few falls, I was able to balance myself on the board!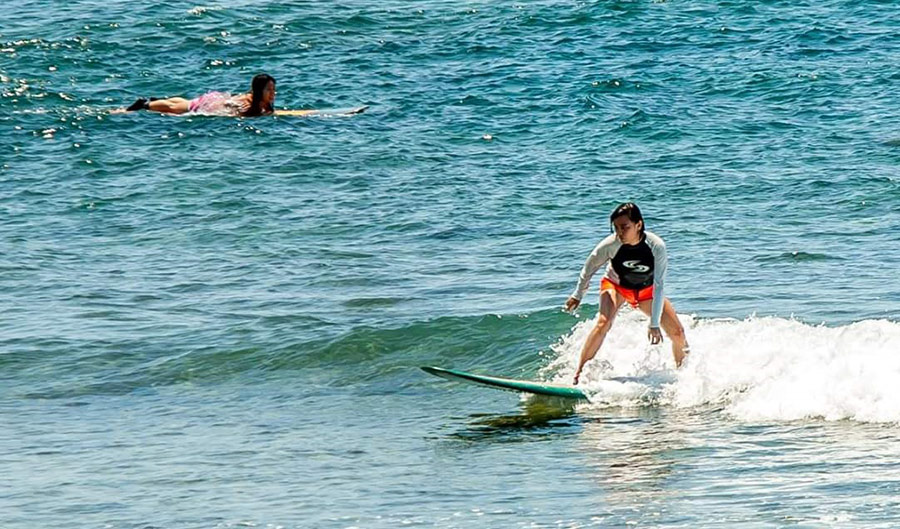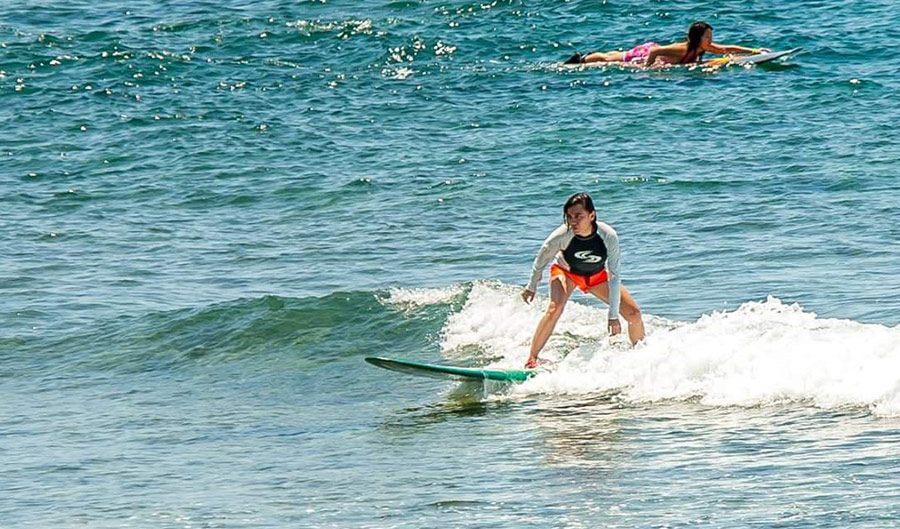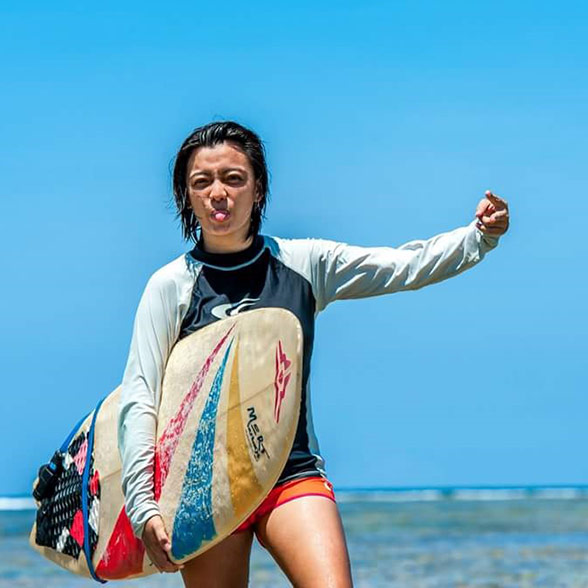 Once you get the hang of it, it's going to be a lot easier after.
Injuries can't be avoided while surfing—prepare yourself for that. I got scratches, bruises, and had my butt hit a big rock after I fell.
Kudos to my instructor, learning the basics was tons of fun. He was so patient and kind the whole time.
If you want Mr. Jessie Noguerra to teach you as well, you can contact him through his mobile number at 09487874727.
Making the Most Out of Our Stay

Surfing isn't the only activity one can enjoy at Siargao. Two of my cousins who are fishing enthusiasts went to Pilar, Surigao del Norte to bring out their inner anglers. After about 4 hours of waiting and when spirits were dwindling, they finally caught a 4kg tuna!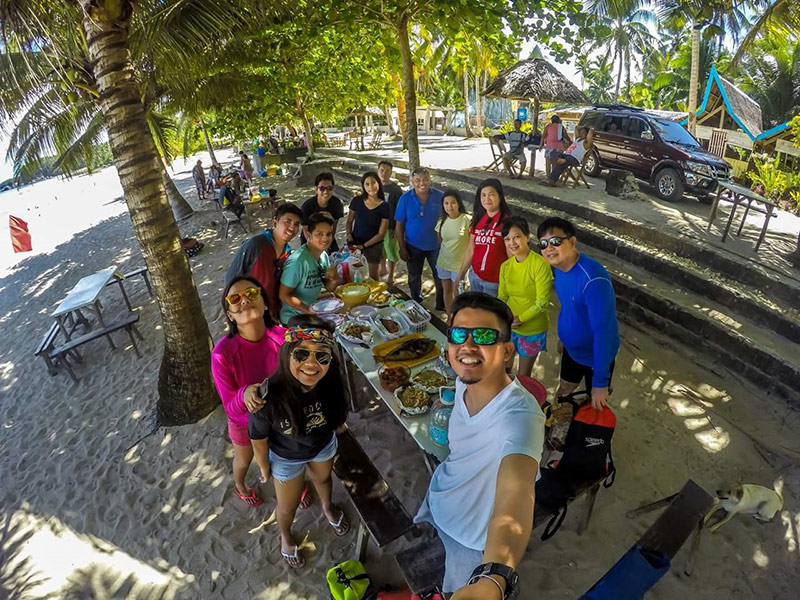 If you're a nature-loving kind of person, make sure to head down Magpupungko Rock Formation and Tidal Pools also in Pilar, Surigao del Norte.
To say that the view is breathtaking is an understatement. As the tourism site of Surigao Islands aptly describes it, "surrounded by limestone and granite sculptures facing the Pacific Ocean, its pockmarked limestone floor reveals pools of assorted shapes and sizes resembling basins, barrels, tubs, and ponds during low tide."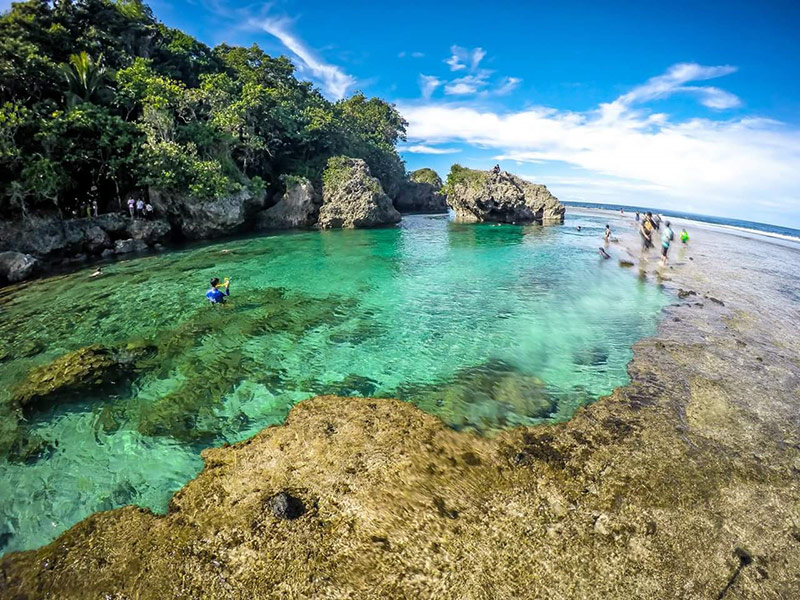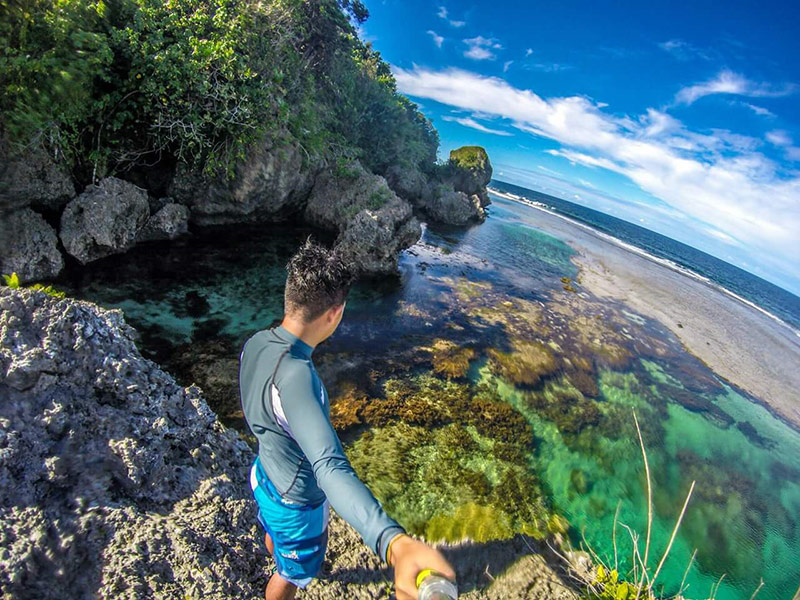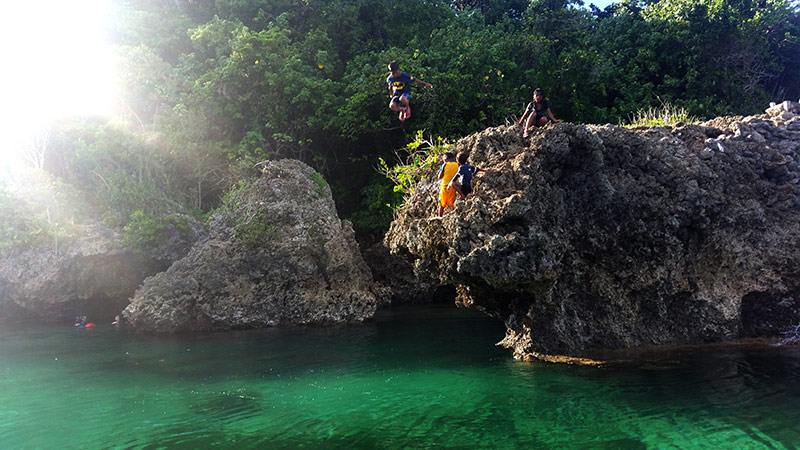 I could've sworn my mouth was open the entire time as I stood dumbfounded by the beauty that was before me. The refreshing waters were extremely soothing to our sunburnt skins and we couldn't think of a more perfect way to spend our last day on the island.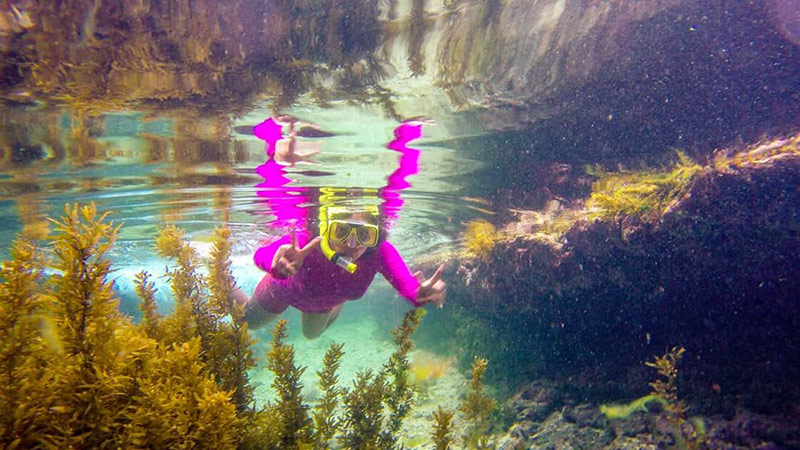 Planning a trip to Siargao? No worries! You can check out their website at www.surigaoislands.com to help you get ready for that vacation you've always been dreaming of.
Photos by Kevin Brandon Toledo