Miracle Garden: Dubai's Blooming Attraction
If your ideal getaway does not involve rock climbing, island hopping, nor snorkeling with sea creatures, perhaps you are the type who enjoy laid-back retreats that reunite your soul with nature. Last February 14, 2013 (yes! on Heart's Day), Dubai launched its Miracle Garden- the city's first and the world's largest natural flower garden. See for yourself if this flower haven is the weekend destination you are looking for.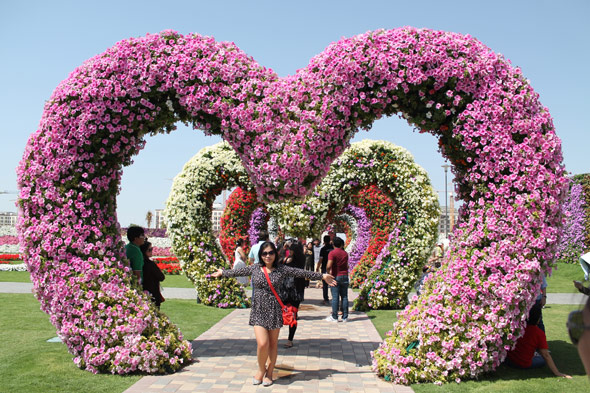 Dubai dwellers and visitors can stop complaining about the city's lack of natural beauty now that a piece of Eden has been built near downtown. For 20 dirhams (5.45 USD), you can surround yourself with 45 million stunningly structured and ingeniously designed multi-colored flowers.
On March 28, 2013, Guinness World Records bestowed the title "largest vertical garden in the world" to Dubai's Miracle Garden for its sheer size of 72,000 square meter. It would be sunset before you could count a quarter of the flowers here so don't exhaust yourself with this pointless endeavor.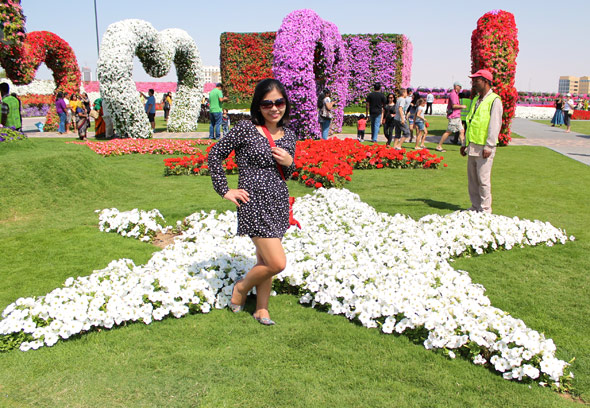 Dubai's Miracle Garden is located in the North West Quadrant of Arabian Ranches interchange along Sheikh Zayed Road within Dubai Land. Once you are inside, you will find flowers forming various odd shapes such as igloos, pyramids, stars, a strange river, even UAE symbols. It will be tough to suppress a smile while posing beside a flower-covered vintage car.
Small wonder why many wedding photographers take their clients here for pre-nuptial photo shoots. Heaps of fanciful flower displays await brides and grooms to-be. Dubai Miracle garden's landscape artists made sure that each spot is a true joy to behold.
Despite the numerous flowers in this garden, visitors are not allowed to pick them and take them home. No romantic excuses are deemed acceptable. It is also worth noting that grilling food inside the garden is prohibited. Carefully watch your steps as some parts of the garden are off-limits.
It was March when we visited this floral paradise. To prepare for the second phase opening featuring more plants, flowers, butterflies, and other remarkable changes, the Miracle Garden is closed until November 1, 2013. Check with their admin from time to time through phone, email, twitter, facebook or their website for updates.
Dubai Miracle Garden (Telephone: 009714 – 4228902; Email: info@dubaimiraclegarden.com; Website: dubaimiraclegarden.com)