Sunset View in Durhans White Beach Resort, Tabuelan
When Yolanda (Typhoon Haiyan) ravaged Cebu, Leyte and some parts of Samar, tourist-worthy spots severely suffered. Typhoon survivors are still busy rebuilding their abodes. Town leaders are doing their utmost to regain a sense of normalcy and revive the tourism industry. Local and international aids keep coming.
It's been more than a month since strong winds and wild seawater blasted Visayas' pristine and postcard-pretty beaches. You're probably thinking twice whether it is the best time to go out of town, more so, to visit one of the typhoon-stricken beaches in Northern Cebu
There's good news for you from Tabuelan. Though Yolanda uprooted most trees and lashed many houses in Tabuelan, its idyllic beach remained unscathed. An excellent embodiment of Filipino resiliency.
Why a 2 to 3-hour trip from Cebu City to Tabuelan was worth it
Maybe you have read about our El Nido expedition, Mantigue Island exploration even my eerily fascinating Dead Sea visit. But I say with candor that our visit to Tabuelan's Durhans White Beach Resort was downright unique.
It is a refreshing setting where a "barkada" (clique) and their family can truly unwind. Our gang was composed of bubbly yuppies, enamoured couples, and two wonderful kids – we're 17 people in total. Being out of town made us closer to nature and to each other.
Free your mind from the daily grind, find serenity, and kindle friendships once you step inside Durhans White beach resort.
A Photographer's Favorite
Above all, thou shall not forget to have a solitary stroll along the beach while the sun is going down.
Here is photo of myself when darkness almost devoured the sky and the sea nearly drowned the sun.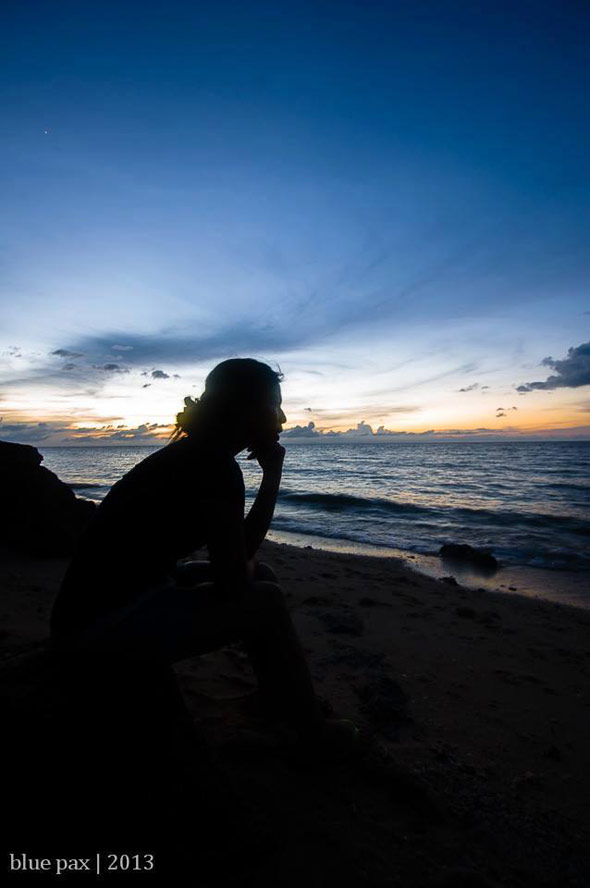 Though Island trotter Neil has been to many beautiful beaches, he still enjoyed Durhans White beach for the rock formations, sea and skyscapes, and of course – the sunset view. The sun disappearing in the sea's horizon was a breathtaking sight – whether you are lonely or not. Watch this video of Tabuelan, Cebu Sunset:
We would like to thank the mastermind of this fun getaway: bluepax. (It was his camera and amazing hand that took this shot.) He is a frequent client of the resort so he got us an awesome package. We only had to spend Php700 for the lodging inclusive of lunch, dinner, and breakfast. I guess the booze budget came from his own pocket – a simple proof that his middle name is Generosity.
Speaking of kindness, we also thank our colleagues who own group-friendly vehicles and gigantic hearts: Steph(through her hubby, Ryan) and Mike. They drove us safely to and from the destination – with free music, food, and stories.
Tabuelan's Durhans White Beach Resort is surely just the beginning of our fantastic escapades. Everyone agreed to kick the gang's gimmick up a notch by going to never-before visited places on the planet. Just kidding. I'm only sure of one thing: this will not be our last rendezvous.
Durhans White Beach Resort Info
Air-conditioned room rate starts at Php 1500/night for two up to Php2000/night for four pax. Since we were a group of 17, we opted for a non- air conditioned room which costs Php2800/night, good for 8 people – we had to pay Php100 for each additional person. For more information, you can visit their website, call their mobile number (63 932 593 2778), email durhanwhitebeach@yahoo.com or interact with their FB account or their twitter account.