The Lure of Legazpi City
I'm 30 and still lamentably ignorant about my father's hometown: Daraga, Albay. I wanted to change that but it's so hard since the Philippines has plenty of fascinating islands, cities and provinces clamoring for a visit. Last April, I crossed off Legazpi city on my travel wishlist.
When I brought up the prospect to my siblings months before the trip, they were ecstatic! Everyone was so curious and excited to visit the place where our father grew up. So plans were laid out for the 'family reunion trip'; promises were made; yet a week before the excursion, each one came up with a valid reason to cancel.
Dismayed, I considered postponing the trip. But the lure of Legazpi City was just too strong - I couldn't wait another year.
Alone and Lost on My First Eve in Legazpi City
Getting lost at night in an unfamiliar city is no fun. How could shops and stores stop serving customers 45 minutes past eight in the evening? That's the first thing I wish I knew about Legazpi city before I dared take this solo trip.
I want to retrace the route that brought me where I am (lost) but the path is dark and I can see (with my bionic eyes) some youngsters lurking behind the shadows. Maybe I can find a better, safer (well-lit) way back to RMJ Apartelle.
"Hi Miss," a man I come across the street said. Shocks, my red 'I'm-a-backpacker' bag gave me away. I hear my mind say. I keep a straight face and briskly march forward without stopping. I'm too busy to be scared. Faster and farther I wander.
Then I stop, I need to ask for help. Good Lord, a tiny gasoline station is still open!
"Kuya, alam nyo kung saan ang RMJ Apartelle?" (Do you know where is RMJ Apartelle?) I ask a boy who looks like he has had a long day. But reading his tired and clueless facial expression, I thank him and proceed with my fruitless search.
At 9:30 pm, the streets are almost abandoned.
How could people hide inside their homes so early?
Okay, think. I saw a tricycle terminal earlier. I don't mind paying someone a hefty price to show me the way back to the apartelle. Forget traveler's ego, tomorrow there's a scheduled power interruption from 6AM to 6PM (my trip is so ill-timed, right?), I need to wake up early to take a shower before the ATV tour.
I offer an old man what I believe was a fair deal: 50 pesos for a ride. His face lights up as soon as he finds out where I want to go, then he kick-starts the engine to life. In about five minutes, we reach RMJ Apartelle without trouble.
Focus on the positive, Issa, you've just helped the city's tourism economy.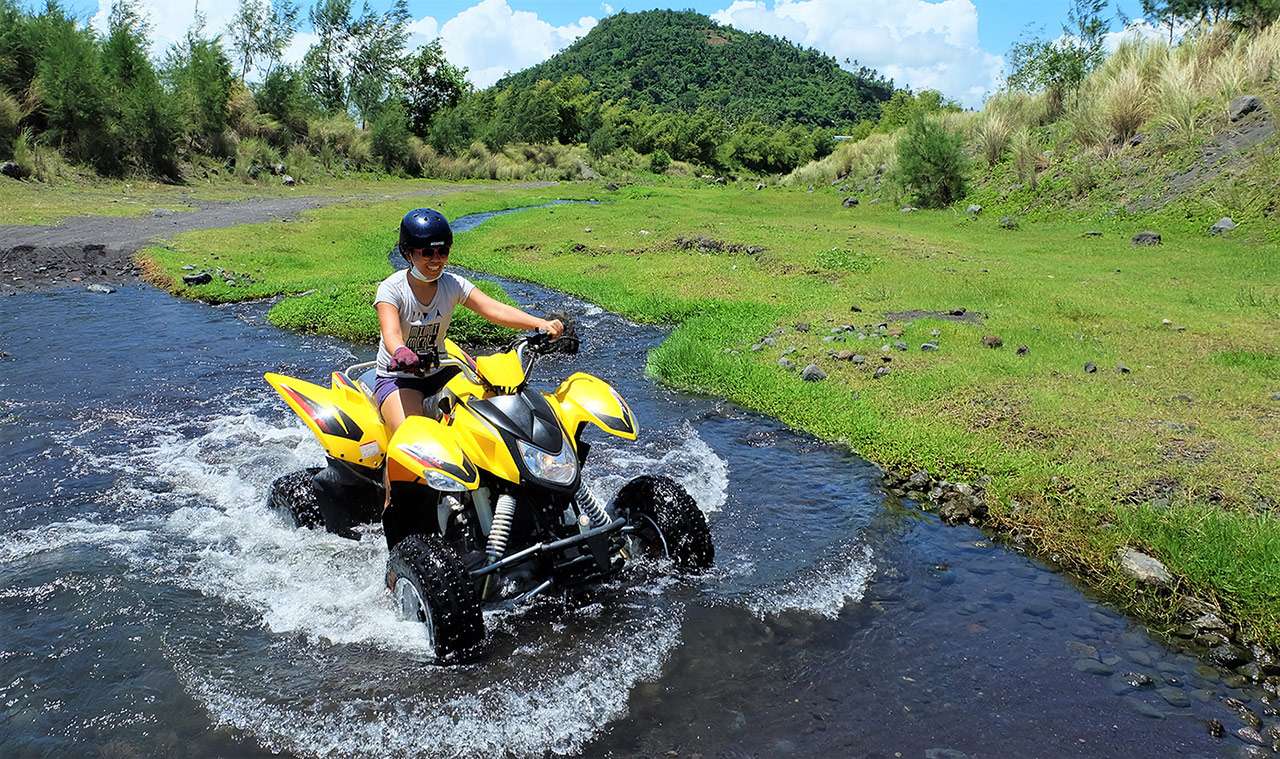 Speaking of Legazpi City's Tourism..
Earlier that day, I went on a half-day city tour with a tricycle driver/guide/photographer whom I hired for 550 pesos. (What a bargain!) I know four to five hours of driving around Legazpi isn't enough to exhaust the charms of the city. But superficial it may seem, I'm still glad we went to the famous destinations we could pack in so few hours.
Legazpi City mostly offers activities around Mayon Volcano. Everything you do around here is connected to this mystic perfect cone. In every tourist spot your guide takes you, you'll gain a new perspective of the majestic Mayon. You could say it's their greatest source of pride and prominence.
Anywhere I go around Legazpi, Mt. Mayon follows me. Or so I'd like to think. With its enormity and air of mystery, it's simply impossible to ignore. My favorite stops for Mayon Volcano viewing are Legazpi Boulevard (that's why I went here twice), Daraga Church, and Pawa ATV center. (The pictures will tell you why.)
Like many first-timers, I could only cover Cagsawa Ruins, Guadalupe Shrine, Lignon Hill, and the other three I mentioned earlier. Plus a glimpse of artistic floats for the Magayon festival, a yearly month-long celebration honoring the legend of the bountiful and beautiful volcano.
Bicol Dishes to Write Home About
On the first night I got lost, I was looking for a place to eat. Gaisano mall was about to close when I decided to have dinner so I went to the nearest open dining spot: Four Season's Restaurant. It was packed so I took it as a good sign.
Only to end up ordering non-Bicolano dishes. The restaurant's signature dishes are chicken and Chinese cuisine-inspired specials. I marked this choice as a learning experience. If you like Chinese food, by all means, dine here.
The next day, I did research places to try Bicolano dishes and drinks. Lots of restaurants turned up on the search results but I had to pick only three based on the online reviews I read: La Mia Tazza Coffee for their unique pili nuts cappuccino, Waway's Restaurant for its inexpensive, time-tested buffet of Bicol specials, and 1st Colonial Grill for their ubiquitous sili ice cream and laing.

The verdict? The sili ice cream and pili cappuccino are both winners by default. I don't have any relevant experience to compare them to. As for Bicol express, Waway's version has a much richer, spicier and sweeter gravy. As for Pinangat and Laing (both dishes are based on taro leaves with coconut milk), they are nothing like what I've tasted before.
You see, my father's cooking style might not be of restaurant caliber but I prefer his version of laing and ginataang pagi (sting ray with coconut milk). He cooks the best-tasting Bicolano dishes- like he's using magic- everything he mixes with coconut milk just tastes absolutely great. If he was with me on this food trip, he would know if the chef skipped a crucial step or if there's a missing ingredient.
Just like I know that my family's presence was a key ingredient missing on this trip. I'm still unbelievably haunted by Legazpi City - in a good way. It's the last place I wish to explore alone again.