5 Reasons Why Mabua Pebble Beach Will Haunt You
It's summer, the heat is becoming unbearable, and you can't wait to hit the beach to cool off.
You can already picture it in your mind –the sparkling waters, the cool sea breeze, and the long stretch of white sand waiting to tickle your toes. Or, if you bathe nude like me, your butt cheeks.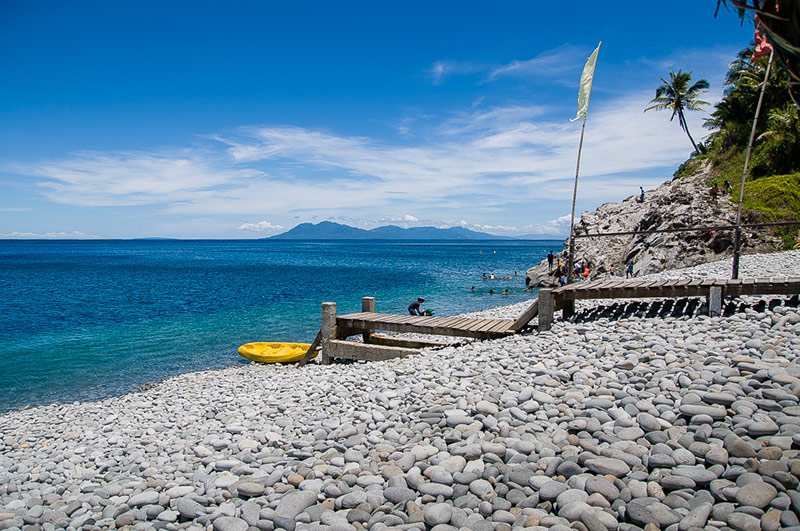 Every summer, I never fail to visit a beach or two as part of my landscape shooting trips. But this time, it was a tad bit different. My contract with the company has ended so I had an entire month to spend on traveling before starting a new job.
And what better way to kick off a summer of beaching than going back to my hometown?
Surigao City, the Gateway to Mindanao
If there's one thing about my life that I'm thankful for, it's that I was born in a laid-back city full of promise. (That plus my perpetual good looks, but that's for another blog post.)
Surigao City is one of those many cities in the Philippines that develops at a crawl.
Don't get me wrong, that's not a bad thing. In fact, the slow pace of its development ensures that its idyllic beaches and mountain trails remain relatively pure, long after the more popular ones in other parts of the country have lost its allure.
Though it has come a long way since the not so distant past when I was born, the provincial culture remains largely intact. Yet some areas have been developed, fulfilling the promise I saw way back then. Like the beaches, for example.
Barangay Mabua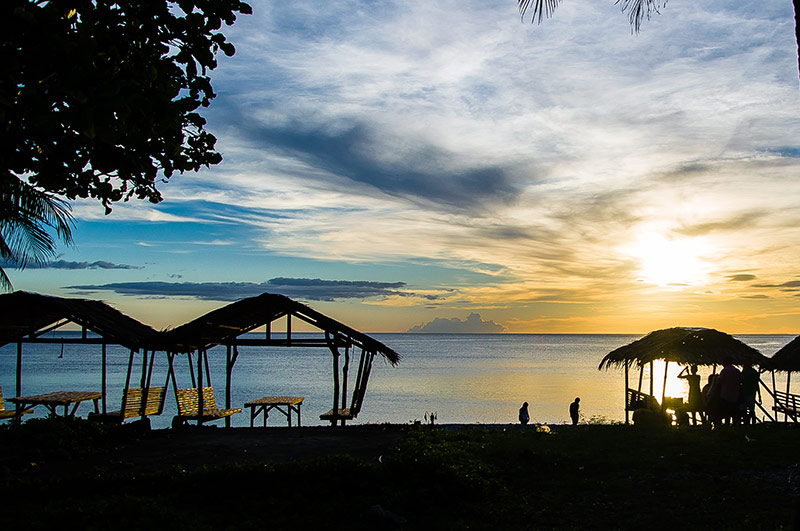 The more famous beaches in Surigao City can be found in Brgy. Mabua, merely 30 mins away from the city proper.(See breakdown of transportation costs at the end of this article.)
The travel to Mabua is, by itself, an adventure as the road going there is lined with rice paddies that make a picturesque landscape. Once you get past the fork in the uphill road, with the one on the right going to Lipata Port, train your eyes on the right side where you will catch glimpses of the bay that makes up the beaches. 
Once you're back on level road, turn right at the first fork and stop there for a while. In that area is where you'll find the famous sayongsong, a delicacy that can only be found in Surigao City. Shaped like a cone, this treat is made from finely-ground malagkit (sticky rice)mixed with coconut milk and sugar. Be sure to buy many, you won't regret it.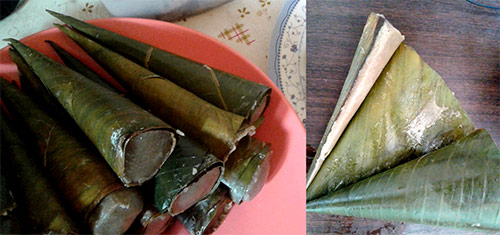 After stocking up on sayongsong, head on further to the beaches. The first one you'll pass by is Rose beach, but it is currently closed due to a change in ownership. Along the way, there are several resorts ranging from the pricey to the downright cheap. Known as Dakuman, this area is nothing but beaches right in between barangays Ipil and Mabua. You'd probably be thinking of picking one by then, or even tempted to stop at one, but don't just yet. Your goal is the famous pebble beach right at the very end of the road.
Mt. Bagarabon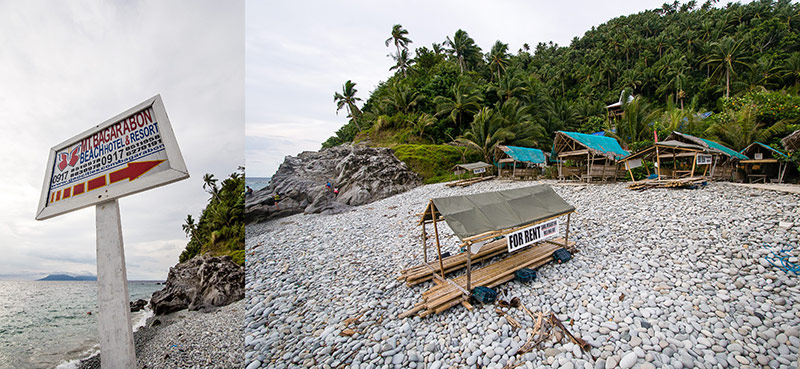 The farthest resort in Mabua is the Mt. Bagarabon Beach Hotel and Resort, a quaint yet comfortable resort nestled at the foot of the mountain. Bagarabon is more like a hill actually, and named after a species of butterflies that can be found there.
Though the resort itself is perfect, especially for honeymooners, I won't talk much about it here as I haven't stayed there personally. (I mean c'mon, my parents' house is a mere 10 minutes away from here.) The only reason I'd get a room at this hotel is if, well, nevermind. (Some things I prefer to keep to myself, thank you.)
For this year's trip to the pebble beach, I went with my friend Ching, her sister Nicole, and their boyfriends. Most of the photos here were taken during that trip. Note that we went there in April when waters are generally calm. Come rainy season (in June) and the waves can get rough, making swimming here a bit dangerous.
So, without further ado, here are the 5 things about the Mabua pebble beach that will make you forget about white sand beaches.
1.  The pebbles of course!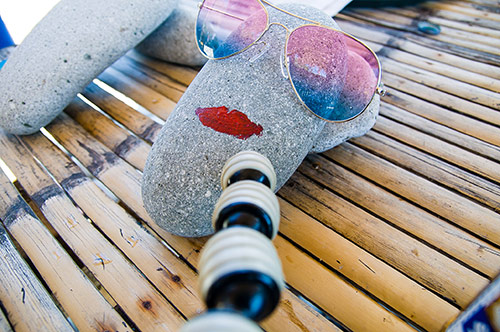 I know all this time you were thinking of teeny tiny rocks that you can scoop with a single hand. Nope, the pebbles here are huge! Just ask Roxy, a cute and posh she-pebble that we adopted while we were there. Ching helped her with her lipstick so she could take a selfie. Isn't she cute? Her partner, Rocky, was already a bit drunk so I didn't take his photo. Believe me, you don't want to mess with a drunk pebble.
Unfortunately, we had to leave them behind when we left. The resorts are very strict about taking pebbles home. Too bad, Rocky and Roxy would've made great travel buddies.
2. Truly crystal clear waters.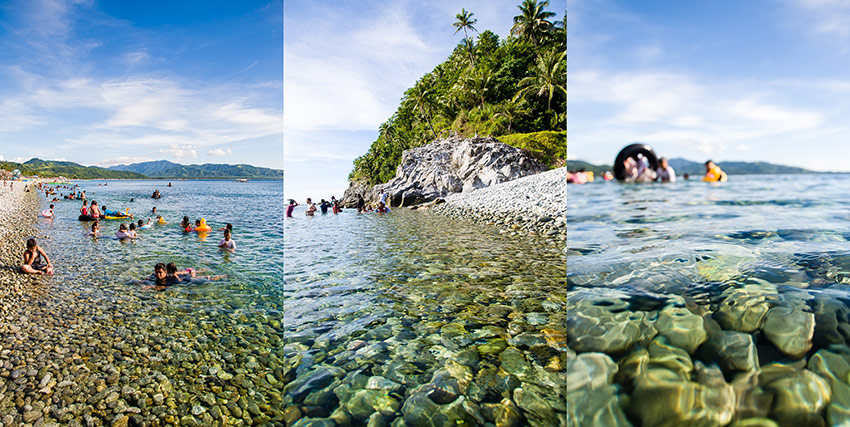 With not a single grain of sand to muddy them up, the waters at the pebble beach are amazingly clear. Even at chest-deep waters, you can still see your feet!
The pebbles, especially in summer, don't have any moss clinging to them, which contributes to the overall clarity of the water. If you look just straight down, the pebbles and cold water make it seem like you're standing on a spring. Just don't be tempted to drink the water though, like I almost did. 
3. It gets really deep really fast.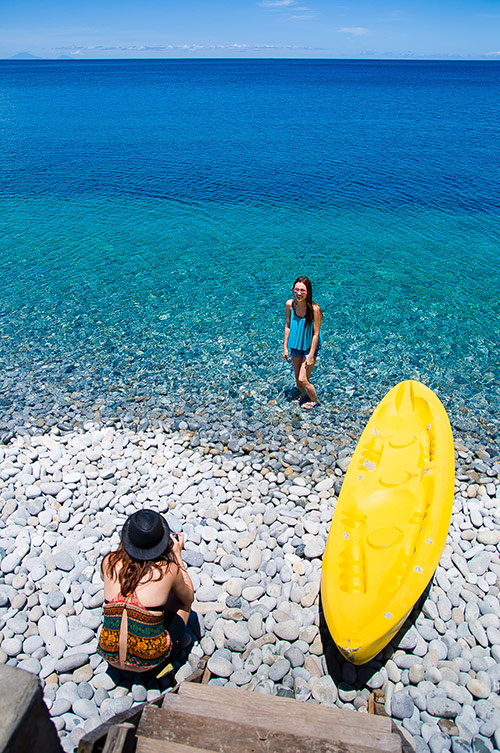 As can be seen on the image, a mere few steps from the shore and the water turns a darker shade of blue, indicating deep waters. Really deep. To give you an idea of how fast it gets deep, when I waded in all it took was 5 steps and already the water was up to my neck. I'm 5'11" by the way, so yeah, be careful when you wade in, especially if you don't know how to swim.
But if you're into free diving, then this spot is perfect for you as you don't have to go far from the shore to do some diving. Just make sure you have all the appropriate gear and experience as water currents beneath are quite strong.
That's Ching and her sister by the way in the photo. I gotta hand it to them, they know better than me how to take "model" shots.
4. The Mabua-Looc mountain trail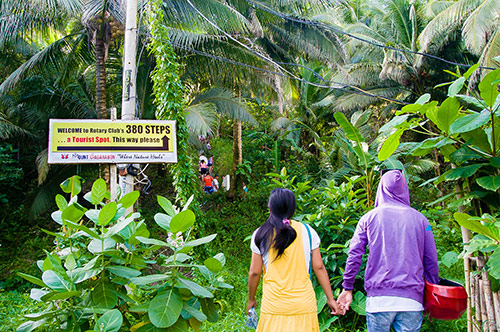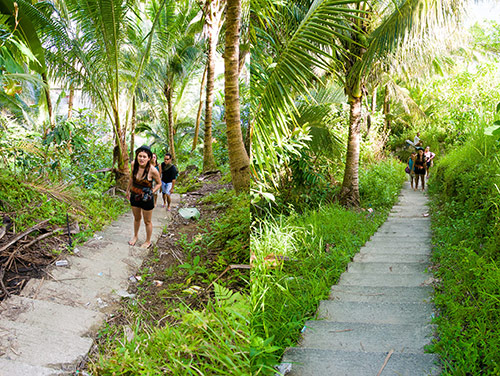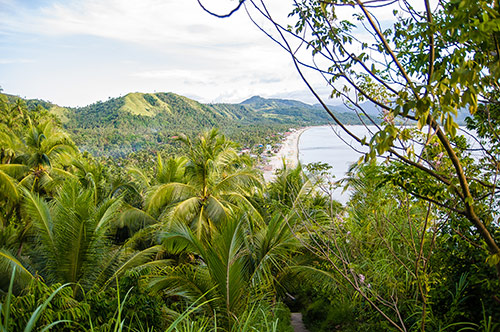 This is one that you shouldn't miss, not just for the adventure but also for what comes after.
The mountain trail starts just behind the hotel, look for the sign that says 380 steps. Yep, you read that right. 380 steps up the mountain!
If you haven't had any exercise for some time better prepare yourself for a long and arduous climb even though the steps are made of concrete.
But once you get at the top you'll start to feel that it was all worth it. The first thing you'll notice after the 380 steps, apart from your shaky legs and bursting lungs, is the shrine devoted to Mother Mary.
This is what most climbers are here for, to pray and enjoy a moment of silence.
But that's not the only thing, opposite the shrine is a somewhat obscured but nevertheless amazing view of the bay below. You will see the long strip of the pebble beach below as well as the mountain range farther on.
After resting a bit, start heading down towards the other side. Believe me, once there what you will find will make the long climb more than worth it.
5. And finally, Looc beach!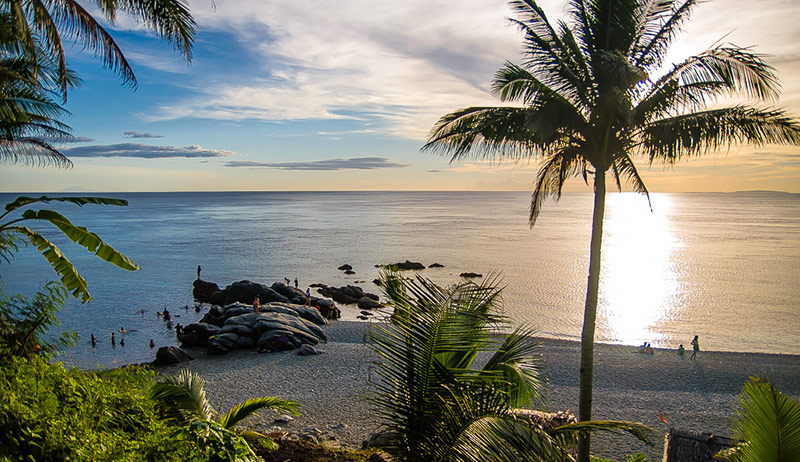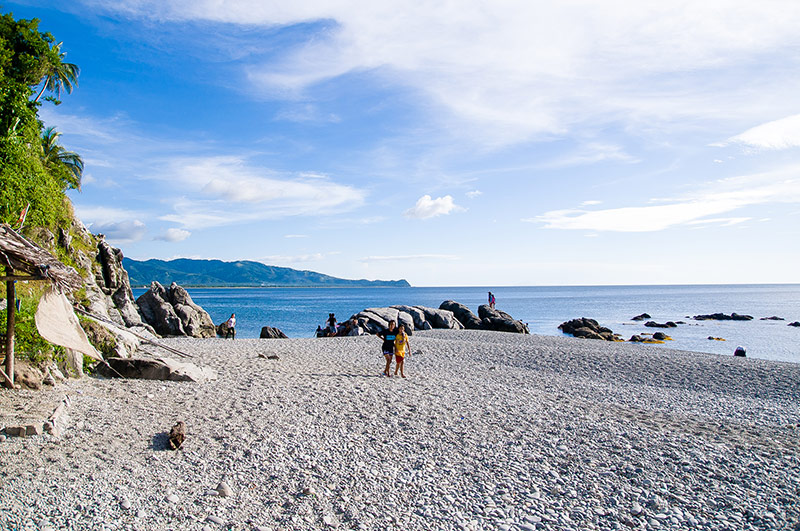 I just can't say enough about Looc beach. For a writer like me, that's really saying something.
On the way down from the mountain trail you will get glimpses of what's below, but it won't be until further closer to the ground that you will see this breathtaking view of this tiny cove. 
I remember the first time I was here, around 15 years ago, this place was known only to locals. There were no huts, stores, or anything. In short, this area then was not commercialized. With my cousins and kababata, we would bring along food, drinks, some blankets, and a guitar and spend an entire day here. Truly one of my most precious memories of my hometown.
Once on level ground, take the time to take a panoramic look and just breath in the beauty of it all. Though there are now huts and a small shack of a store, Looc beach retains that solitary and private quality that I have always looked for in beaches. No tourists, no peddlers, and most importantly no garbage.
The pebbles on this side are a lot smaller, closer to what our idea of pebbles are. Make sure you put on your sunglasses though, as they're all so white that reflected sunlight makes them a bit painful to look at.
The left side, the one closer to Mabua, is where most people gather to swim. It is also the most attractive spot. Large stone formations that jut into the water make it seem like one of those postcard images of foreign places that you've always wanted to visit. During high tide, the cliff connecting to the mountain makes for a perfect diving spot.
I was once dared as a kid to jump from it, which I did, but most probably contributed to my lingering fear of drowning.Don't worry though, I'm sure your stay here would be a lot less traumatic than that.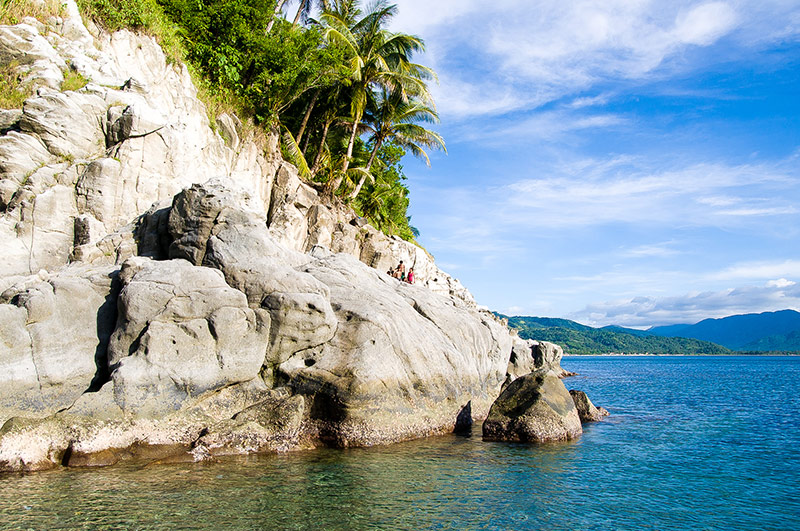 Aside from serving as a jumping point, the cliff and rock formations are perfect for taking "model" shots. Portraiture is not my genre of photography, but I have always known that this place has a huge potential for prenuptial photo sessions. Hell, I was even thinking that I'd like to get married here someday.
Once the beauty of the entire place sinks in, and all the photo sessions are done, you can begin to enjoy swimming among and in between the rock formations. Unlike the Mabua side, the water here is warmer but no less clear. During the rainy season the waves get so huge that it is not advisable to wade out too far or you will be slammed into these rocks.
Also, though it might seem like a good idea to spend the night here, I would not advise it. This place is still very undeveloped and there are no guards or tanods around. Once the sun nears the horizon I suggest you go back up the mountain trail to Mabua and watch the awesome sunset from there.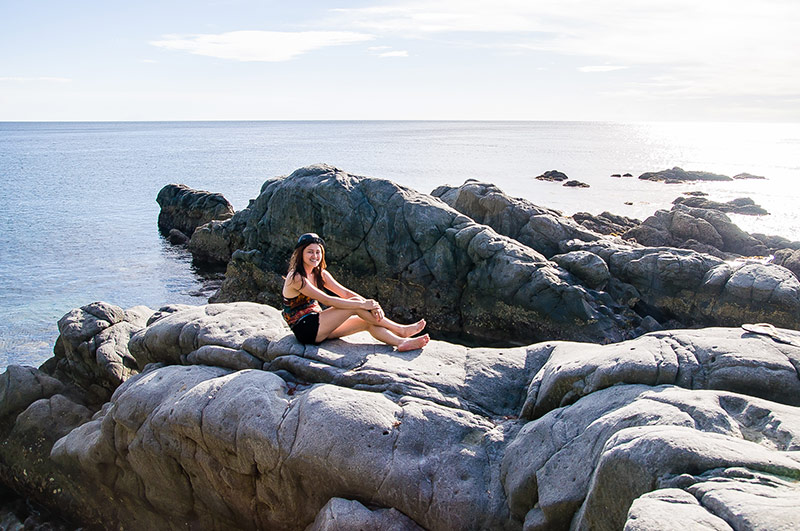 Getting over your visit here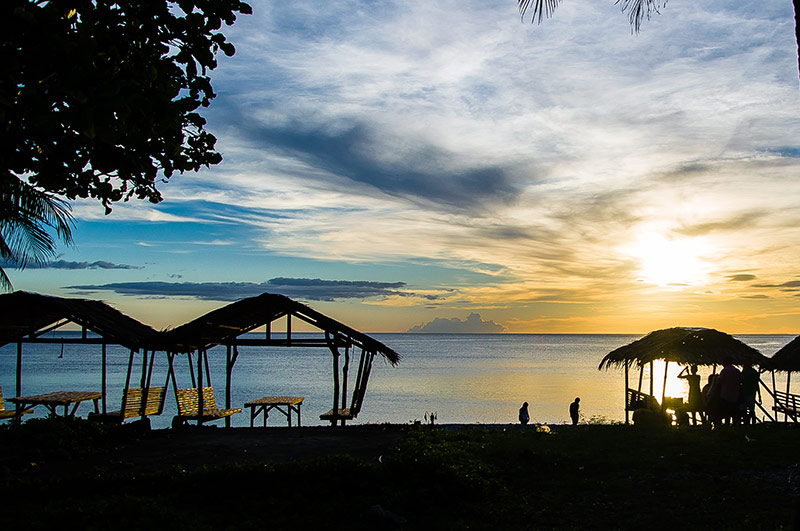 By now I'm sure you are raring to visit the pebble beach, maybe even checking flights and calling your friends. But there's one more thing I should tell you about this place, something that you need to be warned about.
This place is haunted.
It enchants you, it enthralls you. Once you leave you would probably show signs of pebble fever. Symptoms include talking nonstop about your experience here while on the way home and making early plans about coming back. :)
Seriously though, the pebble beach may take some time to get over, but it won't haunt you. Trust me, it took a mere 2 weeks before I managed to stop looking at the calendar to plan my next trip back home.
You'll survive.
Transportation rates
From Surigao City proper, you can choose either of these options to take you to the pebble beach:
Pakyaw – hail an empty motorized tricycle and ask the driver if they could take you to Mabua. It is not in their usual route, hence Pakyaw is the norm. Rates are between P150-200, you can haggle but don't go too low. There is an uphill part of the road going to Mabua and these tricycles tend to struggle on the way up. Tricycles can seat up to 6 persons.

Jeepney and Habal-habal – another option is to take a jeepney plying the Ipil and Anao-aon routes. These usually pass by Jollibee along the main road, near the Luneta, so you could just wait for one there. Be prepared to wait long though as there are not that many of them. Once you are aboard one, tell the driver or conductor to drop you at the crossing going to Mabua. Jeepney fare is P18 only. At the crossing, where the stalls selling sayongsong are, there are several habal-habal, or single motorcycles, that could take you to the pebble beach. Just tell the driver that you're going to Mt. Bagarabon. Habal-habal fare is P10 only.
Upon leaving the pebble beach, there are many tricycles and habal-habal waiting at the road near the hotel. It's best that you take the tricycle that will take you back to the city.
You can view the rest of my photos of the pebble beach at my blog.