Night Out in the Arabian Desert
No visit to UAE is complete without a trip to the Arabian desert – the second largest hot desert in the world next to Sahara in Africa. UAE, famous for Dubai's spectacular skyscrapers, enormous shopping malls, and record-breaking opulence, has fascinatingly preserved its splendid stretches of sand dunes and all life forms thriving within. Anyone looking to escape the crowded cities should roam the Arabian desert on foot, on a camel's back, on a quad bike, by a 4×4 land cruiser, or through a hot-air balloon. Pick your mode of transport for this once-in-a-lifetime desert expedition.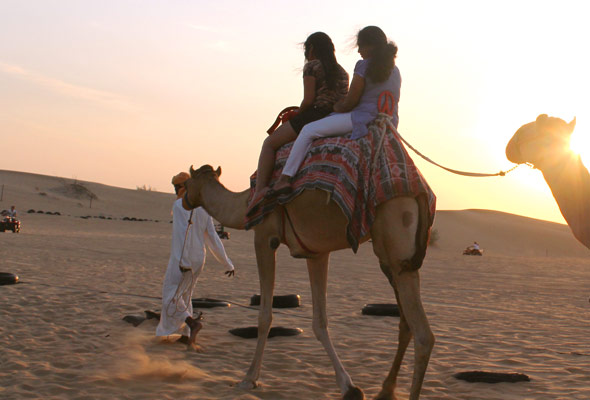 From November to March (when average temperature drops to 25 centigrade), you can enjoy the thrilling Desert Safari without risking a heat stroke from UAE's blazing sun. You may desire to traverse the desert on your own but the shifting and changing dunes often leave no conspicuous pathway so trekking without help from expert guides is perilous.
Based on dictionaries, Safari means "a hunting expedition" but in the UAE this word came to mean a tour to the desert that involves neither guns nor knives, just a unique opportunity to explore the Arabian landscape as well as the Middle East culture and tradition.
Tour operators sensibly customize packages to suit your schedule and budget. When we booked our desert tour through Dadabhai Travel (website: dadabhaitravel.ae; Phone: 00971 4 2209393) we were lucky enough to avail their promo rate of $30/pax. Perhaps you can steal deals cheaper than $30, in that case, carefully check the inclusions against below list.
Desert Safari for $30
When you pay the $30 tour package, these privileges and activities are given complimentary:
Air-conditioned Mini-van Pick-up (3:30 PM) and Drop-off (10:00 PM)
Dune Bashing (20 minutes- minutes)
Sand Boarding Camel Trek (5-10 minutes)
Henna Painting
Unlimited Softdrinks, tea or coffee
Open Buffet (Indian and Arabic food)
Live Traditional Performances – Belly dancing, Tanoura (Egyptian) Dance, and Puppet Shows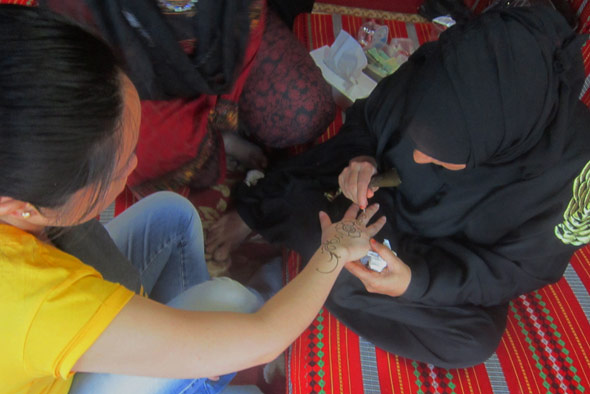 Bear in mind that additional cost applies for the following:
Quad biking (Price per person: 28 USD/30 minutes)
Sunset Photograph Opportunity ($28 for 2 printed pictures)
Although the shot is free, the pictures can only be had for a fee. You might end up buying the photos because of the jaw-dropping sunset and desert backdrop with your happy faces – a keepsake worth showing off to your friends, family, or future kids.
Photo session with guests in Arabic costumes and with the falcon
Posing with the guests in Arabic costumes is free but additional cost applies if you want to bring home your photos. As for the picture with the falcon, you need to pay his caretaker if you want this one-of-a-kind shot: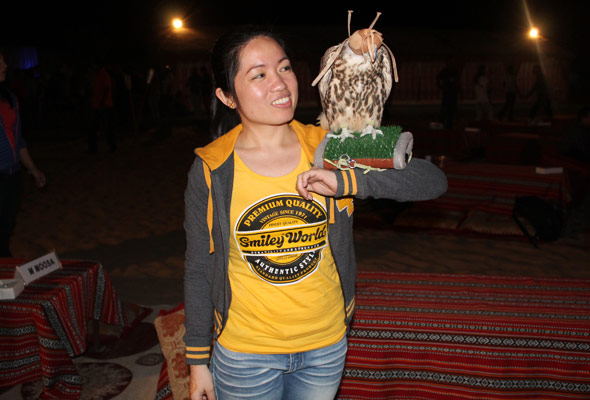 Tips for a Memorable Desert Safari
Your desert getaway could become one of your most memorable journeys if you consider these tips:
Wear the right shoes (not flip flops); comfy sneakers are good, but knee-high boots (without heels, please) are superb.
If you easily get dizzy or scared of roller-coaster rides, do not sit next to the land cruiser doors and look for something stable to grab.
Carry some snacks with you because you might not like any of the food they serve.
Stay awake throughout the journey by either making friends with your fellow passengers or bringing your best buddies along for a guaranteed joyride.
If you are the loner type, fully charge your music player, tablets, or smartphones.
Lastly, forget not your camera and take loads of pictures.