Offline to Carnaza Island
14 hours. That's how much time I spend in front of a computer… every day. Crazy, I know. There's just no escaping the net and, sometimes, it becomes exhausting. I guess this is the curse of young professionals. Even more so for someone leading an ambitious web project.
What happens when you unplug from it all? Here's my story.
The impressive itinerant Brennan (Baktin Corporation) invited Issa and me to join his group on a weekend trip to Carnaza Island.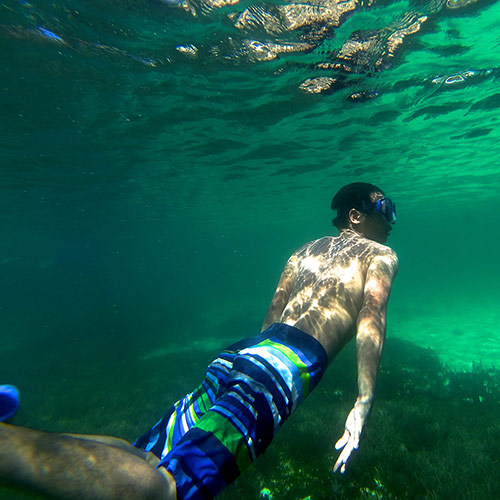 I heard of the island a couple of years ago. It's Cebu's northernmost inhabited island, a 2-hour boat ride from Daanbantayan. I've pestered Issa on taking a trip to the island; we talked about it but never really made plans.
The invitation came just at the right time.
This was to be my first trip of the year, months after a major surgery and in the middle of a hectic year of managing a web project. Stressed, feeling limited and tired of the daily grind, I couldn't wait to get away from it all - even for a just a single day.
The early summer mornings were not as cold as I hoped them to be. The trip was uneventful but memorable. I did have Joey Ayala, Max Surban, Yoyoy Villame and ASIN to accompany me throughout the trip. Also Lake Street Dive, Ray Lamontagne, Regina Spektor, Cat Power, AKFG, The Smiths, Bat for Lashes. In short, whatever was in my iPod.
I took naps throughout the 3-hour bus ride. With such excitement, there was no way to sneak a good sleep. The bus grunted along the flat plains of Daanbantayan just as the sun rose.
In most trips, the green landscape that streaks by as the bus speeds up puts my eyes to sleep. Not this time. Excitement was caffeine. It kept me awake, most of the time, while Issa drooled in slumber.
The bus ride was only half of the trip. We had to take a 2-hour boat ride across the mildly rough seas of Northern Cebu. The boat was small. And from the looks of it, it might have been designed to carry only up to six people, comfortably, including two boatmen. There were nine of us. Plus the two of them. Fun times.
The sun continued to rise as our boat crawled its way to Carnaza island. The summer heat started to bite as the waves sprinkled. For some reason, the sea water tasted sweet. It must be all the bitter stresses getting washed out of my system.
Salted and sun-dried, we docked by the shore of a small fishing village. It lacked the familiar 'resort' vibe I'd gotten used to in most island hopping trips. And judging from the gazes of kids playing by the beach, we were the only visitors that weekend.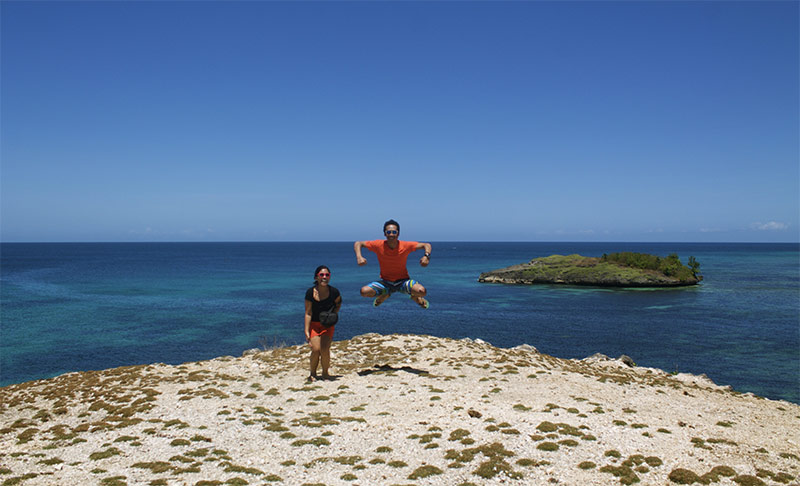 We spent 24 hours in the island but it felt like a couple of days. I jumped off some cliffs, ate hearty meals of fresh seafood, swam in a small lagoon, rode pump boats around most of the island, climbed a hill to an airstrip, took some pictures and had conversations. Oh! And I recall sleeping like a baby.
Honestly, I don't remember the minutest details of the whole trip. But I do remember how it felt. RELAXING. That feeling when the knots and stress pains in your shoulder started to unwind. Issa and the others, too, seemed to carry that relaxed aura.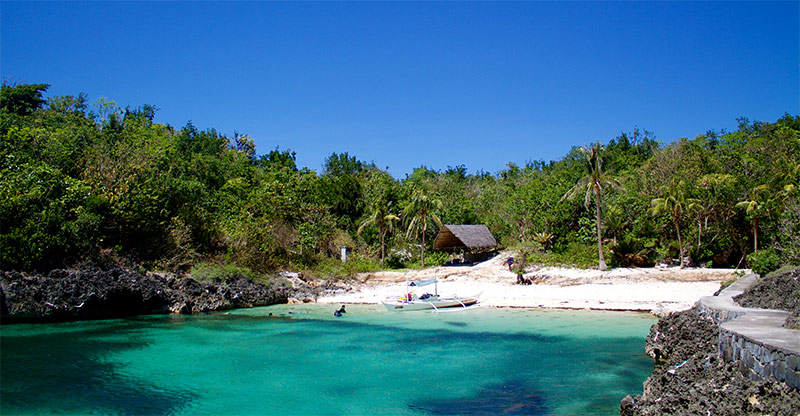 It's probably the lack of internet connection, the laid-back character of island life, the fresh food, the people we're with. Or a combination of it all. It just felt so calm.
Only then did I start to realize why I wanted to travel. To break the daily grind. I know it lacks the grandeur of self-discovery, of culture and of people. It's selfish but it keeps me longing for new places to see and experience.
Now it's back to 14 hours in front of screens. But there's comfort in knowing that it's easy to unplug from it all.