Free and Fun Trip to Pandanon Island
Every desk job can eventually become monotonous and dull. So it'd be a good idea to break the routine every now and then. That's what celebrations are for.
So imagine my happiness when I found out we were going to the beach for our year-end office party! I immediately googled images of "Pandanon Island" as soon as I learned it was gonna be the venue. How lucky of us! 
Pandanon is such a charming island!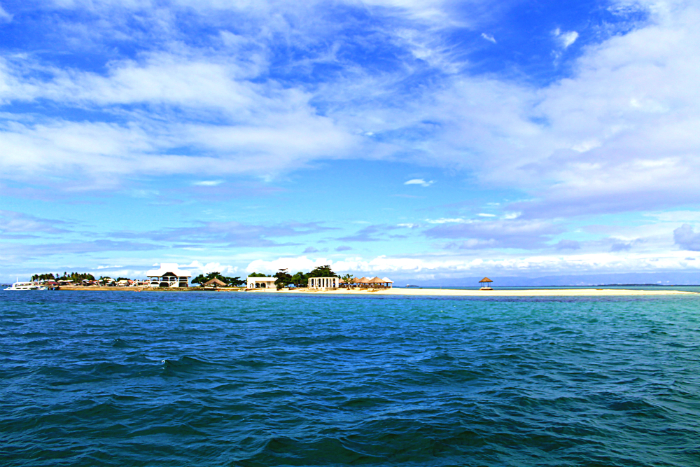 Who won't get excited about a free getaway to Pandanon Island?
The Approaching Storm
But the looming typhoon nearly washed away our hopes of beach bliss.
The relentless downpour days before the much-awaited trip dampened our spirits. You know how unpredictable the weather can be during December here in Cebu (and pretty much in most part of VisMin).
To reach Pandanon safe and sound, the wind, the sky, and the sea must work in perfect harmony. It did. 
As the title of this post hinted, we were able to hold a one-of-a-kind party in Pandanon.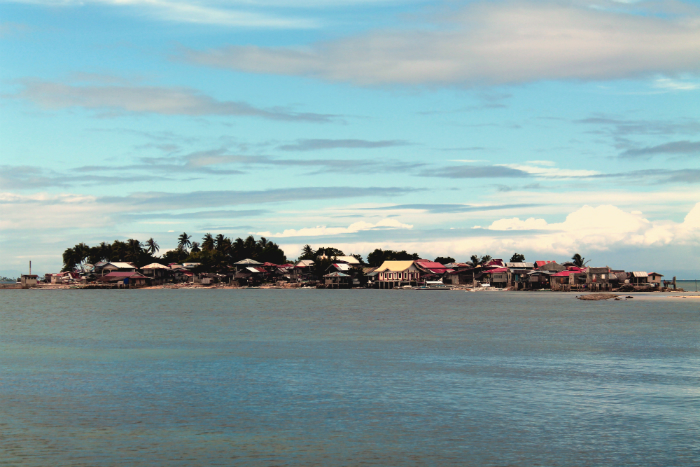 Pandanon is a small island near Cebu (reachable within an hour or two by boat) but is considered as part of Bohol. Last year, we held our Christmas party on a boat and a floating restaurant. I'm glad this time it was finally on land with white sand and sublime shoreline.
It's the ideal party we, Island Trotters, always crave.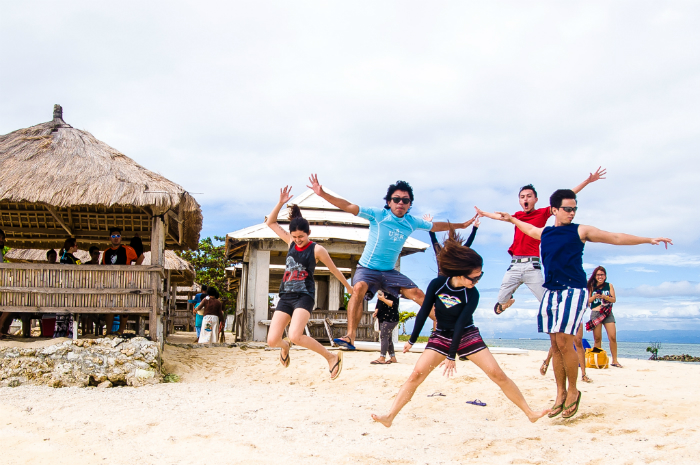 Basking in the sun. Laughing at our silly games (and players). Posing for instagram- or facebook-worthy shots. Exchanging surprised gifts. Eating and drinking to our hearts' content. Free diving.
The other perks? Supporting local tourism, meeting these charming Island-born kids, observing life beyond the city and possibly more.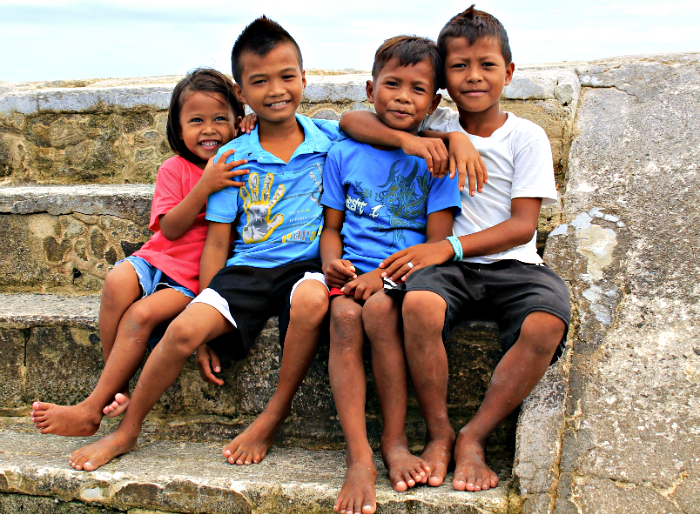 My only complaint was the island's inadequate facilities - bathrooms have no fresh water. I know that fresh water is a usual problem for far-flung islands, but it was still an inconvenience. Meanwhile, it would be a pity to let this minor discomfort ruin the fun. Only party-poopers would do that.
What games did we play on the island? Yeah, I knew you'd ask.
Fun Games to Play in Pandanon Island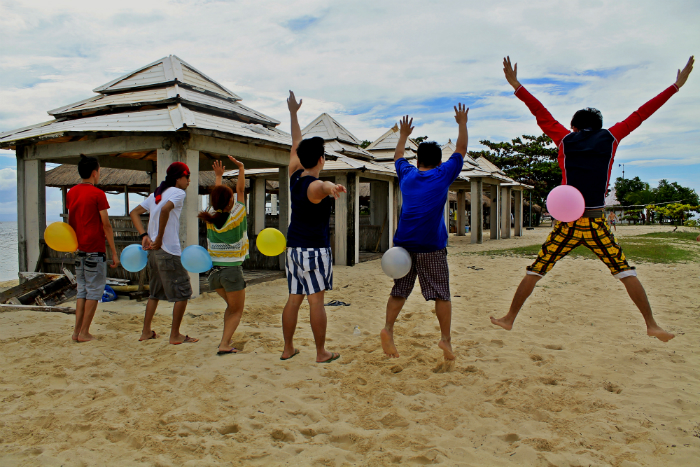 We might be too old for "hide and seek" but we'd never get tired of "treasure hunt" games. The name itself feeds our mind with shiny images - small wonder why it dazzles. Or so I thought. I was part of the planning committee so I couldn't join this thrilling game. I was in charge of writing clues.
Much to my chagrin, they didn't follow the tall orders we wrote. The result was a tie, which we had to break. Guess how it was decided? Rock-paper-scissors battle! Now that was surely a twist, right? That day I realized I needed to brush up on my rusty game planning skills.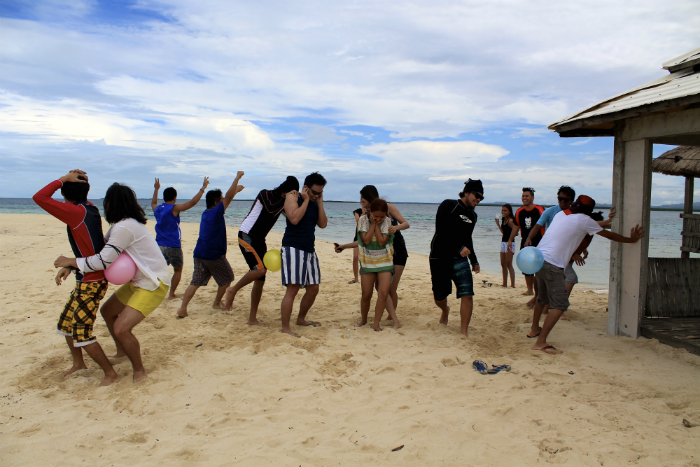 The next gamemaster, to our delight, was a natural fun factory. Britz knew hilarity better than I thought. He hosted the game called Pop your Balloon and drove everyone crazy. Uncontrollable laughter filled part of the island that the life guards and other guests nearly reproached us for the noise.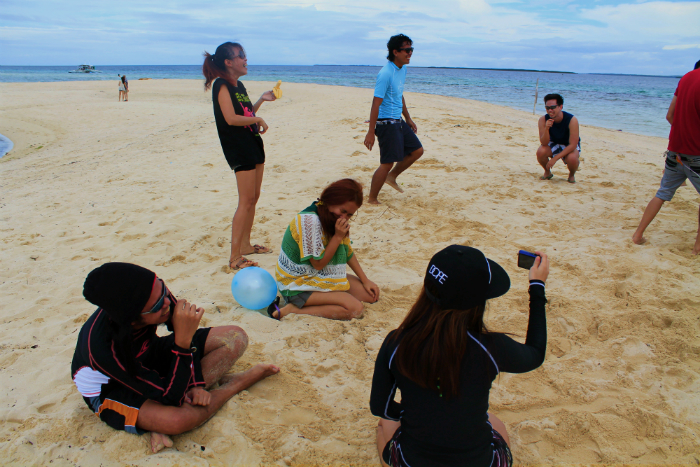 Indeed, the toughest and funniest contests could only happen at the beach!
Diving Area and Divas Spotted
We were so busy playing that we didn't notice the ebbing tide. Somehow, I could sense what they were thinking. This trip wouldn't be complete without our signature underwater shots.
So we asked our mighty boatmen to stop by a diving site.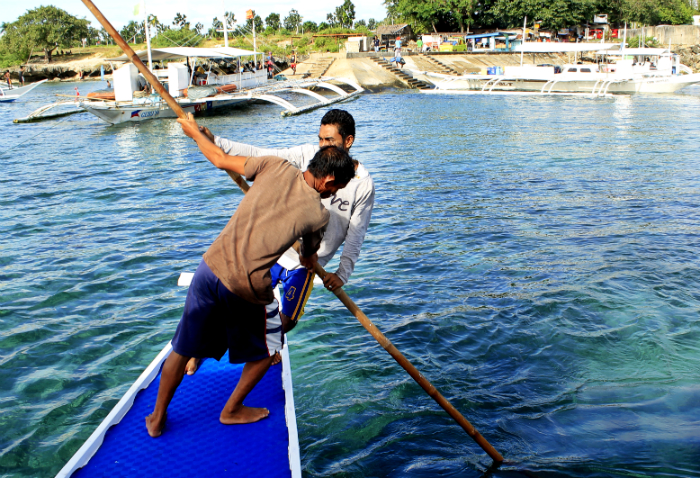 They anchored the boat somewhere in Nalusuan so we could freely dive.
Then every brave Island trotter took the plunge. Washing away our fears and worries.
Then and there, we knew we were ready to return to the city - to normalcy.