10 Words to Describe My Sagada Experience - Part 1
Ten words - that's all it takes to experience the best of Sagada.
Seven weeks have passed since my Sagada tour with Jewel, I still remember the fun, adventure and new experiences we've had in this picturesque town. 
Non-stop action, heart-pumping challenges and unexpected discoveries await you in Sagada. Here I list 5 out of 10 awesome experiences unique to this scenic town.
1. Gaze
at the mysterious coffins suspended on the face of a cliff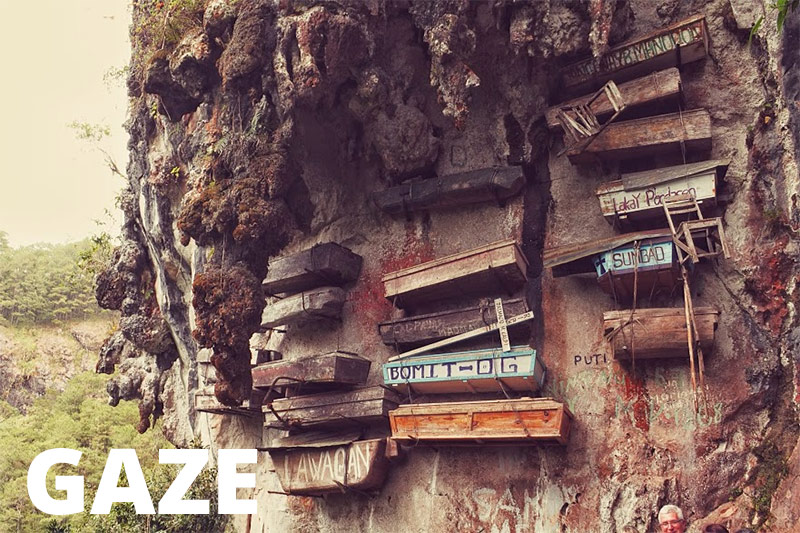 Due to social media, the hanging coffins in Sagada look less eerie than they once did. But they are bizarre all the same.
When I told my fifth sister I was going to Sagada to check out this burial place, she thought I was 'weird'. That's the very reason why I wanted to see it. Sagada is one of the towns in the country that's never been conquered so this practice speaks so much about our unique anthropology.
Our guide said the Igorots bury the dead in a fetal position and hang their coffins to bring them closer to heaven. The practice was also considered as a more auspicious way of burying than putting dead bodies six feet below the ground. A practical yet less popular theory says that they want to save the limited plots of land for plant crops (Source), which sounds like a more logical explanation.
2. Marvel
at sights and sounds at Echo Valley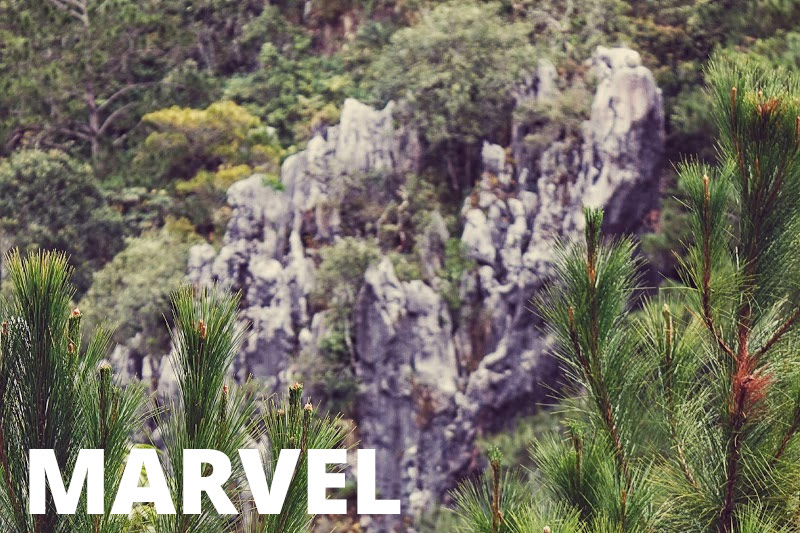 If you're on an agency-led Sagada tour, you will likely pass by Echo Valley before you reach the site of the Hanging Coffins.
"Marry me, Tina," said one of the tourists at Echo Valley. The beautiful valley responded with the same line. That's the idea. (By the way, the guy is married to Tina.. t'was just a humorous stunt.)
The louder you shout, the more thunderous the response. Don't be a kill-joy like me - I didn't scream at the top of my lungs. You want the truth: I didn't scream at all.
Besides the ear-splitting shouts you can make at Echo Valley, you can also marvel at the pine trees and karst formations that adorn it. Do admire the view right before you go on another trek searching the path to the Hanging coffins.
3. Learn
about traditional weaving and buy authentic Sagada items as 'pasalubong'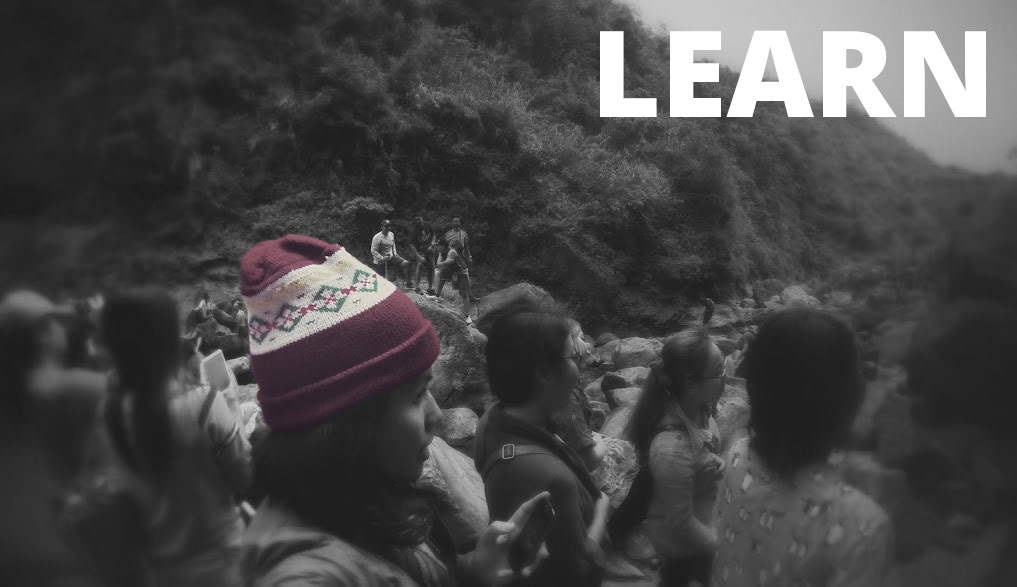 To make the most of your Sagada visit, set aside some cash for souvenir buying.
Sagada Weaving abounds with priceless keepsakes from bags, shoes, and accessories to table cover, fabrics and more. All items bear the traditional tribal designs unique in Sagada. Fancy giving a friend or a loved one a unique gift? Pick up a loincloth (bahag) and wrap it for a guaranteed surprise.
The first shop uses sewing machines while the one at the back still weaves using age-old wooden looms. As a courtesy, I didn't take any pictures of the weavers so as not to disturb them.
4. Gratify
your curiosity about claypots and discover how they are made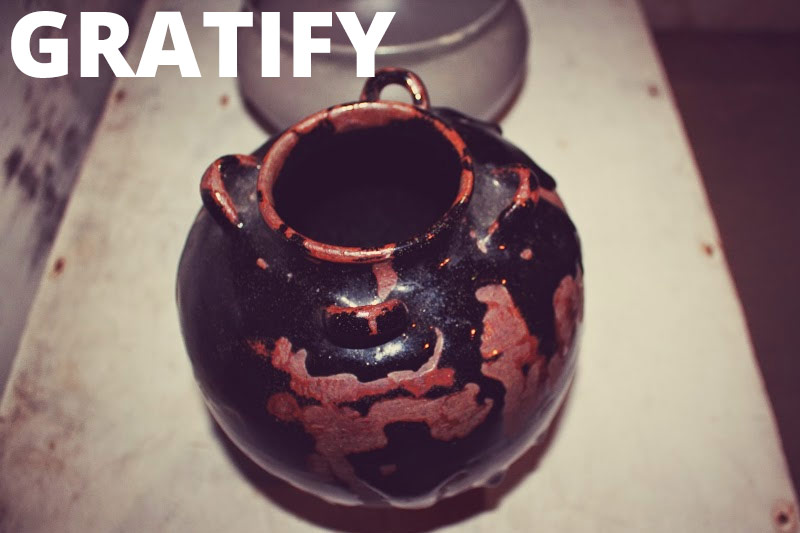 I've never seen anyone actually create a pot out of clay - except on youtube. And mind you, they were Japanese, not Filipinos. I bet you'll enjoy a visit to Sagada Pottery  the way I did. It's just a couple of blocks away from Sagada Municipal hall.
Their display room is far from fancy - the earthenwares are not even enclosed in cabinets. I guess I know why: the craftsmanship should be enough to inspire genuine interest from curious travelers.
The live demo is within earshot so simply follow the noise and you'll enter the world of pottery. Find creative potters showing the basic steps to crafting a perfect stoneware pot. One of the ladies speaks good English - clear and concise - so even foreigners can learn something from the demo. You can also try it for yourself for a fee.
5. Sip
some rice wine and read funny notes at Sagada Pines Restaurant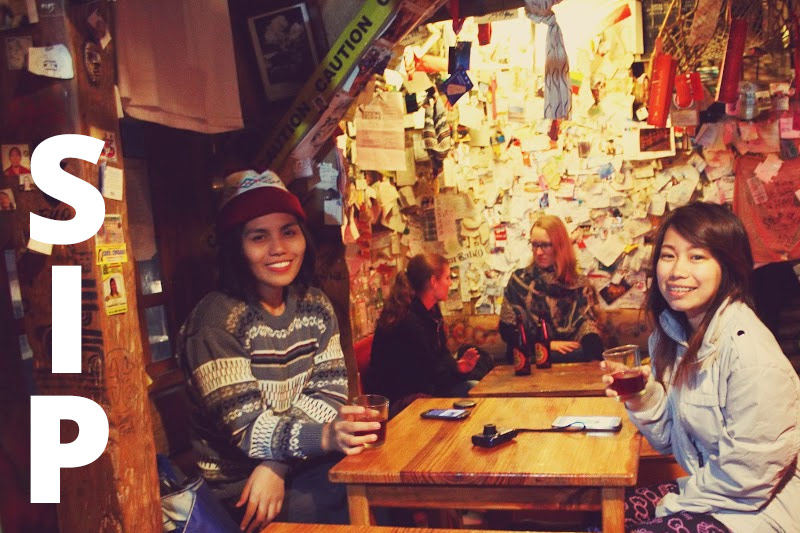 Want a taste of nightlife in Sagada? Or connect with fellow travelers? There's a fair chance you can have a chat and a drink with fellow backpackers if you stay at lodgings near a campfire site. But we didn't have this privilege.
So we searched and found a hole in the wall called Sagada Pines Restaurant. It's open even after 9pm and it's just a few blocks away from Sagada Municipal hall. They said this is "the spot" for travelers and soul(mate)-searchers. The  bar's unforgettable feature?  Its walls are covered with stirring notes from its past customers.
We didn't have any notepad or dispensable card to leave on the wall murals (but our hearts stayed there, I guess). It was our last stop in Sagada - the last spot where we had the first and (hopefully not) the last shot of the traditional Mountain province beverage. If you're not a regular drinker, a sip will be enough to keep you warm throughout the evening, without giving you a hangover the next morning.
And my adventure continues in the 2nd part of my Sagada experience.