Trekking Through Petra
While most people spend their vacation at pristine beaches, tranquil mountains, or lush forests, three gals from Dubai opted to visit the ancient mega-rock city of Petra for a truly life-changing getaway.
Hailed as one of the New Seven Wonders of the World and a UNESCO World Heritage Site, Petra summoned the questing spirits of Girlie, Issa, and Whena. Language barrier, lengthy trips, dusty trails – none of these deterred the girls from heeding the call of Petra's majesty.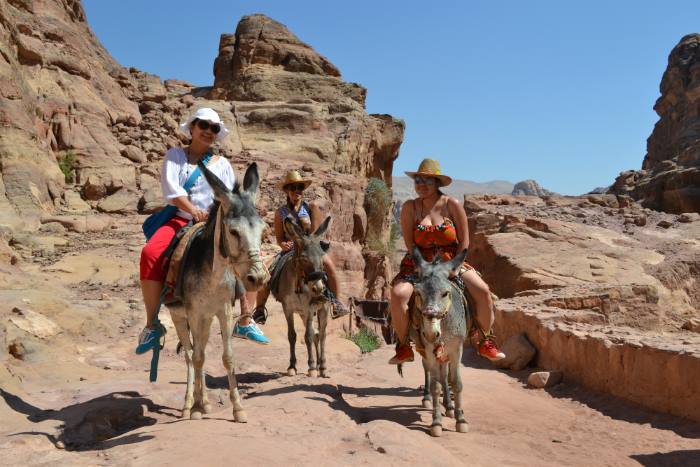 All they needed was a game plan in which each of them had a role to play. Whena was the group's smarty pants who crafted their daily itineraries through Petra Nights Tours. Girlie kept track of the shared expenses of the group such as lodging, cab fare, activities,food, and tips. Issa was the group's kid whose duties were limited to providing emergency cash and prompt uploading of photos on Facebook.
Whoever said that trekking through Petra is a cinch must be lying. Trudging through Petra for eight hours is no easy feat. These daring gals made the most of their eight-hour excursion inside this centuries-old city through the aid of donkeys, wide-brimmed hats with secure chin straps, loads of sunscreen, and Fitness First-trained limbs.
Entering Petra
Petra Nights Tour arranged their accommodation at Amra Palace, two-way transfers, buffet lunch inside Petra, entrance fees – even the tour guide fee. As they entered the vicinity of Petra, horses and horse buggies were offered to them by the locals. Their guide advised them to avail these rides once they had scaled the peaks of Petra – a clever counsel. Then he went on telling stories about the early settlers of this city while the gals strolled past tombs, obelisks, dam, waterways, and then the Siq.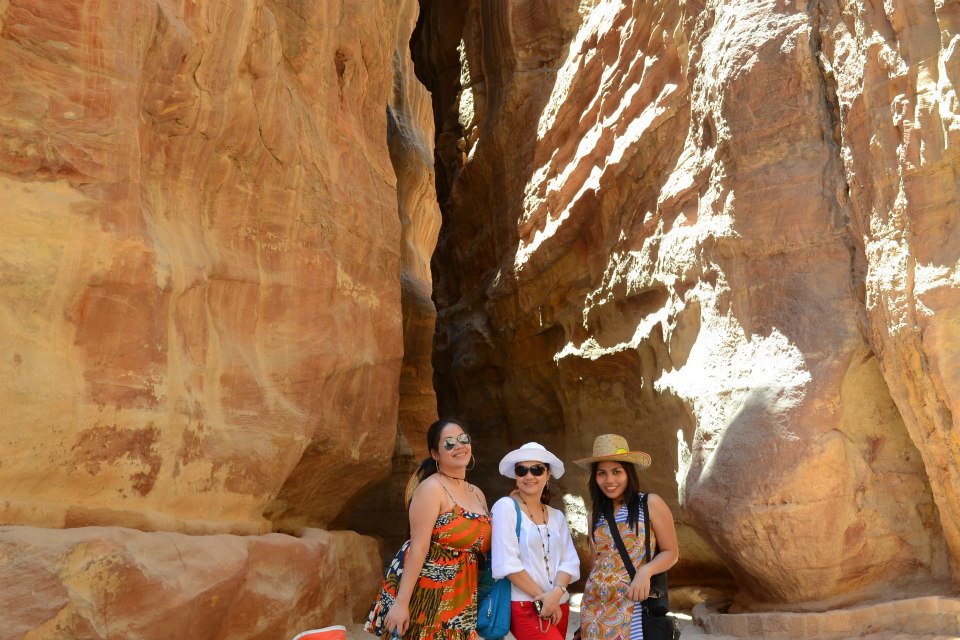 Petra's Bite-sized History
Situated between the Red Sea and the Dead Sea, Petra provided a vital route for traders from Arabia, Egypt, and Syria-Phoenicia since prehistoric times. Edomites were known as Petra's earliest settlers ("edom" means "red"). Then, they were succeeded by an Arab tribe called Nabataeans, who made Petra the capital of their kingdom. During their reign, Petra flourished as center of bustling spice trade, smart water supply and flood management, and magnificent architectural works. Next came the Roman rulers who expanded the commercial influence of Petra until a great earthquake in A.D. 363 shook the city and hid it from the world for centuries.
Lost and Found: Petra's Megastructures
Passing through a narrow 1.5-km gorge (the 'Siq'), flanked with two towering, almost-kissing sandstone cliffs, one would not assume that a megastructure carved on a red rock face awaits at its end. Dysfunctional yet dazzling, Al Khazneh or the Treasury reminds its beholders of ancient people's genius, resourcefulness, and courage.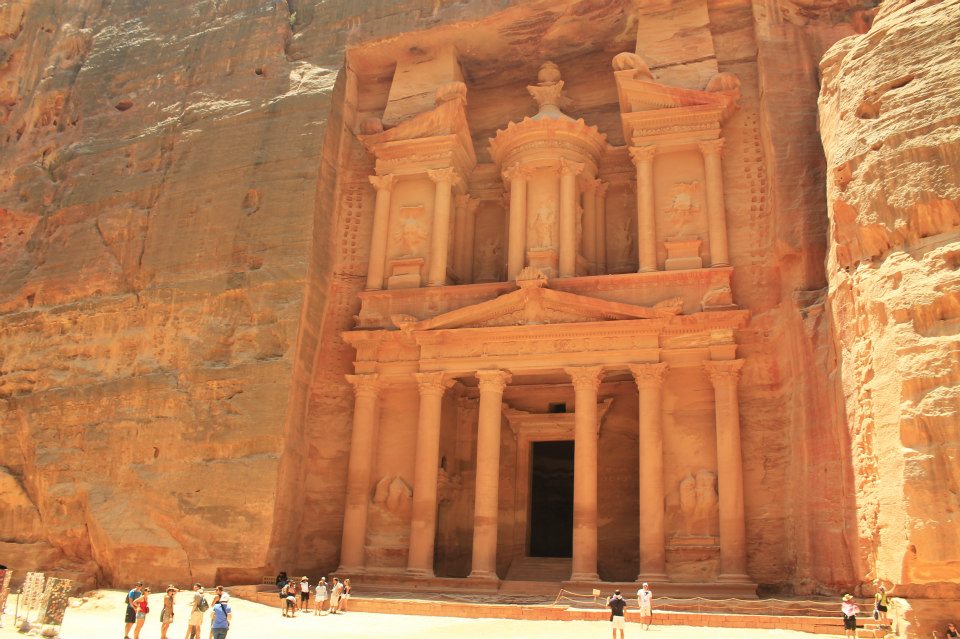 The gals passed through plenty of tombs, theaters, and mini-structures before they finally found the next treasure of Petra: The Monastery (or Ad Deir). Its enormity was equally astounding however the Treasury proved to be more elaborately built than this one. Lingering around this structure for an hour, the ladies trudged back to Petra's entrance before darkness engulfed the city of red stones.
Before Sunset
Make the most of moments before sunset while the golden light plays with sandstones splendidly changing its hue from red, orange, gray, and brown. The sun disappears pretty fast so keep a swift walking pace while enjoying this marvelous color display. Petra's main gate closes at 6pm.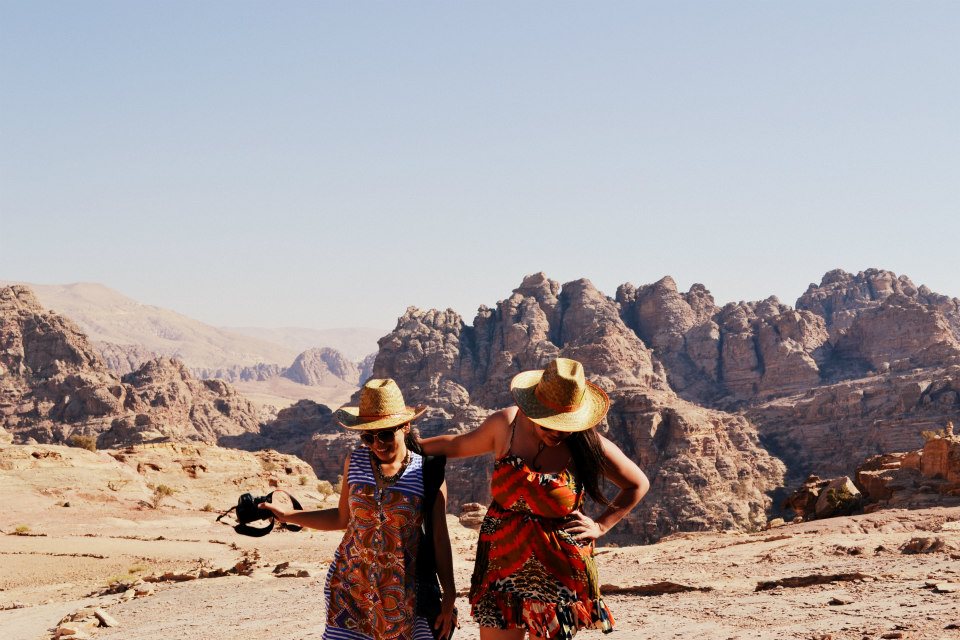 The Amra Palace
This property looks far from a real palace, in fact, its cozy ambience, friendly staff, and simple food resemble home. Basic amenities are available at a reasonable cost. After the strenuous hike, treat yourself to a Turkish bath at 13JD plus a complimentary internet to update your friends and family about your Petra conquest.