Camiguin in 36 Hours
"Where are you going?" my manager asked.
"To my mom's hometown- Camiguin," I replied.
"Camiguin? Where's that? I can't find it on the map," he typed back.
"It's an island where the mountains and the seas meet." I knew that was enough to spark his curiosity.
I was close to dropping Camiguin's nickname: the island born of fire. But I had made my point - my mom's hometown is paradise. It's a shame I haven't seen much of it yet - a fact that was about to change.
When Neil brought up his plan to visit Camiguin a few months ago, I had secretly wished to come along. He would need to do some research and take pictures of the island's attractions to update his website - Camiguin Guide - it's purely a business trip you see. So imagine my happiness when he said I should tag along!
But it's not all fine and dandy. There is a slight challenge: we only had 36 hours to explore Camiguin.
Curious how we used those precious hours? Here's the rough itinerary.
Saturday
7:00 AM - Yamit Residences
Taking the first trip from Balingoan port to Benoni port (Camiguin), we reached the town of Sagay and arrived at Neil's home around seven in the morning.
The Yamit Family is known for their delicious pastries, haute-couture like designs, and hospitality (e.g. great boodle feast!).
Ask around and you can easily spot their house. If you're a backpacker in need of a roof and a warm meal for the night, you might want to consider staying here for a small fee.
9:30 AM - Sto. Niño Cold Spring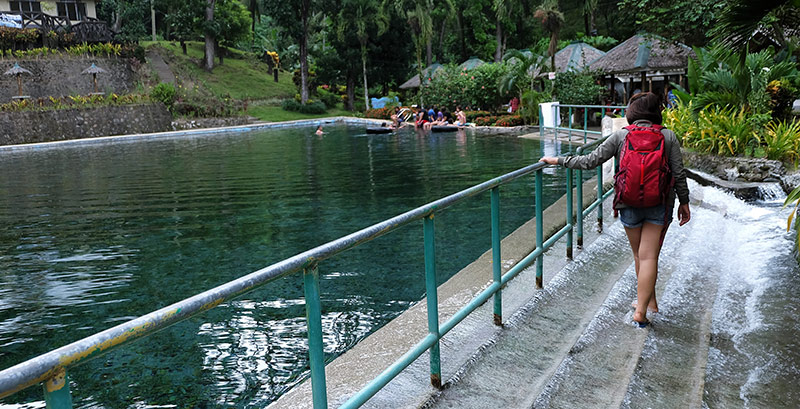 Neil and I kicked off the tour with Ken - our awesome guide and careful motorcycle driver. He was better than a GPS or a talking map.
Our first stop was the Sto. Nino Cold Spring. Have yourself driven to Brgy. Bonbonon, Catarman and almost anyone you ask can point you to this cold pool of water. Pay an entrance fee of 30 pesos and experience the coolest bath you have probably never tried before.
Here's a confession: I only managed to dip my toes in the water. Kill joy? Not exactly.
Had we hiked our way to reach the cold spring, we'd feel hot and beaten enough to want a refreshing swim. As you can see on the photo, the pool is surrounded by rich greenery, which was a feast to the senses. I'm sure you'd love it.
10:00 AM - Tuasan Falls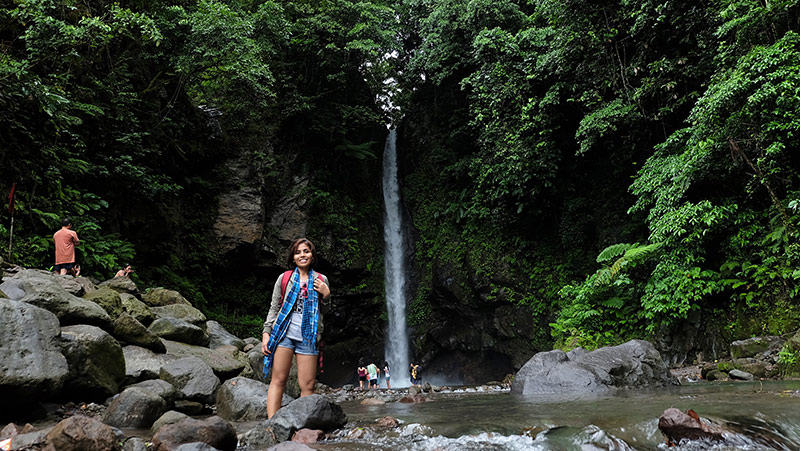 This was my fifth visit to Camiguin so I wouldn't leave without seeing one of island's best waterfalls: Tuasan Falls. But I didn't realize how steep the road would be. This isn't a journey for people with a heart problem, vertigo or freakish imagination.
Nonetheless, once you reach Tuasan falls, you won't remember why you have been afraid. Despite its accessibility, Tuasan stays immaculately clean and beautiful. Its drop is not the highest among the discovered falls in the island but it has its own charm: cascading waters flow between massive boulders with wild plants and lush trees surrounding the falls and riverbed. If I could make time freeze, I would preserve this haven for future visitors.
We lingered here for some time yet neither of us took a dip - other visitors seemed to enjoy the waters immensely while we were content marveling at the scenery and taking pictures. By the way, there is no entrance fee - maybe because there are no toilets and other facilities.
11:00 AM - Bura Soda Water Swimming Pool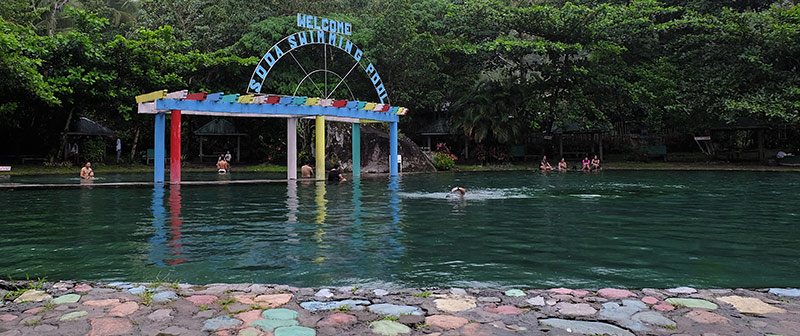 The first time I heard of soda swimming pool in Camiguin, I thought Camiguinons were so lucky to have unlimited supply of sparkling carbonated water. As luck would have it, our guide Ken had included this attraction on our itinerary.
There were a bunch of people queueing at the entrance when we came. 'This is a good sign,' I thought to myself. Inside I found two swimming pools — one was smaller than the other and both had the same color of the water: turquoise. 'Taste the water,' Neil told me. I would love to drink some but we were on a project tour, I couldn't afford to have a stomach ache.
The entrance fee to the Soda Water Park costs 30 pesos and they have a restaurant preparing typical snacks like hamburgers and fries. Fuel up before you proceed to your next stop.
11:45 AM - Camiguin Old Church Ruins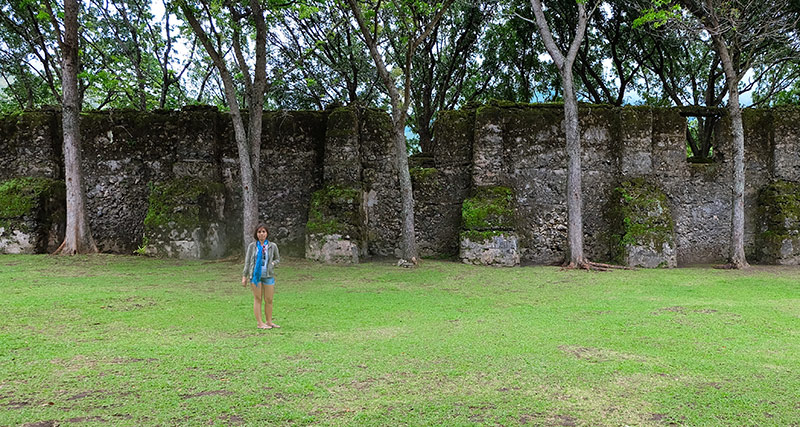 On May 13, 1871, hundreds of houses and structures including this church collapsed due to an earthquake followed by the violent outbreak of Mt. Volcan. Both catastrophic events buried the pristine town of Cotta Bato (the former capital of Camiguin) as well as many of its inhabitants.
There were survivors and these stones and ancient walls from the old church were remnants and witnesses of the past cataclysm. I didn't get the chance to ask a local about the entire story but part of its tale was set on stone - you can read its history at the entrance to the Guiob Church Ruins.
Now, all you're going to see here are fragments of the past fortress, church, and the picturesque, evergreen trees. The sorrow over the tragedy must have ebbed or faded. History buff or not, you need to see this place for yourself. Entrance is free for everyone (yet donations are encouraged). Sidewalk vendors near the entrance selling food and souvenirs are polite (and never pushy) so it is a joy to buy from them.
12:30 AM - Walkway facade
During our trip to Camiguin in 2012, Neil and I hiked the Walkway to the old Volcano where the stations of the cross are located.
It was like doing hours of penance if you haven't been trekking for a while. If you are physically fit like Neil, you would breeze through these stations. This place is packed during holy week but in early December, it is neither busy or crowded.
From here, you are close to the largest municipality and capital of Camiguin Island: Mambajao.
1:45 PM - Lunch at the Checkpoint Food Palace
Checkpoint Food Palace is a simple spot that serves delicious Filipino food. Eating seafoods and sinigang are a must here but if you're in a rush, try asking the waiter which dishes are the fastest to make.
The lower level of this restaurant has a convenience store where you can buy some tissue, soap, shampoo, rubbing alcohol and more. You'd be relieved to know that it is near the jump-off point to the famous White Island.
Sometimes, the restaurant owner visits each table giving lanzones for free as desserts. Start a conversation and ask him what makes Camiguin's lanzones special. Then, pretend not to know the answer.
2:45 PM - White Island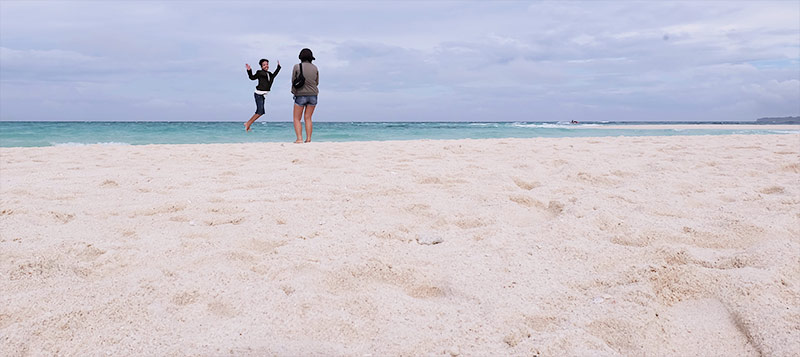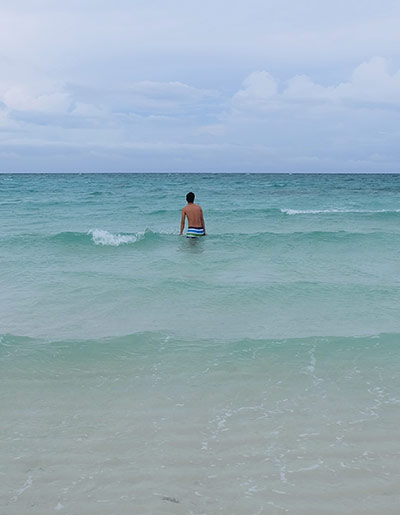 At some point, I remember Neil and I have made a promise that we were not going for a swim because this could slow us down. That was broken in White Island. Neil, who had been to this place several times, gave in to the call of the waves.
You can take the best view of Camiguin from White Island's vantage point in the scorching heat of the sun. But it didn't happen during our visit. No matter how hard I begged, the clouds didn't clear up. Despite that, we still enjoyed the feel of the fine white sand, the peculiar shape of the island and the little waves rippling on its shores.
You need to traverse the waters from the jump-off point near Agoho to the sandbar. Most locals can tell you where this spot is, you can easily ask around. The round-trip boat rental costs around 450 to 650 (maximum of six passengers) depending on the season.
4:30 PM - Ardent Hot Springs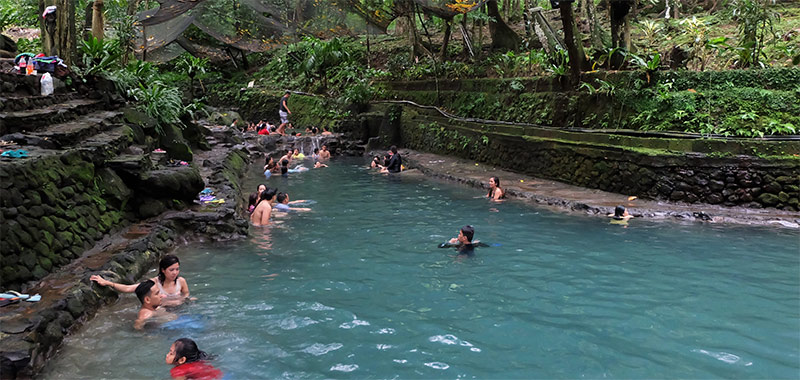 In Tagdo, Mambajao lies the hot springs warmed by the most recently active volcano in Camiguin: the Mt. Hibok-Hibok. From the entrance (fee: 30 pesos), you can see how dense, lush, and tall the trees are inside.
Neil told me that Ardent Hot Springs used to have hotter waters but after an earthquake, its temperature has changed. On this trip, he tested the waters again and he said they are lukewarm rather than warm and certainly not hot.
Ardent appears to be a favorite getaway for locals - it's unusually packed when we came (given that early December is not a high season). It has rooms, a restaurant, and stores for families or groups planning to stay overnight.
5:30 PM - Manuyog Sunset Watching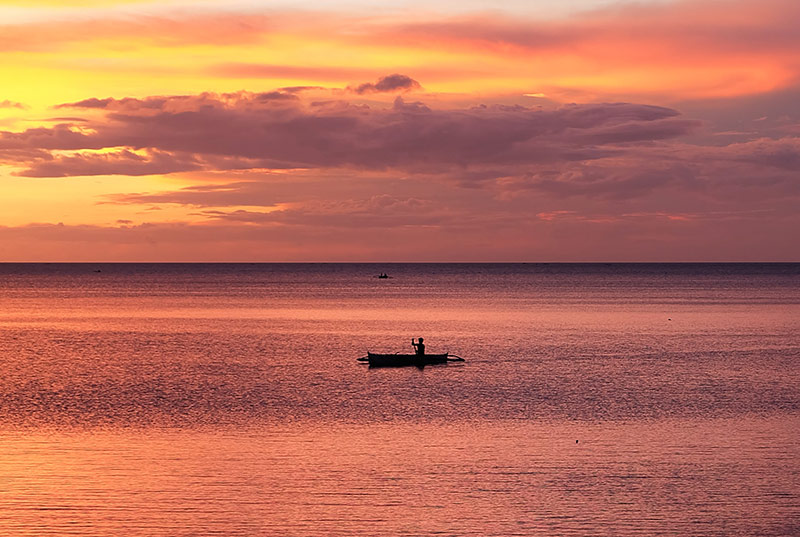 Sunset chasers are in for a dramatic surprise at the town of Manuyog, Camiguin. Upon seeing that the sun was about to sink into the horizon, we had to stop for an obligatory photo op.. but alas! The battery was almost drained.
From Ardent Hot Springs, the camera screen said 'low battery' in red bloody ink. 'Had fortune turned against us?' My melodramatic (and exhausted) brain asked.
But our miracles have not run out just yet. The camera worked - even for just a couple of minutes! Neil took a few shots before it completely died and the sun, disappeared beneath the horizon.
Sunday
9:00 AM - My Grandma's House and Aunt Carol's Bakery
There was a sweet, middle-aged woman who kept a bakery in Alangilan, Sagay. Her husband makes yummy snacks known in Camiguin as 'sopas'. When I was 10, I used to help out at her bakery and sell some of these biscuits to my classmates at Sagay Elementary School.
The profit from my sales went to my own pocket so I got so excited that many of them loved my aunt's sopas'. Some things never change. Just like my aunt's signature biscuit pack.
Neil finished a pack while I devoured the rest (more than three packs!) feeding my nostalgia for the texture and flavor I haven't tasted for decades. If you ever pass by Alangilan (Sagay), try to look for my aunt Carol's bakery and ask for their famous 'sopas'. Tell my aunt where you've heard about it.
10:30 AM - Giant Clams Ocean Nursery and Kibila White Beach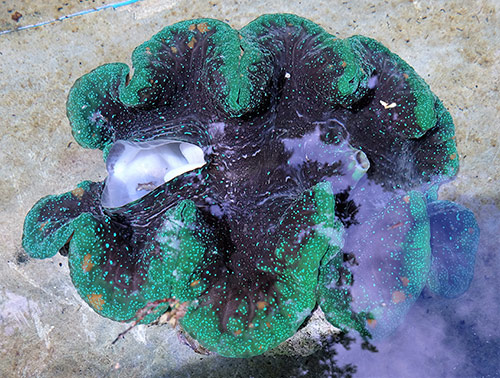 If you've ever read a blog about Camiguin, you must have heard of the giant clams the province boasts of. There are various species of them in Kibila White Beach. A non-government organization in cooperation with the locals are doing a great job conserving these sea marvels.
Visiting the sanctuary (entrance fee is 150 pesos) was like going on a Science field trip. A teenage guide escorted us to the tanks, where giant clams were charmingly resting or possibly mating. It's the cultivation area and also a lab to further observe and study the nature of clams.
Clams are hermaphrodites so when they mature, they release both sperms and eggs in order to make baby clams. For us, the clams' sex lives are uneventful but for scientists, they are fascinating. Find out more about these mysterious creatures when you visit the sanctuary.
12:30 PM - Katunggan Mangrove Park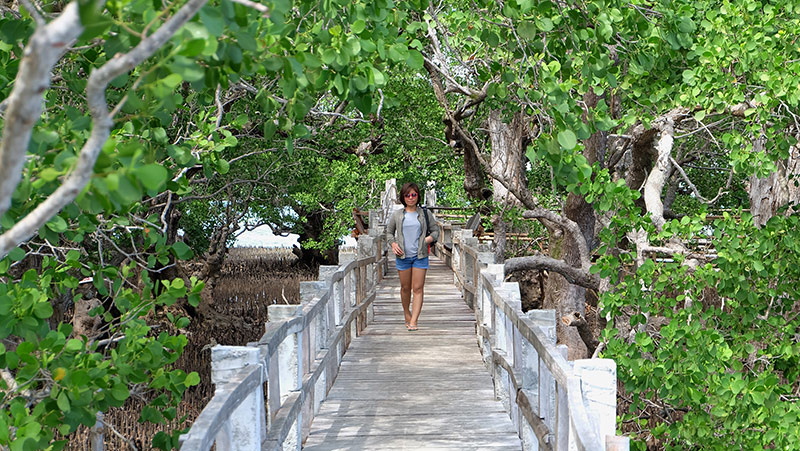 Mangroves are brilliant adapters. Have you ever seen a plant that can take in as much mud, heat and salt? These resilient trees and shrubs abound in some parts of Camiguin.
But we haven't heard of the mangrove forest near Benoni port until our driver and guide, Joshua, introduced the park to us. It's the most photogenic mangrove plantation I've ever seen.
Stop by this area, pay an entrance fee of 20 pesos, and say hello to these heroic botanical amphibians. Take pleasure walking on the wooden bridges built by the locals or take some snaps of the baby mangroves promising to grow like their great forefathers.
Visit Camiguin Guide's Katunggan Park overview.
1:20 PM - J & A Fish Pen
J & A Fish Pen is a 'homey' restaurant serving fresh and delightful seafood dishes. Just a stone's throw away from Benoni Port, this neighborhood gem offers both locals and tourists a satisfying meal taken from the fish pen (if not the sea directly).
Dishes here are reasonably priced (800 pesos for three hungry diners) but service can be slow. We waited for more than 30 minutes. Maybe because it was Sunday. Feel free to roam around, try the Camiguin Zipline or take a tour at the Taguines Lagoon by kayak. All these facilities are under the same management.
Choose fish and shrimp dishes and expect mostly Filipino food from the menu. Wash your hands with their uniquely designed faucets. Shall we have a bet? You won't find the faucet without someone guiding you. ;)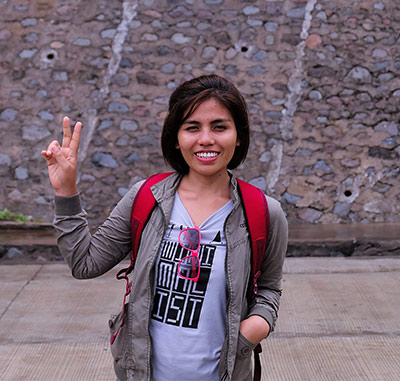 There, to conclude, Neil and I were both happy we took this trip, cramming as many tourist spots in Camiguin as we could, rain or shine. 36 hours in Camiguin allowed us to experience a few of its known natural bounties but a few more days would have let us properly explore its great wonders. Something's telling me we'll come back to Camiguin next year.
Are you coming along?