Leap of Faith: Canyoneering in Cebu
"Let's go CANYONEERING!" announced the vacationer from Singapore
No one opposed him, as if he guessed what everyone had in mind: seek the ultimate adrenaline thrill. Suggestions for the trip flooded. Everyone was excited to cross this experience off their bucket list. If I remember it right, it was the first time we had a common #travelgoal for summer..
Canyoneering in Cebu: the Preparation
Preparing was a bit of a challenge since it was not a typical summer trip. Neither was it an easy stroll along the beach nor an organized tour in a foreign country.
Here's what you need to survive your first guided canyoneering trip. For starters, you need a trustworthy, seasoned canyoneering guide.
How to find a good guide?
At the moment, all guides can be found at Eskina Sangi Canyoneering in Alegria. It is where canyoneers undergo orientation, briefing and signing of the waiver provided by the LGU.
These items are provided by the guide
Life vest with helmet
Snacks
Water
Aqua Shoes
Things to bring and prepare
Ziplock bags – use to store any wet clothes
Proper foot wear – it's a must to have good and durable footwear to protect your feet from razor-sharp rocks and get a good grip even on slippery areas
Dry Bag - use this to prevent your belongings from getting wet
Things you don't need to bring:
Gadgets that might get wet
Any piece of jewelry or watch
Just leave unnecessary things and travel light.
IMPORTANT: Always follow your guide and never attempt to jump anywhere you like. And please don't throw your trash anywhere.
If you have self-trust issues, this exhilarating adventure is not for you. Wishy-washy folks had better stay at home. I can't blame you, anyone would think twice throwing themselves into the hungry river.
But we showed up. And took the plunge plunges.
Follow the Pro, Suck Up Your Fear, Jump Off!
I was up at 3:00 am sharp, so eager for morning.
After dragging myself out of bed, I had breakfast with coffee at McDonalds. I had to stay fully awake.
Also, I drank a lot of water to stay hydrated as we needed enough energy to endure an agonizing three hours of extreme canyoneering adventure.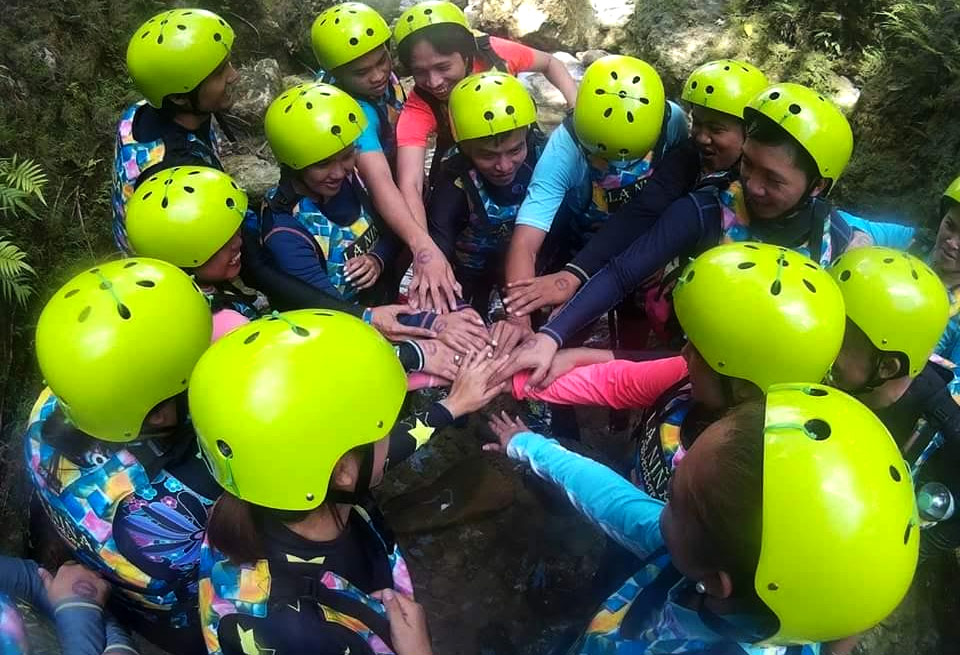 As we stood all together at the starting point, we decided to take a moment of silence and utter a short prayer.
And altogether we chanted: "UNLI RICE!"
Canyoneering: A True Leap of Faith?
Fair warning: the first jump is really intimidating.
It's over 15 feet so it would be the main hurdle you have overcome to build your confidence and keep going.
You can take comfort by reading everyone's faces.
Terror was written all over their faces as they attempted the first leap of faith.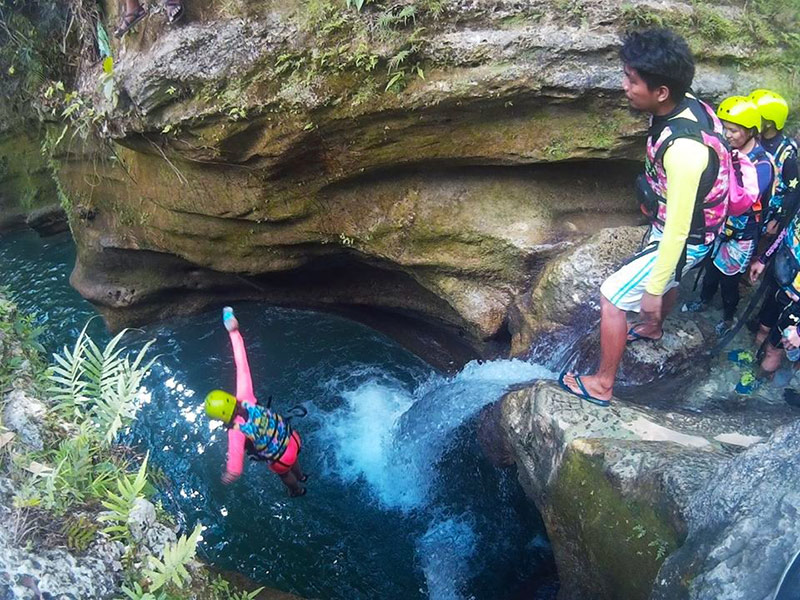 As soon as everyone had successfully jumped off the emerald pool of water, we were ecstatic.
So this is what mad adrenaline rush feels like?
My fellow newbie canyoneers celebrated then moved along to the next waterfall.
Up next was one of the tallest cliffs we'd ever encountered. It was about 50 feet high, at least according to the guide. If looking below makes your legs feel like jelly, take heart: it's optional to jump on this spot.
I stood, looked below, and then stiffened. Then I slowly felt my heart pounding out of my chest. Making leaps, far from ordinary beats.
I gazed down at the enticing pool below. I realized I couldn't wait anymore. My friends were chanting, counting on me to take the dare.
This is it! I took a huge leap, flinched and plummeted to eternity.
Just kidding.
The heart-pounding jump just took two seconds. While I plunged deep into the water, I resurfaced at once and gasped for air.
Gravity is funny that way. I couldn't dive a 50-feet deep water in two seconds - but I could cover that same length in a single, swift leap.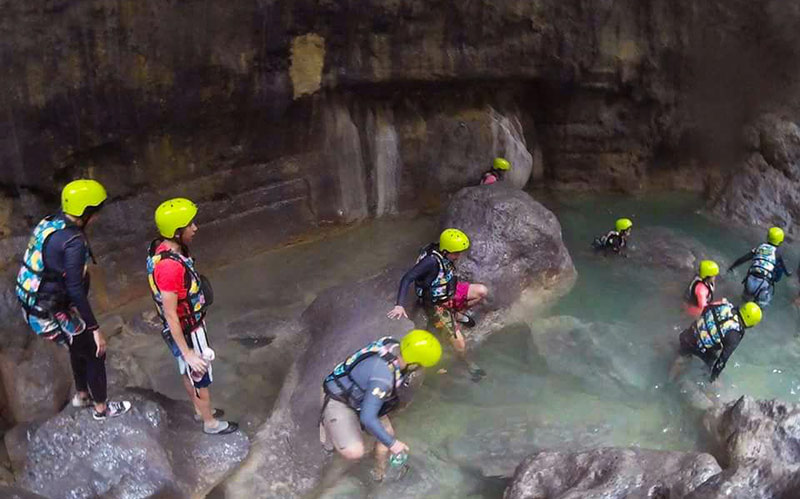 As we nailed jump after jump, it built our self-trust. Our fear of heights was squashed with every jump. It was a formidable journey but no one wanted to retreat.
In the middle of the trek lies a pit stop where canyoneers can replenish their strength with nourishing food prepared by the locals. We had barbecue, hanging rice and more to feed our weakened bodies. And so we ate our lunch with the breathtaking canyons watching us in silence.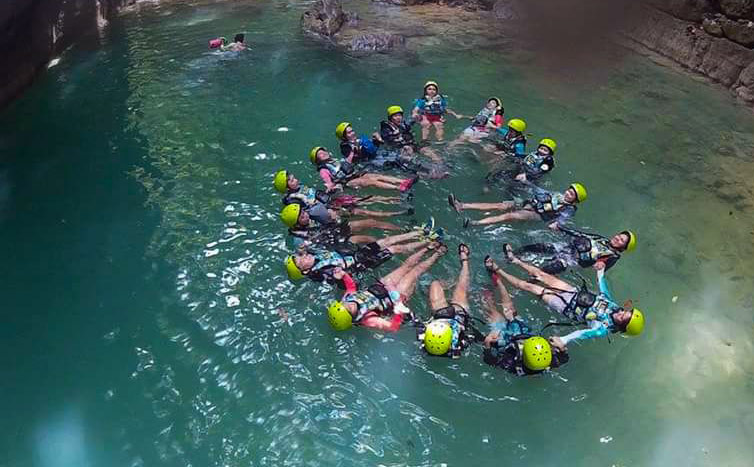 The sun was up and clearly it was getting hot. But the clear waters gave us a cool ambiance and worked like potions. As the trail was filled with such mystique and enchantment, we were caught in a spell and forgot that we were still in cebu!
As we went deep in the jungle with shallow river, we started to be sluggish since we had been walking for 3 hours and most of our companions were newbies (including me).
The trek was filled with magical ruins, humongous root formations and underground caves acting as portals to a different dimension.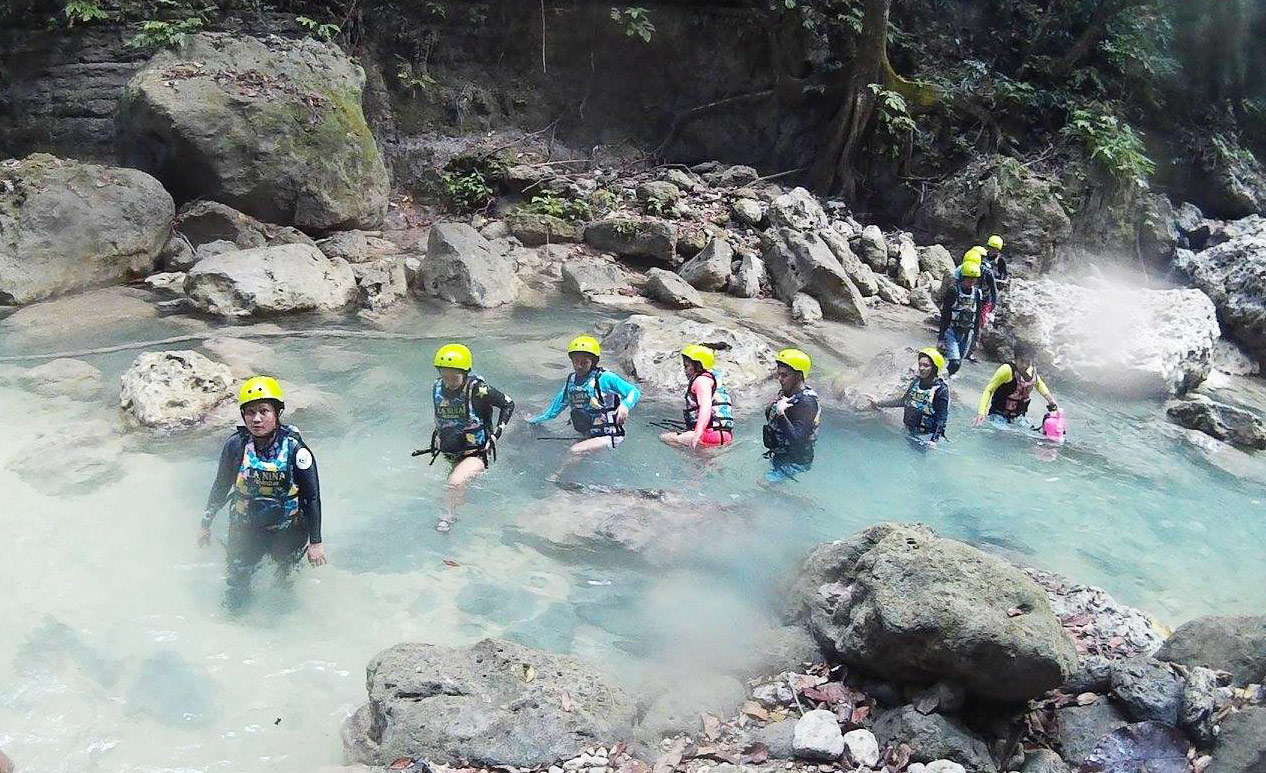 Almost magical!
After three hours of trudging through the obstacles, we successfully completed our journey and reached Kawasan Falls.
A good meal awaited us here.
Finally, we got lucky enough to enjoy UNLI RICE with pork sinigang, bihon, grilled pork and softdrinks.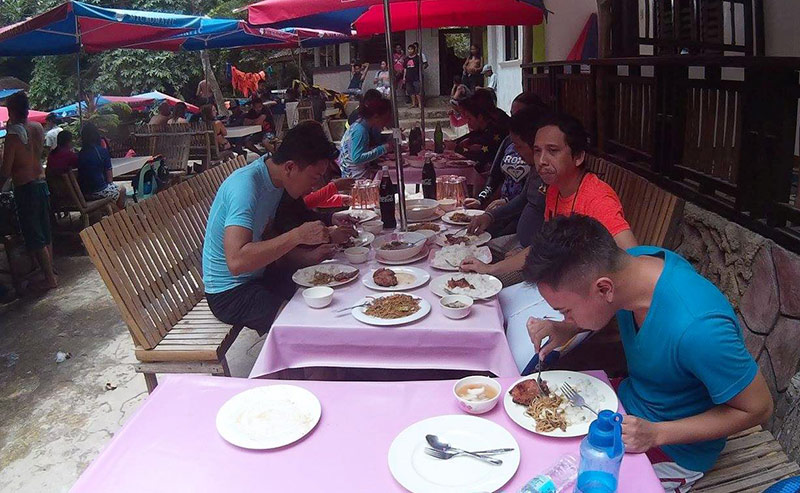 This extreme adventure ended with body aches, torn shoes, ripped shorts and satisfied spirits.
We have conquered Catapedaphobia.
I was exhausted but I had experienced the most fulfilling adventure - yet.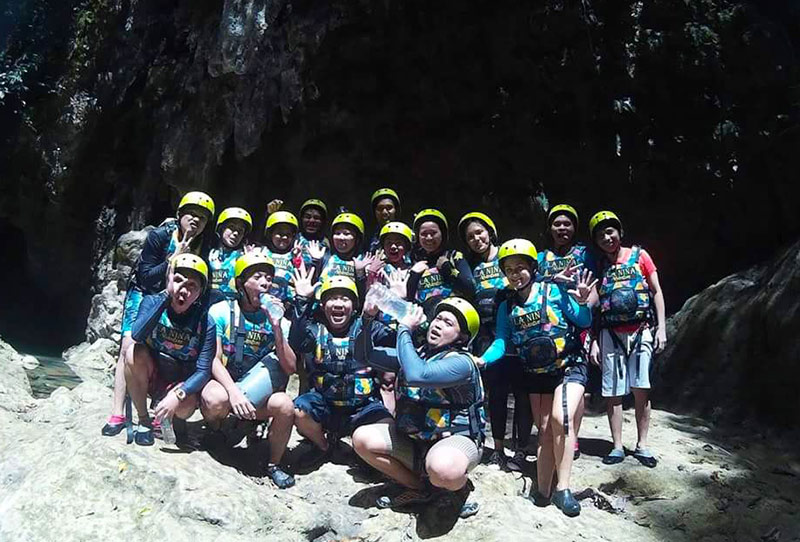 Kudos to our tour guide Mark Yong of La Nina Adventures for providing us professional guide services. We also learned that nature can be both harsh and entertaining.
But what really matters is that we were able to arrive home safely and left Kawasan with new memories that I can savor until I grow old and grey.
Sometimes let's not forget how to live! (And let's not leave any trash behind.)
See full video here: Click here