Demystifying Mount Ilihan
Now I know why someone as picky as Neil would fall in love with Mount Ilihan.
The actual place looked similar to the picture I conjured up in my head, based from his stories.
Cloud-crowned peak, check. Lush, dew-filled forest, check. Picturesque landscape and seascape viewed from atop, check. A sunrise so unique and powerful unlike anything I've ever seen, big check.
'I might soak in this splendid scenery all my life,' I said quietly while staring at the view before me. I'm not saying it was the loveliest sight I've set my eyes upon. I meant to say Mt. Ilihan was eerily beautiful in its own way!
Mt. Ilihan Before Dawn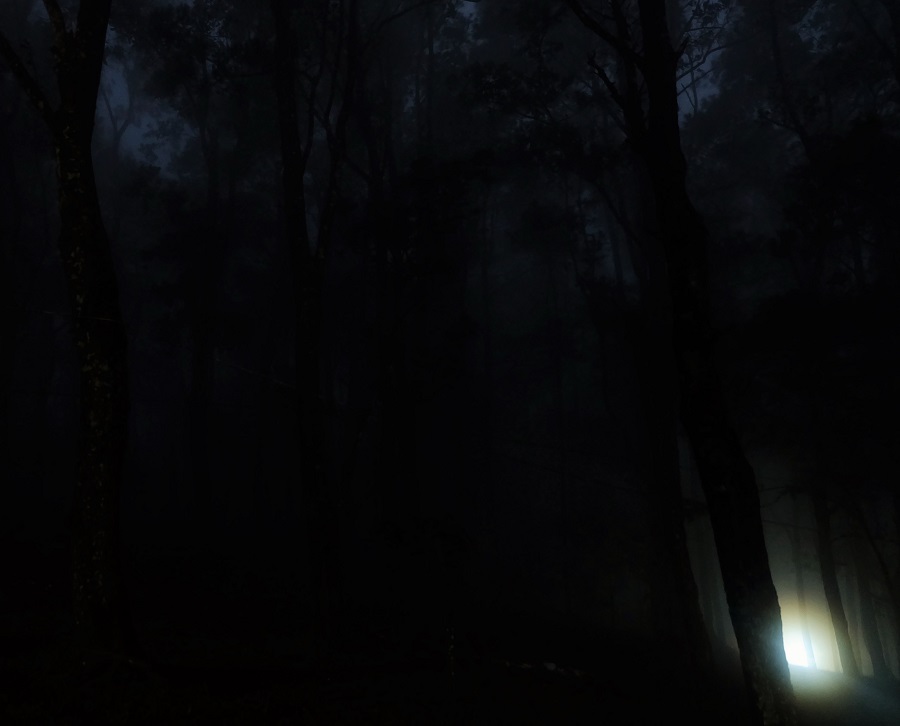 "Alas tres sa kadlawon ta manaka sa Ilihan," said Neil. (Let's go to Ilihan at 3AM- just right before dawn.)
A climb to Mt. Ilihan was on our plan but we had not decided on the exact time and day until Black Saturday. We thought of hiking in the afternoon, camping there to wait for sunrise, but alas, we didn't have the equipment.
Yet what we lacked in tools, we made up for in desire, determination and Binangawan-conditioned legs (remind me to tell you about our Binangawan trek on another post). So by Sunday morning at three, we set out for a hike to Ilihan's mysterious mountaintop.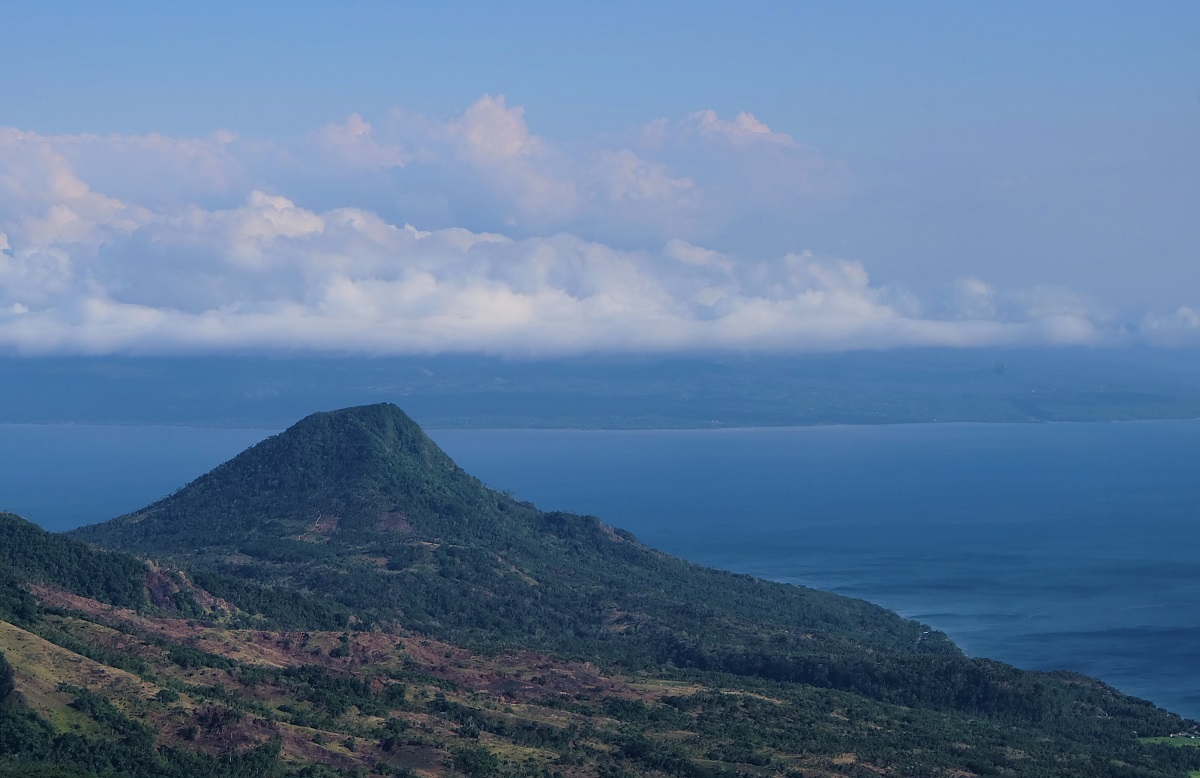 A swift motorbike ride from Sagay to the town of Butay, Guinsiliban brought us to the edge of the mountain - the easiest and closest jump-off point for this trek.
The trail wound up through foothills, big rocks, shrubs and trees.
As we headed up towards the top of Ilihan, my legs felt heavy. The ascent just got steeper at every step - determined to make us quit. Yet winners as we were, we had no time to whine. I was rather excited and like a child, frequently popped this classic question a couple of times:
"Dool na ta?" (Are we near yet?)
To which Neil would patiently answer, "really close." Then he would point to the still-far-away summit.
I was breathing heavily, gasping for air while the moon watched in silence.
Then I heard Benjo say something about 'stairs'. He is Neil's youngest brother who willingly served as a guide in our Camiguin hikes. He spotted the staircase that signalled we were almost there!
Did you know? Before the locals cemented the most challenging parts of the trek, hikers had to grab onto shrubs or plants and trudge on all fours to safely reach Ilihan's peak. I know what you're thinking: That would have been fun to try, wouldn't it?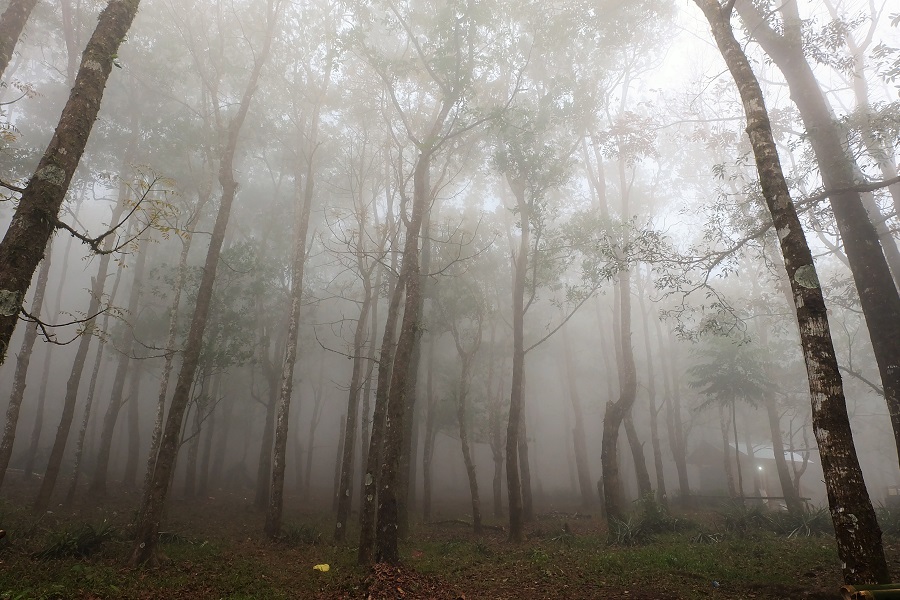 Ilihan's Old Crater Floor
I only felt my sweat-drenched shirt when the cold, dark, and wooded forest finally came in sight. Before me was a perfect setting for a horror movie. No kidding.
It was damp, bone-chilling, and dark with very few discernible objects. Wouldn't that count as a hair-raising scene in a movie? If you slept here and woke up suddenly at 4AM, the haze could be disorienting. And oddly exquisite.
We sat at one of the long wooden seat and observed our surroundings.
The fog reminded me of Sagada and our attempt to capture the sea of clouds (that didn't show up, much to my chagrin) at Kiltepan.
Back to Ilihan. Its chilly, pure air almost put me to sleep. But I fought the instinct and waited for sunrise to reveal the true nature of the place.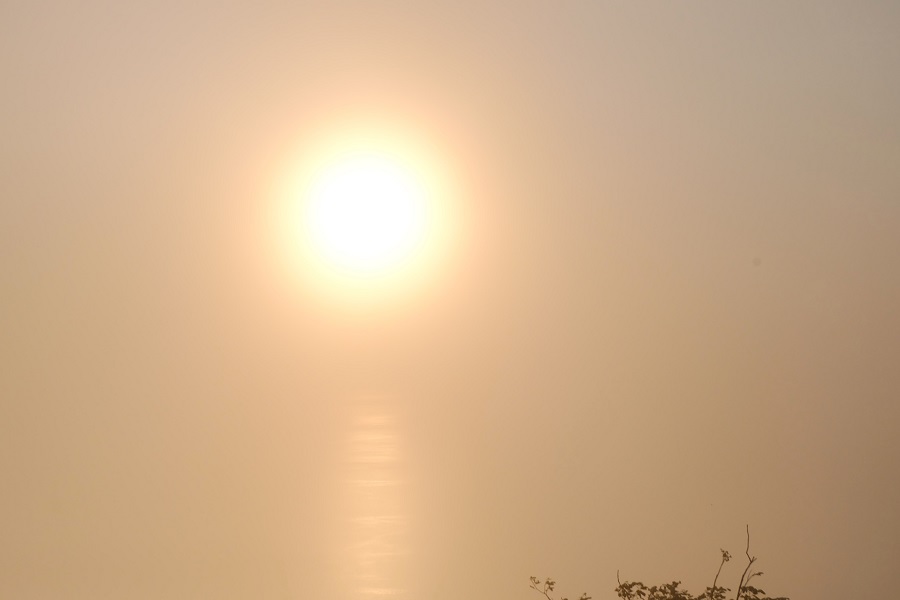 It's the Moon! Oh, No, It's the Sun!
A glistening rounded object hung out of the heavens. Its blaze seemed too small for a sun yet too bright for a moon. When clouds started clearing up, giving way to dazzling streaks of light - we knew in our hearts it had to be the mighty sun.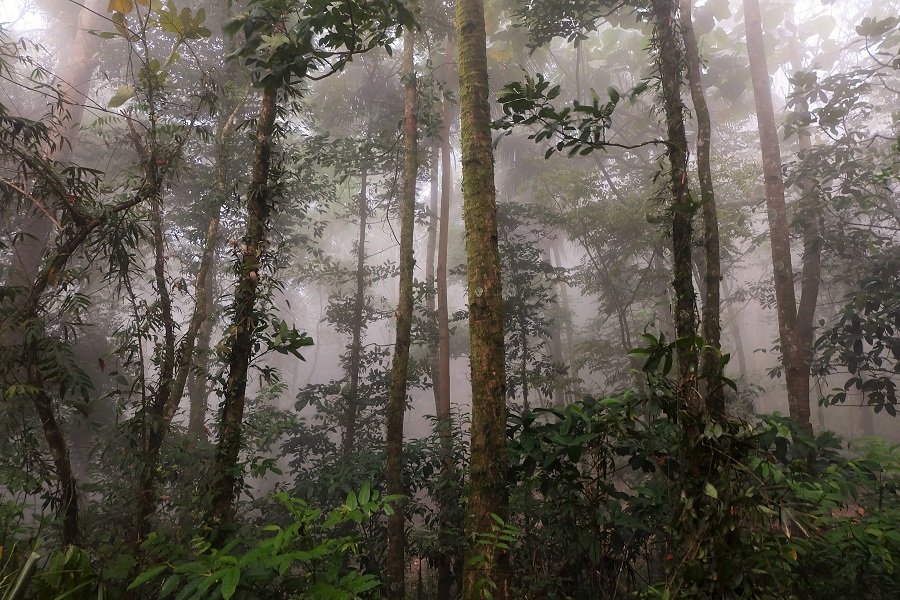 You'd see it bringing out the vibrant colors around. The sea was orange. The trees verdant, towering and sturdy. And the sunshine gave away the garbage strewn about Ilihan's camping site.
The trash left behind by unthinking trekkers hinted how busy this place had been a few days before we came. Every year, Butay's Barangay officials help prepare the trail for Lenten hikers, who are mostly locals. Rarely would tourists venture to this spot.
Neil assured me that Mount Ilihan only gets some love from local hikers during the Holy Week. Most climbers are young locals who usually come here on Maundy Thursday and Good Friday. That's why we didn't see them on Easter Sunday, yet we found the tracks they left behind.
For anyone planning to visit Mt. Ilihan, never leave a piece of trash please. It would be amazing if we could keep this mountain's pristine state. By all means, take as many pictures as you want. Feed your soul of Ilihan's beauty and bounty. And lastly, expect weariness to bite you back upon your descent and return to your lodging.
Will you find the time to hike Mt. Ilihan? It's a real shame for you to just read about it and not want to see it.