Island Trotting in El Nido on a Shoestring
Maybe it's time to be honest with your partner. You may be happy when he takes you to shopping malls, amusement parks or nature parks on weekends, but you would be elated if you could go together to your dream vacation destinations.
Relax. Breaking out of your normal dating routine does not have to sap your savings. Venturing to El Nido's islands and islets will not break your bank. It is an affordable escape any longtime couple needs for a breath of fresh air.
Grab your honey and go island trotting to El Nido, Palawan. There is no shortage of amazing underwater expeditions to choose from. For most first-time visitors like us, it seemed convenient to select from island hopping tour options offered at the harbor of El Nido.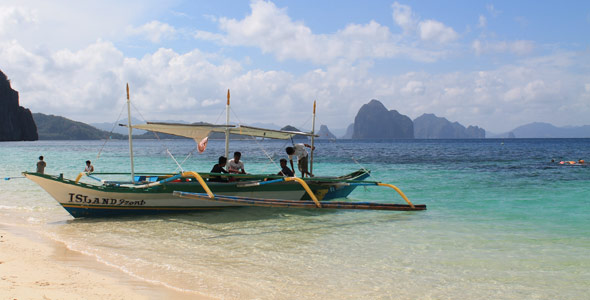 Islands are popular dating spots among well-to-do and wealthy couples. This is not the case in El Nido. Just pay Php 200/pax (valid for 10 days) to El Nido municipality as environmental fee plus Php700/pax for Island hopping tour A, and you can enjoy a trip to at least three islands in a day.
Here is the itinerary of the Island hopping tour Neil and I have availed through Clydenike and Guenken (clydenike.com).
Seven Commando Island
Your budget may only fit the cheapest island hopping option, but don't fret because each penny you will spend on this tour will be worth it. Our first destination was 7 Commando Island – just a few minutes away from El Nido harbor. We were given some time to enjoy swimming in its turquoise waters, and strolling at its sea-shell dotted white sand.
Tip: Don't forget to rent some snorkeling gears. Bring drinking water and leave not your sunblock and camera in your hotel.
Secret Lagoon
Located at Miniloc Island was a small lagoon. We reached this hidden reef by squeezing our bodies through a small opening carved through limestones. Neil ecstatically swam about the secluded seawater as soon as he got inside.
This area seemed very popular among tourists. Cameras ceaselessly flashed. Many of our boat mates wanted to linger in this lagoon despite several calls to head back to our vessel. Pose for a romantic snap with your partner near the lagoon's opening – but do it fast so you will not annoy people trying to get in.
Simizu Island
'Issa, I've seen a clam!' claimed Neil. I chuckled at his childlike scream.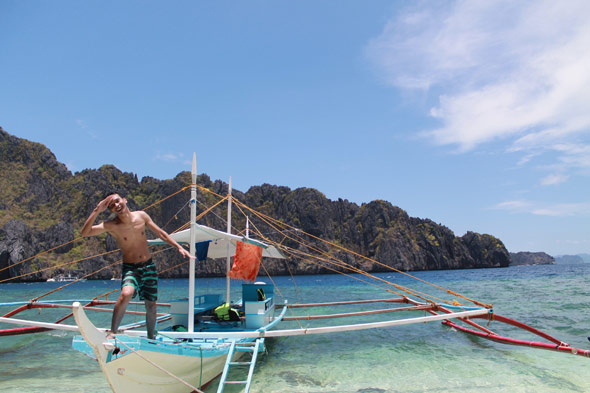 The majestic limestone cliffs, fine white sand, and crystal blue waters of Simizu Island could inspire marvel and mirth from any living soul. If you shut your ears from tour guides, you will remain clueless about its name's tragic origin.
Once there was a Japanese diver who ventured deep into an underwater tunnel in this island. His name is Simizu and he died. I did not probe the boatman about the burial site or the underwater tunnel. I thought I was there to escape the chaos of the modern world and enjoy a break with my beloved.
Lunch freshly prepared by the boatmen is included in the package. During our tour, it was served in Simizu Island. Real bargain, right?
Big Lagoon
Also situated in Miniloc Island is the Big Lagoon. Snorkelers can enormously enjoy its deep emerald waters and rich marine life.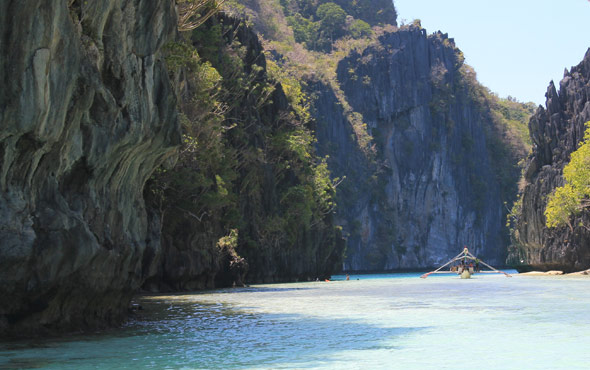 If you've got spare money, explore the big lagoon through a kayak. A whole day rental of one will cost you around 500 pesos.
Neil tried snorkeling and took all these Big Lagoon shots using his Go Pro camera.
There could be a congestion on your way out the big lagoon as lots of boats need to head back to the harbor by 4PM. Tours start at 9AM and end at 4PM. But worry not because these people have been trained to quickly resolve minor and common space problems.
Words and photos are insufficient substitute for real experience. So, what are you waiting for? Start booking your ticket to Palawan and persuade your partner to try this memorable getaway to El Nido.