Lost Between Skyscrapers - Part 1
I just got back from Hong Kong and I wanted to share my first few international steps with you. I've never been outside the country but I've always dreamed of traveling abroad. I didn't know I was in for a series of eye openers.
The immigration processes. The similarities and differences in culture. And more random observations down the road.
Leaving The Motherland
To leave the country and discover the beauty of the rest of the world, we have to go through IMMIGRATION. Traveling alone as a woman and doing it for the first time can be quite dangerous. We are thought to be naive, if not gullible. This is why the immigration officers ask a lot of questions to determine if we would be safe outside the border.
The immigration officer I had was a bit more thorough than I expected. She first asked the normal 'where are you going?' 'where will you be staying?' 'what would you be doing' set of questions.
To find out if I can afford such an extravagant place, she asked 'how much do you have with you?' 'do you have an active savings account?' Then she had to ask a few things that I thought were unnecessary. Questions like 'do you have any kids?' 'how old is your partner?' 'do you have a picture of your employer here in the Philippines?' I figured that maybe she needed to be sure I had more reasons to come back home. After a few more clicks on her computer (probably checking once more if I had any records on Interpol), she finally stamped my passport and gave me the green light.
Entering the Panda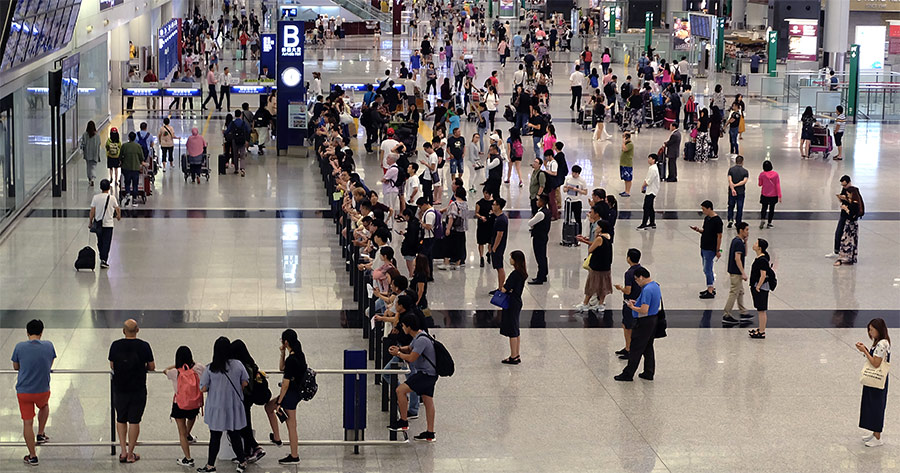 Leaving the country should have left me feeling like a lone wolf in a jungle. But as I entered Hong Kong International Airport, there were a lot of my own countrymen around. Some of them looked like they were waiting for their friends and family to arrive.
Hong Kong International Airport's Immigration was a train ride from the main entrance and the officers didn't ask me a lot of questions. They only verified my place of residence. Other than that, the screening went faster than ours back home.
And now the wait.
My partner had a later flight arriving the next day via Cebu Pacific. I didn't mind staying in the airport for more than eight hours. Waiting gave me a chance to people watch and get to know more about Hong Kong's international flock.
Here are a few things I noticed:
If not Chinese, majority of the crowd are Indian and Filipino. Businessmen, international students, domestic helpers and more were eagerly waiting at the gates. People of Hispanic, British and American descent were few and far between – and noticeably only here for the tourist spots.
McDonald's is an international staple. The clown makes its mark even here in Hong Kong. It's not the cheapest food source around though. The average cost per meal is 50HKD. This is if you would want a semblance of restaurant dining.
Trains and buses are their principal modes of transportation. So getting a map of the railway station along with your Octopus cards will help you a ton! Offline guides can also be a big help in figuring out the bus routes. I can suggest the MTR app which is downloadable from Google Play Store. Offline, it can still guide you to the closest bus stops or MTR stations. For a first time visitor, this would help a lot!
Hong Kong International Airport is a major gateway. Many people connecting to Mainland China, South and North Asian countries as well as International routes come and go via this hub. This also meant there were a few who had to sleep off layovers that could last as long as 9 hours to Shanghai. If you don't want to keep checking the boards, the website flightaware.com helps you get an accurate minute by minute update on where your next plane is. Even in the wee hours of the morning, the airport can be pretty active.
Into The Jungle : Day One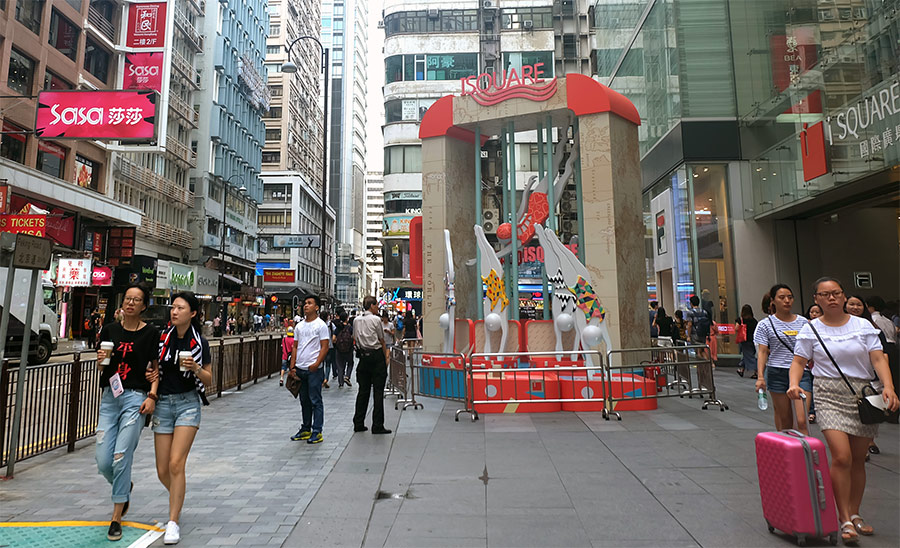 After a little bump in the road, my partner and I were finally settled in a small hotel. It's located inside a residential building on Nathan Road, Tsim Tsa Tsui. A lot of these mini hotels or guesthouses were available to backpackers and short term staying tourists. Prices range from 200HKD – 350HKD a night, even for last minute bookings.
They each had their own bathroom, air-conditioning unit, and a Television set with international channels along with an extension cord for charging purposes . A clean bed with comfortable pillows, a huge mattress and a comforter adorned the room. We also got free wifi, which for my partner was a must to check up on the kids back home.
Once settled, we immediately fed our tummies with the first thing in sight – McDonald's. I've noted a few interesting things about the fast food joint that I would like to point out.
(a) The crew weren't in what we would consider a proper working outfit back home. This stands true for the branch inside the airport as well. They were all in tees and pants but the typical hairnet and apron set was missing. I assume everyone is 200% confident in their hygiene.
(b) It seems that as long as you are capable and hardworking, they accept you for employment no matter what age you are.
(c) They were not stingy on their ingredients and portions. They didn't hold back on the veggies or the fries. My partner and I couldn't finish our meals so we took them to go and headed back to the guesthouse for a few hours of rest.
Hong Kong Night Tour
That night, we walked the streets of Hong Kong in search of the famous Temple Night Market. It was about 30 minutes away from our hotel.
The good thing about Hong Kong is that almost everything is a walk away. The only downside is that the streets aren't level so be sure to bring comfortable walking shoes.
While strolling the streets on the way to the famed market, we saw some tourists lugging their bags even if it was already 9 o'clock in the evening. They seemed to be searching for last-minute accommodations. I guess with the summer just starting for 75% of the world, a lot of incoming international traffic is to be expected.
I also couldn't help but notice two random things while exploring the city: (1) if it's not a bus then it's a very expensive car and (2) water is never drunk straight from the tap but sold really cheap on the streets.
These made me realize how high the levels of pollution may be in the area. The government might want to reduce smoke emissions so only those who can afford expensive cars (e.g. Porsche, Jaguar or Lamborghinis) are allowed on the streets. I also thought the water may not be as clean due to the rise in garbage production in the city. Thus, water has to be processed and sold to the people.
It reminded me that cleanliness is a joint effort between the government and the masses. That measures must be put in place to save a city from pollution. But I digress. Back to the main attraction for the night!
The Temple Night Market wasn't all that it was hyped up to be.
Now, I'm not sure if it's due to the holiday but there were barely any stalls up and not so many were around to do their selling. It was slightly a disappointment on my part as I was more than ready to bargain my way around goods.
After two rounds of checking the products displayed, my partner and I decided it was time for dinner. There are a number of restaurants surrounding the area so we chose one that seemed to cater to most locals.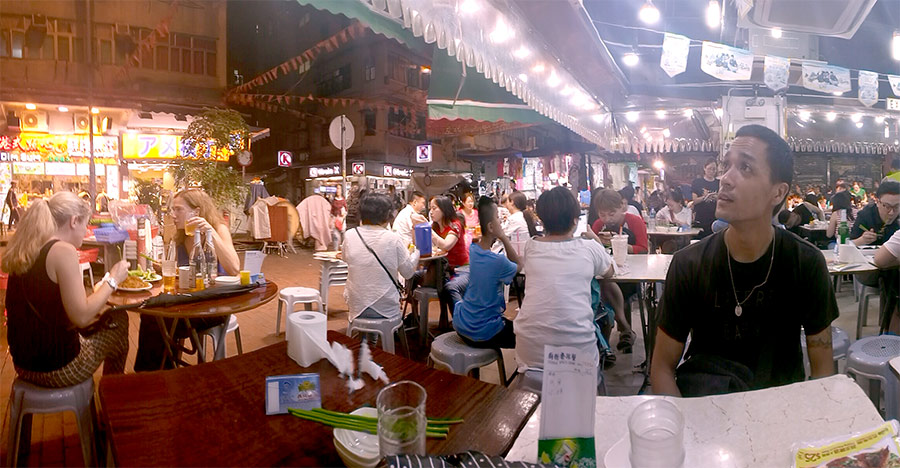 We tried their curry fishballs (38HKD) and their stir fried noodles (25HKD) which were hefty in serving size. The curry balls were a mixture of fishballs, potatoes and pork innards with a Thai based curry sauce. I'm not very picky with food but the innards weren't something I could swallow down.
The stir fried noodles can be compared to our local pancit bihon. Not so flavorful as what we have back home. We think it's because the Chinese prefer their food with the base taste of their ingredients. The Stir Fried Noodles was my dish for the evening without question. The total bill for dinner was 73HKD after the service charges were added.
We called it a night and walked back home. Purchasing three 500ml water bottles for 10HKD on the way for our scheduled long walks the next day. By 11:30 that evening, we both retired for the night.
It was only the first night and I already felt giddy with my new discoveries. Traveling is said to be man's best way of reconnecting – with yourself, the world or a higher being. It is the best way to break down and rebuild one's self. Now, I have to agree.
Stay tuned for Day Two of our Hong Kong adventures.