Making Merry Memories in Mantigue Island
You've finally met the person of your dreams. Then, your parents and his family were about to meet next. It is pretty normal to feel anxious when planning for first meet-up as such. You would want to pick a hangout of impeccable scenery as if choosing a perfect backdrop for a romantic-comedy movie.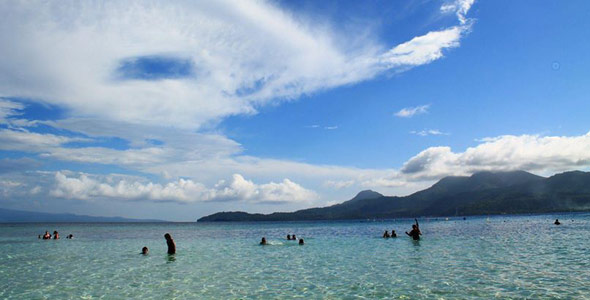 Mantigue Island, also known as Magsaysay Island, was heaven-sent. I'm glad I listened to the whisper of an angel. This 4.4 hectare island off the coast of Mahinog, Camiguin, is just the ideal destination for a merry get-together. As soon as we came safe on Mantigue Island shore, we were welcomed by its superb skyscapes and seascapes.
From this distant spot, we took delight in shooting Camiguin Island's mystifying landscape.
A few steps from the boat docking area are beach volleyball spot enjoyed by teens and tweens and a small camping site with grilling stations, a retail store, tables, chairs, and a hammock. While waiting for our meal especially cooked by Neil's mom, we exchanged turns at using the hammock – inevitably rocking our cares away.
After the hearty brunch, everyone was excited to range the island. Like most couples, Neil and I longed for precious private moments away from the eyes of chaperones, so we left the group and shuffled aimlessly, hand-in-hand, inside the island's forest.
Surprisingly, the trek proved to be short and easy. We soon found ourselves in the residential area of fisherfolk and seaweed farmers. In our estimate, there are about 20 families occupying the island. A pang of envy seized me at the thought of blessings these island dwellers daily enjoy.
I brushed aside the wishful thinking of renting one of these houses and followed Neil to the camp site. On our way, we met his mom and pop who sweetly posed for a snap. They beat our romantic genes.
I wanted to keep a leisurely stroll, feeling the powdery white sand of the beach, but since it was midday, the blistering heat of the sun forced us to take shelter. When we spotted a shaded area, we found my father lying fast asleep, covering his face with a towel. When I slightly shook him, he woke up, smiled, and asked for a photo by the shore.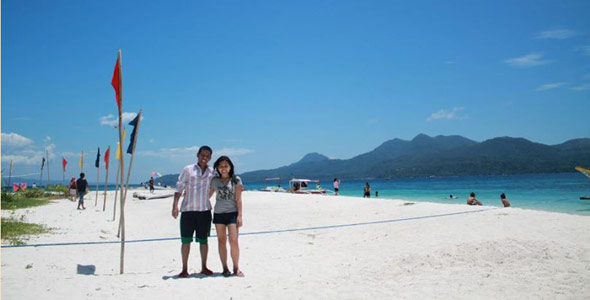 If you think Mantigue is best enjoyed by taking tons of pictures (as we did) by the beach, you are mistaken. Never miss the snorkeling part where you will find variety of fish you have not seen before. Diverse corals richly adorned the seafloor of Mantigue Island's swimming site.
Like any first-time snorkeler, I ventured way farther than the swimmable area, indicated by the colorful flags. Neil's mom worriedly shouted at him: "Look out! Issa's moving further away".(In Visayan dialect) In just a few minutes, I noticed Neil snorkeling by my side.
At about 4PM, the pump boats that brought us to the island came back to wake us from this wonderful dream. In about 30 minutes, we were back to Camiguin soil, bringing with us the lingering merry memories of Mantigue paradise.